Just in time for National Pollinator Week we have a list of children's books about the importance of pollinators and how to protect them.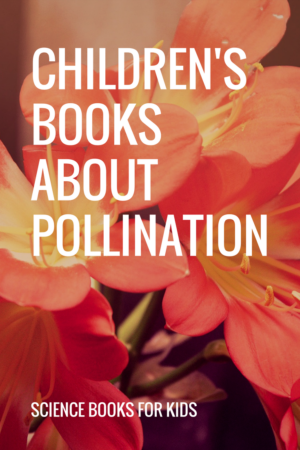 Check out the links below to our lists of books about:
These posts contain Amazon Affiliate links.
Beginning Reader
Animal Pollinators by Jennifer Boothroyd
Emphasis is often put on the importance of insect pollinators like bees and butterflies, but learn how animals like hummingbirds, mice, and bats also help pollinate plants. Simple text is perfect for beginning readers.
Age Range: 5 – 8 years
Publisher: Lerner Publishing Group (January 1, 2015)
ISBN-10: 1467760692
ISBN-13: 978-1467760690
Picture Books
Bees, Bugs, and Butterflies: A Family Guide to Our Garden Heroes and Helpers by Ben Raskin
A fun mix of facts and activities.
Age Range: 4 – 8 years
Publisher: Roost Books (March 13, 2018)
ISBN-10: 1611805538
ISBN-13: 978-1611805536
Flowers Are Calling
by Rita Gray and illustrated by Kenard Pak
With lightly-humorous, rhyming text, the author encourages children to compare kinds of animals that are attracted to flowers and serve as pollinators with animals that are not likely to be pollinators. Is a snake a pollinator? "No, not a snake, for goodness sake!" For a full review of the book see Wrapped in Foil.
Age Range: 4 – 7 years
Publisher: HMH Books for Young Readers (March 3, 2015)
ISBN-10: 0544340124
ISBN-13: 978-0544340121
What Is Pollination? by Bobbie Kalman
Shows not only how important pollination is, but also how pollinators are threatened.
Age Range: 7 – 10 years
Publisher: Crabtree Publishing Company (October 1, 2010)
ISBN-10: 0778733068
ISBN-13: 978-0778733065
The Reason for a Flower: A Book About Flowers, Pollen, and Seeds (Explore!) by Ruth Heller
Written in rhyme and illustrated with Heller's unique, vibrant art. Enjoyable for kids of all ages.
Age Range: 5 – 8 years
Publisher: Puffin Books; Reissue edition (February 15, 1999)
ISBN-10: 0698115597
ISBN-13: 978-0698115590
Middle Grade
The Clover & the Bee; A Book of Pollination by Anne Ophelia Dowden
This older title is amazing in its details. It's like an easy to read and understand college textbook about plants and insects.
In addition, the illustrations by the author are fabulous.
Age Range: 10 and up
Publisher: HarperCollins; 1st edition (May 1, 1990)
ISBN-10: 0690046774
ISBN-13: 978-0690046779