Children interested in trees? Thinking of doing a tree study unit? Here are some great books about trees for children just in time for Arbor Day.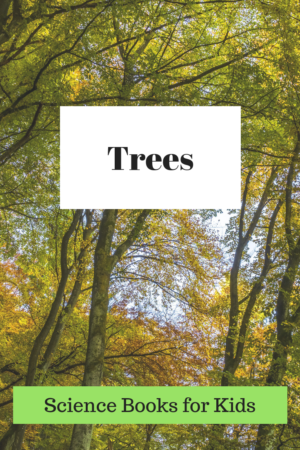 ________________________
Disclaimer: Just so you know, I am an affiliate with Amazon. If you make a purchase after clicking on one of the image or title links, I will receive a small commission at no extra charge to you, the proceeds of which will help pay for maintaining this website.
_________________________
Nonfiction
Beginning Readers
The Secret Life of Trees, Level 2: Beginning to Read Alone</em> (DK Readers Level 2) by Chiara Chevallier
With controlled vocabulary and illustrated with top notch photographs, this reader is for youngsters starting to read alone.
Age Range: 6 – 8 years
Publisher: DK Children (October 25, 1999)
ISBN-10: 0789447606
ISBN-13: 978-0789447609
Picture Books:
Be a Tree! by Maria Gianferrari and illustrated by Felicita Sala
The book is hard to categorize, walking the line between fiction and nonfiction.
First the author grabs the young readers with a gentle second person narrative, making them feel like they are a tree.
Stand tall.
Stretch your branches to the sun.
Let your roots coil in the soil to ground you.
Half way through, the point of view shifts to first person plural, the voice of the trees.
Our roots twine with fungi,
joining all trees of the forest together.
We talk…
In the last spread, it all comes together, urging us to care for one another.
Reading age : 4 – 8 years
Publisher : Harry N. Abrams (March 30, 2021)
ISBN-10 : 1419744224
ISBN-13 : 978-1419744228
Tall, Tall Tree by Anthony D. Fredericks and illustrated by Chad Wallace
Look for animals way up in the redwood trees, while learning to count from one to ten.
Age Range: 2 – 5 years
Publisher: Dawn Pubns (September 1, 2017)
ISBN-10: 1584696028
ISBN-13: 978-1584696025
The Life Cycle of a Tree
by Bobbie Kalman, Kathryn Smithyman, and illustrated by Barbara Bedell has beautiful photographs and full-color illustrations. The chapters cover such topics as what is a tree, what is a life cycle, and how seeds move.
Age Range: 6 and up
Publisher: Crabtree Pub Co; Ill edition (June 2002)
ISBN-10: 0778706893
ISBN-13: 978-0778706892
Branching Out: How Trees Are Part of Our World
by Joan Marie Galat and illustrated by Wendy Ding describes a particular species of tree, how it used by humans, and what animals depend on that particular kind of tree in a series of four-page spreads. The 11 species of trees highlighted range from red maples and downy birches to pau brasil and cork oaks.
Filled with color photographs and sidebars, this title takes a serious and scientific tone. The introduction about why trees are important is particularly well done.
Age Range: 8 – 12 years
Publisher: Owlkids Books (October 14, 2014)
ISBN-10: 1771470496
ISBN-13: 978-1771470490
Celebritrees: Historic and Famous Trees of the World
by Margi Preus and illustrated by Rebecca Gibbon consists of a series of two-page spreads telling the stories of 14 famous, tall and exceptionally-old trees from around the world, the back matter gives more information about the trees and a number of suggestions about what the reader can do to help and encourage trees.
Rather than photographs, Rebecca Gibbon created lighthearted, fun illustrations using a mix of acrylic ink, colored pencils and watercolor. The illustrations allow for a more coherent look and also incorporate details of the text in ingenious ways. The look would definitely appeal to young readers who prefer fiction.
Age Range: 6 – 10 years
Publisher: Henry Holt and Co. (BYR); First Edition edition (March 1, 2011)
ISBN-10: 0805078290
ISBN-13: 978-0805078299
A Log's Life
by Wendy Pfeffer, and illustrated by Robin Brickman is for young children who enjoy turning over rocks and looking under logs. This book talks about the importance of the tree, and the log that remains after the tree falls, to the community of animals, plants and fungi around it. The illustrations are unique 3D paper sculptures.
Age Range: 4 – 8 years
Grade Level: Preschool – 3
Publisher: Aladdin; Reprint edition (March 6, 2007)
ISBN-10: 1416934839
ISBN-13: 978-1416934837
A Tree Is Growing
by Arthur Dorros and illustrated by S.D. Schindler is suitable for a range of audiences. It follows an oak tree through the seasons. Along the way are interesting sidebars of other species. Did you know that baobab trees store water in their trunks and actually swell up? The paper is dark and the illustrations are not the bright primary colors associated with picture books, but are very lifelike.
Age Range: 5 and up
Publisher: Scholastic; 1St Edition edition (April 1997)
ISBN-10: 0590453009
ISBN-13: 978-0590453004
Be a Friend to Trees (Let's-Read-and-Find-Out, Stage 2)
by Patricia Lauber, and illustrated by Holly Keller, is part of the popular Let's-Read-and-Find-Out-Science series. The emphasis of this book is how useful trees are. Starting with products and foods we use that come from trees, Lauber then devotes several pages to how many animals need trees for food and homes. Finally she moves to less concrete benefits of trees, such as holding soil and water, and producing oxygen. The last three pages are devoted to simple ideas of how you can be a friend to trees through activities like recycling and planting a tree.
Tree of Life: The World of the African Baobab (Tree Tales)
is written and illustrated by Barbara Bash. The baobab tree survives in a harsh environment and is leafless for most of the year. In fact, legend says that the tree was planted upside down. From this beginning, Bash relates the story the life cycle of the tree and all the creatures that depend on it. The watercolors are beautiful.
Cactus Hotel (Big Book)
by Brenda Z. Guiberson and illustrated by Megan Lloyd discusses the life cycle of a saguaro. It's easy to forget that a cactus like a saguaro can be a tree. Once again, this book covers the life cycle of a unique plant found in a harsh environment that is home to many creatures.
Planting the Trees of Kenya: The Story of Wangari Maathai (Frances Foster Books)
by Caire A. Nivola tells the story of Wangari Maathai, who won the Nobel Peace prize in 2004. Maathai returned to Kenya after studying abroad, to find the trees gone and the people struggling. She encouraged everyone to plant trees again to restore their environment. The nice thing about this book is that it is printed on recycled paper.
Tell Me, Tree: All About Trees for Kids
by Gail Gibbons
Starting out with general information abut parts of trees, such as seeds, leaves, bark and roots, Gibbons emphasizes identifying trees. She illustrates the overall shape, leaves and bark of sixteen different trees (although she also identifies leaves and trees throughout the earlier pages as well.) At the end she shows how to make your own tree identification book with pressed leaves, and leaf and bark rubbings. The last page is full of unusual and interesting facts about trees, sure to entice children to want to find out more.
Life Cycle of an Oak Tree (Life Cycle of a...)
by Angela Royston.
Starting out with an acorn, and following an oak tree through its life cycle until it is hundreds of years old, the young reader learns both about the developmental process and the vocabulary needed to discuss it. The centerpiece of the story is an English oak, which can live for 900 years. What a venerable tree!Illustrated with clear, colorful photographs, and with a timeline on each page, the book is visually appealing.
Trees, Leaves & Bark (Take-Along Guide)
by Diane Burns and illustrated by Linda Garrow is useful as a first identification guide to a few common North American trees.
Sky Tree: Seeing Science Through Art
by Thomas Locker and Candace Christiansen follows a tree through the seasons. Although frankly more about art than science, this book is likely to lead to discussions of art techniques and the changes that occur during the seasons.
The Tree in the Ancient Forest
by Carol Reed-Jones and Christopher Canyon describes how other living things depend on trees and how trees have life cycles.
Age Range: 5 and up
Publisher: Dawn Pubns; 1st edition (April 1, 1995)
ISBN-10: 1883220319
ISBN-13: 978-1883220310
If I Ran the Rain Forest: All About Tropical Rain Forests (Cat in the Hat's Learning Library)
by Bonnie Worth and illustrated by Aristides Ruiz follows The Cat in the Hat as he takes Sally and Dick for a ride through the understory, canopy, and emergent layers of a tropical rain forest. The books in this series are uniformly good and deliver more serious science than the cartoon character illustrations might indicate.
Age Range: 4 – 8 years
Publisher: Random House Books for Young Readers; First Edition edition (April 22, 2003)
ISBN-10: 0375810978
ISBN-13: 978-0375810978
I Can Name 50 Trees Today!: All About Trees (Cat in the Hat's Learning Library)
by Bonnie Worth and illustrated by Aristides Ruiz and Joe Mathieu uses the familiar Dr. Seuss characters and rhyming scheme to teach children how to identify different species from the shape of their crowns, leaves, lobes, seeds, bark, and fruit. The books in this series are well-researched, and deliver more serious science than the cartoon character illustrations might imply.
Age Range: 4 – 8 years
Publisher: Random House Books for Young Readers (February 28, 2006)
ISBN-10: 0375822771
ISBN-13: 978-0375822773
The Tree Lady: The True Story of How One Tree-Loving Woman Changed a City Forever
by H. Joseph Hopkins and illustrated by Jill McElmurry is a lovely picture book biography about Kate Sessions, the woman who is considered to be the Mother of Balboa Park in San Diego.
It is astonishing to learn that San Diego was once an almost barren desert, and that one woman's vision and determination was able to completely transform it.
Age Range: 5 – 10 years
Publisher: Beach Lane Books (September 17, 2013)
ISBN-10: 1442414022
ISBN-13: 978-1442414020
Leaf Jumpers
by Carole Gerber and Leslie Evans is a simple, poetic introduction to identification eight types of fall leaves. Leaves shown include ginkgo, sycamore, and basswood. Then the children sweep up leaves and jump into the pile.
Age Range: 3 – 7 years
Publisher: Charlesbridge; 1 Reprint edition (June 1, 2006)
ISBN-10: 1570914982
ISBN-13: 978-1570914980
Middle Grade
Can You Hear the Trees Talking?: Discovering the Hidden Life of the Forest by Peter Wohlleben
Peter Wohlleben is the well-known author of the bestselling popular science book for adults, The Hidden Life of Trees.  Now he's applied his eye-opening approach to understanding trees in this book for young readers. He asks kid-friendly questions, such as "How do trees drink?" and answers them using current scientific knowledge and appropriate vocabulary. Even if you already know a lot about trees, be prepared to say, "Wow!"
Can You Hear the Trees Talking? is a must-have resource that is likely to awe and inspire readers, young and old. Seriously!
Age Range: 8 – 10 years
Publisher: Greystone Kids; Reprint edition (October 1, 2019)
ISBN-10: 1771644346
ISBN-13: 978-1771644341
Ultimate Explorer Field Guide: Trees by Patricia Daniels
Each description includes a photo of the entire tree, plus close-ups of identifying parts. Fun facts keep the interest level high.
Age Range: 8 – 12 years
Publisher: National Geographic Children's Books (October 10, 2017)
ISBN-10: 1426328915
ISBN-13: 978-1426328916
Activity Books:
Backyard Explorer Kit: 3-in-1 Collector's Kit!
by Rona Beame is for children who love hands on activities and want to learn more about trees. The kit includes a 3 1/2 by 8 inch Leaf and Tree Guide to trees (that will conveniently fit in a pocket or backpack), a plastic leaf-collecting bag, and an unbound 25 page Leaf Collecting Album. The guide has information about trees, how to identify a number of common species (with color photographs of specimens), and 16 hands-on activities.
Fiction/Poetry About Trees
Under My Tree by Muriel Tallandier illustrated by Mizuho Fujisawa and translated by Sarah Klinger
Young Susanne tells the reader — in the first person — how she found a special tree in the forest near her grandparents home. She returns to the tree again and again throughout the summer to discover the life that depends on the tree and how it changes from season to season.
Although fiction, leaf-shaped sidebars on many of the pages add nonfiction interest through questions, activity suggestions, and tree facts.
Spending time in nature is important. For children who might not be able to talk a walk in the woods, reading this quiet, gentle book that celebrates trees might be the best alternative. Get lost in a copy of Under My Tree soon!
Age Range: 3 – 8 years
Publisher: Blue Dot Kids Press (April 14, 2020)
ISBN-10: 1733121234
ISBN-13: 978-1733121231
Poetrees
by Douglas Florian is as the title implies, a book of poems about trees. Florian includes poems about trees from around the world like the banyan and monkey puzzle, not just common North American ones. The layout consists of vertical, two-page spreads, giving the feel of looking at a tall tree. If you are familiar with Florian's illustrations, you will recognize his unconventional art.
Age Range: 6 – 10 years
Publisher: Beach Lane Books; 1 edition (March 9, 2010)
ISBN-10: 1416986723
ISBN-13: 978-1416986720
Leaf Man (Ala Notable Children's Books. Younger Readers (Awards))
by Lois Ehlert is inspiring because the author is such a wonderful artist. In this book, we see leaf shapes with added plant materials that form a funny leaf man. When the wind comes up, who knows where the leaf man is going to go.
Age Range: 4 – 8 years
Publisher: Harcourt; First Edition edition (September 1, 2005)
ISBN-10: 0152053042
ISBN-13: 978-0152053048
This Tree Counts!
by Alison Formento and illustrated Sarah Snow is a counting book that shows all the creatures that depend on the oak tree behind the Oak Lane School. After counting all the creatures and learning about uses of trees, the children plant "baby trees."
We Planted a Tree
by Diane Muldrow and illustrated by Bob Staake is a picture book with poetic text. It shows two families who plant trees, one in New York City and one in Kenya, then follows with trees growing throughout the world.
Our Tree Named Steve
by Alan Zweibel and illustrated by David Catrow is a bittersweet story about the loss of a tree that meant a lot to a family. You might want to read this one first if your children tend to be sensitive, to see whether it is appropriate.
Maple
by Lori Nichols is really about a new sibling arriving in a family, but features a girl named Maple whose parents planted a maple tree when she was born. She and the tree grow together.
Age Range: 3 – 5 years
Publisher: Nancy Paulsen Books (February 20, 2014)
ISBN-10: 039916085X
ISBN-13: 978-0399160851