For educators, books with collections of science activities or experiments can be a real life saver. Here are a few to consider for your shelves:
Cool Plastic Bottle and Milk Jug Science (Recycled Science) by Tammy Enz.
Tammy Enz has come up with nine intriguing science activities that reuse plastic containers. It's a win-win scenario because plastic containers provide inexpensive containers for science projects, and finding new purposes for water bottles or milk jugs keeps them out of the landfill.
The instructions for the activities are short and clear. There's a list of materials you'll need, step-by-step instructions how to put it together, photographs showing the set up, and a brief explanation of what's happening. Activities range from making a cloud in a bottle in a few minutes to a longer term composting worm farm.
Cool Plastic Bottle and Milk Jug Science is perfect for a busy educator who needs a science activity fast. The best part is the materials are inexpensive and generally readily available. If you are doing science with kids, it's a great book to have on hand.
See related activities at Growing with Science blog.
Age Range: 8 – 14 years
Publisher: Capstone Press (August 1, 2016)
ISBN-10: 1515708624
ISBN-13: 978-1515708629
The Kid's Guide to Exploring Nature (BBG Guides for a Greener Planet)
by (none less than) the Brooklyn Botanic Garden Educators and illustrated by László Veres is both an identification guide and nature activity book.
The activities are organized by season (list of activity titles here). It also includes career profiles of some modern-day naturalists.
Age Range: 8 – 12 years
Publisher: Brooklyn Botanic Garden (August 5, 2014)
ISBN-10: 1889538884
ISBN-13: 978-1889538884
This title is by one of my favorite publishers, Chicago Review Press. Junk Drawer Physics: 50 Awesome Experiments That Don't Cost a Thing
by Bobby Mercer mixes step-by-step instructions for experiments (over 50!) with sidebars of intriguing physics facts.
Using inexpensive household items to do interesting hands-on science? It doesn't get any better than this.
Age Range: 9 and up
Grade Level: 4 and up
Paperback: 208 pages
Publisher: Chicago Review Press (June 1, 2014)
ISBN-10: 1613749201
ISBN-13: 978-1613749203
Although it isn't strictly an activity book, one of our favorites suggests planting a garden and gives tips for plants to choose. Plant a Pocket of Prairie
by Phyllis Root and illustrated by Betsy Bowen (our previous review) was nominated for the AAAS/SubaruSB&F Books of Excellence prize in the "Hands-On Science Book" category.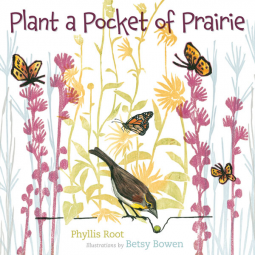 Phyllis Root highlights examples of relationships between specific plants and animals in the prairie ecosystem, such as between foxglove beardtongue (a type of Penstemon) and hummingbirds; monarch butterflies and milkweeds; and goldfinches and sunflowers. The back matter includes lists of mammals, birds, reptiles and amphibians, insects, and plants commonly found in prairies. Each example comes with a call to action to plant your own prairie, whether in pots, gardens or landscapes. If enough people do this, who knows what might be achieved.
Ages 5-10
Hardcover: 40 pages
Publisher: University of Minnesota Press (April 15, 2014)
ISBN-10: 0816679800
ISBN-13: 978-0816679805
Recommendations from earlier years:
Explore Gravity!: With 25 Great Projects (Explore Your World series)

by Cindy Blobaum and illustrated by Bryan Stone
A children's project book that helps budding physicists learn about why gravity is important and how it works. The best part is that it is filled with hands on projects that can be done with easy-to-obtain objects, mostly from around the house. Published Nov 2013.
Build It: Invent New Structures and Contraptions (Invent It)
by Tammy Enz
Author Enz is a civil engineer, and her experience shows in the details in each of the projects. Included are instructions on how to make a device that can open an close a door remotely (with strings), a newspaper fort, a trash grabber, toothpick bridge, a pet waterer and many more. Each project comes with a list of materials and step-by-step instructions with color photographs accompanying each step.
In additions to the projects, sidebars are sprinkled throughout that reveal some historically-important inventions. Did you know the can opener was invented 48 years after the invention of the tin can? Amazing!
Build It: Invent New Structures and Contraptions would be great for a busy teacher looking for a quick science or engineering project because it has complete and detailed plans. It would also be fun for the home inventor who could build the project as presented and then use the skills he or she learned to tweak the design or come with up with a whole new invention.
My previous review and activities.
Reading level:  3-4
Publisher: Capstone Press (January 1, 2012)
ISBN-10: 1429679816
ISBN-13: 978-1429679817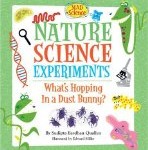 Nature Science Experiments: What's Hopping in a Dust Bunny? (Mad Science)

By Sudipta Bardhan-Quallen
The Book of Potentially Catastrophic Science: 50 Experiments for Daring Young Scientists by Sean Connolly recently won the 2011 AAAS/Subaru SB&F Prizes for Excellence in Science Books in the hands on science category.
Junior Scientists: Experiments with Seeds by Susan H. Gray, best for grades 2-3
Science Experiments That Fizz and Bubble: Fun Projects for Curious Kids by Jodi Wheeler-Toppen
Do you have any suggestions for this list? Let us know.