Let's take a look at poetry books that explore insects and spiders. Poems about insects? It turns out that there are quite a few by some extraordinary children's poets.
Why science poetry? What a fantastic opportunity to introduce the poetry fans to science and the science fans to poetry. It's win-win!
Our newest offering is The Bug Book
by Sue Fliess, which starts with a bit of text that really reflects the best way to teach science to kids:
"Grab a bucket. Check your guide.
Let's go find some bugs outside!
Age Range: 3 – 5 years
Publisher: Grosset & Dunlap (February 23, 2016)
ISBN-10: 044848935X
ISBN-13: 978-0448489353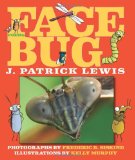 Next we have Face Bug
by the Children's Poet Laureate J. Patrick Lewis, illustrated by Kelly Murphy and with photographs by Fred Siskind. This amazing book features close-up photographs of the "faces" of bugs in the "Face Bug Museum." As a counterpoint to the poems by Lewis, Murphy's illustrations create the story of two beetle friends visiting the museum. Obviously, there is a lot to explore here, so you'll want to come back to the museum again and again.
Reading Level:  6-10 years
Publisher:  Wordsong (March 1, 2013)
ISBN-10:  1590789253
ISBN-13:  978-1590789254
Bug Off!: Creepy, Crawly Poems
by Jane Yolen with photographs by her son Jason Stemple is also published by Wordsong. In a series of two-page spreads we find a close-up photograph, a poem about the featured insect or arachnid, and an informative paragraph to add fun facts and details.
Yolen reveals in her "A Note from the Author" right up front that in the past she wasn't all that fond of insects. After spending time with her son's photographs, however, she changed her mind. The "beauty" and "mystery" of insects inspired her to write poems about them.
Reading level:  5 and up
Publisher:  Wordsong (April 1, 2012)
ISBN-10:  1590788621
ISBN-13:  978-1590788622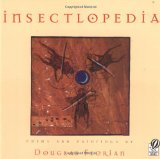 Douglas Florian's insectlopedia
has long been a favorite of our family. Douglas Florian was formerly a cartoonist, and his fun, silly side comes through in his poetry books. Florian painted his quirky illustrations with watercolors on brown paper bags. It gives them an informal look that is appealing and kid-friendly.
Reading Level:  Although the age range is listed as 5 – 8 years, as with many poetry books, this one is sophisticated enough to work for a variety of ages.
Publisher:  HMH Books for Young Readers; Reprint edition (April 1, 2002)
ISBN-10:  0152163352
ISBN-13:  978-0152163358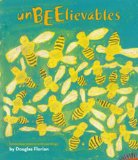 UnBEElievables: Honeybee Poems and Paintings
, a newer book by Douglas Florian (2012), goes into more scientific detail than some of his other books of poetry. The reader comes away with an appreciation of bees and how they live.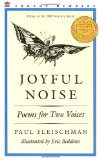 Joyful Noise: Poems for Two Voices
by Paul Fleischman and illustrated by Eric Beddows is a classic that everyone should experience. The depth, the accuracy and the amazing rhythm of the poems for two voices, it is simply made to be shared. Some of my favorite poems of all time are in this little book.
Publisher:  HarperCollins; First Edition edition (December 28, 2004)
ISBN-10:  0064460932
ISBN-13:  978-0064460934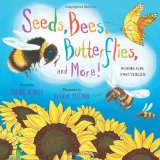 If you discover you enjoy poems for two voices, Seeds, Bees, Butterflies, and More!: Poems for Two Voices
by Carole Gerber and illustrated by Eugene Yelchin just came out in February (2013). Although it is centered more on plants, it features a number of insects and other creatures as well. Listen to what they have to say.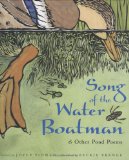 Song of the Water Boatman and Other Pond Poems (Caldecott Honor Book, BCCB Blue Ribbon Nonfiction Book Award)
by Joyce Sidman and illustrated by Beckie Prange encompasses the change of seasons at a pond. Not just about insects, it is about the pond as a habitat.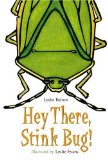 Hey There, Stink Bug!
by Leslie Bulion and illustrated by Leslie Evans is for the older reader (probably 8+) who doesn't mind a bit of gore and mayhem. It also contains up-to-date factual information about insects and notes about the poetic forms. The illustrations are very clean, crisp and bright. I was impressed that the author had obviously spent time reading the work of the late great entomologist, Thomas Eisner.
Hope you decide to try some of this fabulous poetry books about insects. Do you have a favorite? Any suggestions for books to add to the list? We'd love to hear from you.
____________________________
Disclosure: I am an affiliate with Amazon so I can provide you with covers and links to more information about books and products. As you probably are aware, if you click through the link and purchase a product, I will receive a very small commission, at not extra cost to you. Any proceeds help defray the costs of hosting and maintaining this website.