Looking for books for a unit on spiders? Wanting something to read to put your children in the mood for Halloween? Then you've come to the right place.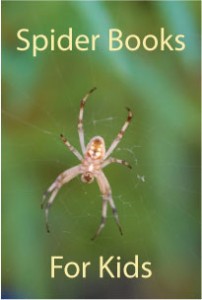 Disclaimer: Just so you know, I am an affiliate with Amazon. If you make a purchase after clicking on one of the title links, I will receive a small commission at no extra charge to you, the proceeds of which will help pay for maintaining this website.
 Nonfiction
Beginning Readers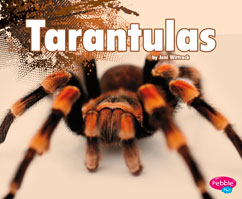 Tarantulas (Pebble Plus)
by Jeni Wittrock will help young readers learn more about the anatomy, life cycle and behaviors of tarantulas. With carefully controlled vocabulary and short sentences, the child can gain confidence reading while at the same time increasing their understanding of the natural world.
Review and related activities at Growing with Science.
Reading Level: K-1
Publisher: Capstone Press (August 1, 2013)
ISBN-10: 1476524580
ISBN-13: 978-1476524580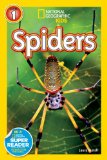 National Geographic Readers: Spiders
by Laura Marsh
All these National Geographic readers feature amazing color photographs, and age-appropriate facts and concepts. For example, in this title, readers learn where spiders make their homes and that there are many different kinds.
Age Range: 5 – 8 years
Paperback: 32 pages
Publisher: National Geographic Children's Books (August 23, 2011)
ISBN-10: 1426308515
ISBN-13: 978-1426308512
Super Spiders (Read Me!: Walk on the Wild Side)
by Charlotte Guillain
Read to find out what spiders look like, what they eat, and how they spin their webs. Colorful photographs show close-ups of many different kinds of spiders. Life cycle information included.
Reading Level:  1-3
Series: Read Me!: Walk on the Wild Side
Publisher: Raintree (August 14, 2014)
ISBN-10: 1406260886
ISBN-13: 978-1406260885
Picture Books
Spiders!: Strange and Wonderful by Laurence Pringle and illustrated by Meryl Learnihan Henderson
Setting the stage with, "As you read these words, there is probably a spider nearby," Pringle does an excellent job of introducing young readers to all the many different kinds of spiders.
Henderson's watercolor and pencil illustrations are beautifully done and tie the book together in a way stock photographs can not. Lovely!
Age Range: 7 – 10 years
Publisher: Boyds Mills Press (October 10, 2017)
ISBN-10: 1629793213
ISBN-13: 978-1629793214
Nefertiti, the Spidernaut: The Jumping Spider Who Learned to Hunt in Space by Darcy Pattison and illustrated by Valeria Tisnes
| 2017 NSTA CBC Outstanding Science Trade Book
No one knew what to expect when a jumping spider was sent to the International Space Station. If it jumped for its food like it did on Earth, would it float away?
The good news is the little spider learned to adapt, and survived for the trip back to Earth.
Age Range: 6 – 12 years
Publisher: Mims House (September 15, 2016)
ISBN-10: 1629440604
ISBN-13: 978-1629440606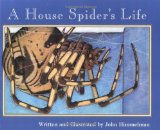 A House Spider's Life (Nature Upclose)
by John Himmelman
John Himmelman's larger-than-life illustrations make this description of the life cycle of a house spider worth a second look.
Age Range: 5 and up
Grade Level: Kindergarten and up
Series: Nature Upclose
Publisher: Children's Press(CT) (March 1, 2000)
ISBN-10: 0516265369
ISBN-13: 978-0516265360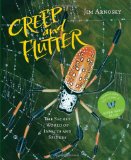 Creep and Flutter: The Secret World of Insects and Spiders
  by Jim Arnosky
Jim Arnosky is a naturalist, a writer, and an artist. He has written many nonfiction children's books about animals and the natural world. His illustrations include real size silhouettes.
Reading level: Ages 6 and up
Hardcover: 40 pages
Publisher: Sterling Children's Books (April 3, 2012)
ISBN-10: 1402777663
ISBN-13: 978-1402777660
Sneaky, Spinning Baby Spiders
by Sandra Markle
As you can tell from the cover, this book has fantastic close up photographs. It covers spiders from throughout the world. Look for my in depth review at Wrapped in Foil,  Bouncing Baby Spiders
Age Range: 4 – 8 years
Publisher: Walker Childrens (October 28, 2008)
ISBN-10: 0802796974
ISBN-13: 978-0802796974
Up, Up, and Away
by Ginger Wadsworth and Patricia J. Wynne (Illustrator)
This beautifully-illustrated book describes the life cycle of a type of garden spider. It has a totally different feel from Baby Spiders, although it covers a similar topic.
Age Range: 5 and up
Publisher: Charlesbridge Publishing; 1st edition (July 1, 2009)
ISBN-10: 1580892213
ISBN-13: 978-1580892216
Up, Up and Away has a trailer so you can see whether it fits your needs.
Time For Kids: Spiders! (Time for Kids Science Scoops)

by Editors of Time for Kids
Covers the basics of spider biology. Illustrated with high quality photographs.
Age Range: 6 – 10 years
Publisher: HarperCollins; 1 edition (January 4, 2005)
ISBN-10: 0060576340
ISBN-13: 978-0060576349
Are You a Spider? (Backyard Books)

by Tudor Humphries
These books are always wonderful, and I love how she brings the child into the story by comparing what humans do to what spiders do.
Age Range: 5 – 8 years
Series: Backyard Books
Publisher: Kingfisher; Reprint edition (May 16, 2003)
ISBN-10: 0753456095
ISBN-13: 978-0753456095
Spinning Spiders (Let's-Read-and-Find-Out Science 2)
by Melvin Berger and S. D. Schindler
How do spiders spin such intricate webs? Spiders produce special silk that can stretch from branch to branch. In this book the reader will learn about the silk spiders produce, the webs they spin, and the prey they capture. Even learn how to make a web of your own!
Age Range: 4 – 8 years
Series: Let's-Read-and-Find-Out Science 2
Paperback: 40 pages
Publisher: HarperCollins; 1 edition (May 6, 2003)
ISBN-10: 0064452077
ISBN-13: 978-0064452076
The Magic School Bus Spins A Web: A Book About Spiders
by Joanna Cole, Jim Durk (Illustrator), Bruce Degan (Illustrator)
Those familiar with the Magic School Bus series will recognize how Cole manages to walk the line between fiction and nonfiction and engage children in an unique learning adventure each time.
Age Range: 4 – 8 years
Publisher: Scholastic Paperbacks (November 1, 1997)
ISBN-10: 0590922343
ISBN-13: 978-0590922340
Spiders
by Gail Gibbons
Gail Gibbons is the queen of children's nonfiction. You can't go wrong with any of her books.
Age Range: 5 and up
Publisher: Holiday House (April 1, 1994)
ISBN-10: 0823410811
ISBN-13: 978-0823410811
Nic Bishop Spiders (Sibert Honor Book)
by Nic Bishop
Nic Bishop is an award-winning photographer and his passion for his subjects shines through.
Age Range: 4 – 8 years
Hardcover: 48 pages
Publisher: Scholastic Nonfiction; First Edition edition (September 1, 2007)
ISBN-10: 0439877563
ISBN-13: 978-0439877565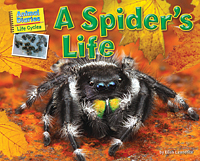 A Spider's Life (Science Slam: Animal Diaries: Life Cycles)
by Ellen Lawrence
A young child follows a jumping spider, recording how it hunts, feeds, and its mating activities in her diary.The narrator also observes the jumping spider's life cycle, including the development from eggs to babies through molting and becoming an adult spider.
Publisher: Bearport Publishing (January 2012)
ISBN-10: 1617724149
ISBN-13: 978-1617724145
Middle Grade
Spi-ku: A Clutter of Short Verse on Eight Legs by Leslie Bulion and illustrated by Robert Meganck
Author Leslie Bulion has a subtly playful approach to spiders.
All spiders are arachnids
But some arachnids
mite not be spiders.
If you like that kind of word play, you are in for a real treat.
Illustrator Robert Meganck also has a subtle sense of humor. For example, in the front endpapers he shows a fly near a spider web. The back endpapers shows the same spider with a small webbed up package. He leaves it up to the reader to figure out what happened to the fly.
Intermingled between poems of different forms — in spite of the title, not all are haiku — is detailed information about spiders, from what they eat to how they build webs. If the text isn't enough, there's extensive back matter as well.
Reading age : 8 – 12 years
Publisher : Peachtree Publishing Company; Illustrated edition (March 1, 2021)
ISBN-10 : 1682631923
ISBN-13 : 978-1682631928
Jumping Spiders: An Augmented Reality Experience by Sandra Markle
Sandra Markle knows her spiders. This updated series contains "augmented reality" in the form of digital enhancements. Illustrated with big, colorful photos. You can preview a few pages at the Lerner website.
Reading age : 8 – 12 years
Publisher : Lerner Publications ™ (January 1, 2021)
ISBN-10 : 1728402697
ISBN-13 : 978-1728402697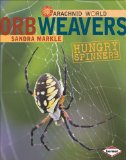 Orb Weavers: Hungry Spinners (Arachnid World)
by Sandra Markle
Overview of what makes orb weavers unique from other spiders. Includes information on anatomy, life cycles, and about their webs. Sandra Markle has written a number of books about spiders and her passion for them shows through. Just the right amount of information to keep the reader interested.
Age Range:  9 and up
Publisher: Lerner Pub Group (T) (March 2011)
ISBN-10: 0761350392
ISBN-13: 978-0761350392
Uncover a Tarantula: Take a Three-Dimensional Look Inside a Tarantula! (Uncover Books)
by David George Gordon
The books in the Uncover series contain a plastic model of whatever organism is being studied right in the middle of the book. As the reader turns the pages, he or she delves deeper inside the tarantula (in this case), like viewing a dissection. Around the central model is an explanation of the inner organs that are displayed at that page, and also detailed information about the biology of tarantulas and spiders in general.
Age Range: 8 and up
Board book: 16 pages
Publisher: Silver Dolphin Books (September 29, 2004)
ISBN-10: 159223237X
ISBN-13: 978-1592232376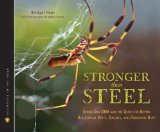 Stronger Than Steel: Spider Silk DNA and the Quest for Better Bulletproof Vests, Sutures, and Parachute Rope (Scientists in the Field Series)
by Bridget Heos and illustrated by Andy Comins
This book highlights scientist Randy Lewis' quest to find a better way to obtain large quantities of spider silk for innovative new products.
Full review at Wrapped in Foil blog.
Age Range: 10 and up
Hardcover: 80 pages
Publisher: Houghton Mifflin Books for Children (February 26, 2013)
ISBN-10: 0547681267
ISBN-13: 978-0547681269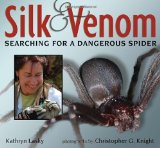 Silk and Venom: Searching for a Dangerous Spider
by Kathryn Lasky and her husband, photographer Christopher G. Knight
This is a biography of arachnologist Greta Binford. It follows Binford on her journey to the Caribbean to find a certain species of brown recluse spider.  She is looking into how spiders of the genus Loxosceles, the brown spiders, may have migrated and evolved.
Full review at Wrapped in Foil blog.
Reading level: Ages 9-12
Hardcover: 64 pages
Publisher: Candlewick (February 22, 2011)
ISBN-10: 0763642223
ISBN-13: 978-0763642228
Adults can find a few good books on spiders, too.
Biology of Spiders, 2nd Edition by Rainer F. Foelix
Spider-related Fiction
The Weaver by Qian Shi
Stanley the spider collects things and stores them in his web. What will he do when a storm comes and his collection is washed away? He comes up with a clever solution.
The Weaver Promo – Collector from Qian Shi on Vimeo.
Age Range: 5 – 7 years
Publisher: Andersen Pr USA (April 1, 2018)
ISBN-10: 1541514548
ISBN-13: 978-1541514546
Bear's Scare by Jacob Grant
Bear is very neat and tidy. He is beyond bothered when a spider begins building webs everywhere. That is, until the spider shows a hidden talent for fixing things.
Age Range: 3 – 6 years
Publisher: Bloomsbury Children's Books (June 12, 2018)
ISBN-10: 1681197200
ISBN-13: 978-1681197203
Fatima and the Clementine Thieves by Mireille Messier and illustrated by Gabrielle Grimard
Living in Morocco, Fatima's family has an orchard of clementine oranges. Right before harvest, someone or something destroys some of the crop and breaks the trees. What happened? What can Fatima and her grandfather do to stop it?
At first glance doesn't the type of children's picture book that belongs in a list about spiders. However, spiders play an important positive role in the story. See a full review, and suggestions for accompanying math and art activities at our sister blog, Wrapped in Foil and related hands on spider science activities at Growing with Science blog.
Age Range: 4 – 8 years
Publisher: Red Deer Press; 1 edition (June 30, 2017)
ISBN-10: 0889955298
ISBN-13: 978-0889955295
Aaaarrgghh! Spider! by Lydia Monks
In this cute picture book, spider wants to be a family pet. Will it work out?
Check it out for yourself in this video:
Age Range: 4 – 7 years
Publisher: HMH Books for Young Readers; Reprint edition (September 3, 2007)
ISBN-10: 0618737510
ISBN-13: 978-0618737512
Charlotte's Web (Trophy Newbery)
by E. B. White
Features probably the most popular spider ever, Charlotte.
Age Range: 8 and up
Paperback: 184 pages
Publisher: HarperCollins; 1st edition (December 14, 2004)
ISBN-10: 0064400557
ISBN-13: 978-0064400558
Diary of a Spider
by Doreen Cronin and illustrated by Harry Bliss
Age Range: 4 – 8 years
Hardcover: 40 pages
Publisher: HarperCollins (January 8, 2013)
ISBN-10: 0062233009
ISBN-13: 978-0062233004
The Very Busy Spider by Eric Carle
This classic tale is still popular with the preschool set.