If your children are interested in lizards, snakes, turtles or alligators, then they are likely to want to learn more about all the different kinds of reptiles.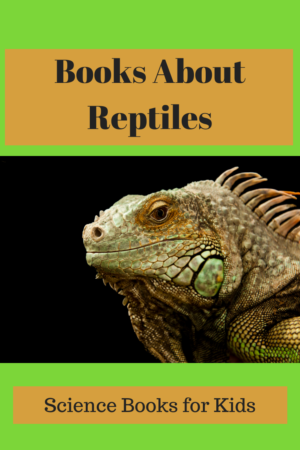 Nonfiction:
Beginning readers
Get to Know Gila Monsters (Get To Know Reptiles)
by Flora Brett
In this book Brett has done a good job of finding facts that will be interesting to children, such as how big are Gila monsters, what do they eat, what is their life cycle, and whether or not Gila monsters are venomous. She also separates the facts (Gila monsters are venomous) from the myths (their bite is not fatal to humans).
The book is illustrated with color photographs. Just a note, there is one photograph of a Gila monster eating a deer mouse that might be too graphic for sensitive youngsters.
Get to Know Gila Monsters is a perfect introduction to a desert creature is unfamiliar to many people. This is a must have for units on deserts and would also be useful for lessons about life cycles.
Age Range: 6 – 9 years
Publisher: Capstone Press (January 1, 2015)
ISBN-10: 1491422459
ISBN-13: 978-1491422458
National Geographic Readers: Snakes! by Melissa Stewart
Reading level: Ages 5 and up
Paperback: 32 pages
Publisher: National Geographic Children's Books (April 14, 2009)
ISBN-10: 1426304285
ISBN-13: 978-1426304286
Nic Bishop Snakes by Nic Bishop
Reading level: Ages 4 and up
Hardcover: 48 pages
Publisher: Scholastic Nonfiction (October 1, 2012)
ISBN-10: 0545206383
ISBN-13: 978-0545206389
Picture Books
A Place for Turtles by Melissa Stewart and illustrated by Higgins Bond
Starting with the endpapers, which show range maps for 10 common species, the book is full of information about turtles. In a series of two-page spreads, Melissa Stewart introduces the reader to a problem that turtles face and what is being done about it, using simple and easy to comprehend language. Some ideas for protecting turtles are as straightforward as keeping your dog on a leash when hiking or using cloth bags rather than plastic ones.
The reality of our world today is that many animals are in danger. Unlike some books about threatened and endangered animals that can be depressing to read, this book remains positive by emphasizing what actions can help mitigate the threats. Turtles and turtle lovers both will surely benefit from it.
Ages: 6-10
Hardcover: 32 pages
Publisher: Peachtree Publishers (March 1, 2013)
ISBN-10: 1561456934
ISBN-13: 978-1561456932
Snakes by Seymour Simon
Reading level: Ages 6 and up
Paperback: 32 pages
Publisher: HarperCollins (March 13, 2007)
ISBN-10: 0061140953
ISBN-13: 978-0061140952
Garter Snake at Willow Creek Lane (Smithsonian's Backyard Book) by Janet Halfmann and illustrated by Anne Wertheim
The story follows Garter Snake, who is the main character. It starts dramatically with Garter Snake's birth on the first page (yes, some snakes give birth rather than lay eggs). She overcomes several challenges that include encounters with Bingo the dog, but all ends well with her finding a safe, warm place to overwinter. In between, the reader learns a great deal about the life history of garter snakes in general, including what they eat and how they defend themselves.
Garter Snake at Willow Creek Lane is just what you would expect from the high-quality Smithsonian Backyard series, sure to inspire children to learn more about snakes and nature in general. With so many options, I'm sure you can find a version that fits your needs.
Paperback: 32 pages
Publisher: Soundprints; First Edition edition (June 1, 2011)
ISBN-10: 1607272083
ISBN-13: 978-1607272083
Snakes by Gail Gibbons
Reading level: Ages 7 and up
Paperback: 32 pages
Publisher: Holiday House; Reprint edition (June 10, 2010)
ISBN-10: 082342300X
ISBN-13: 978-0823423002
Lizard in the Sun by Joanne Rider and illustrated by Michael Rothman.
This older text takes the reader through a day in the life of a lizard. It may be hard to find.
Publisher: HarperCollins (1994)
ASIN: B01FIZHEPU
Middle Grade/Activity Collections
National Geographic Kids Everything Reptiles: Snap Up All the Photos, Facts, and Fun by Blake Hoena
Age Range: 8 – 12 years
Publisher: National Geographic Children's Books (September 13, 2016)
ISBN-10: 1426325266
ISBN-13: 978-1426325267
Awesome Snake Science! 40 Activities for Learning About Snakes by Cindy Blobaum
Do you need live snakes to do the activities from this book? No, Blobaum has created scientifically-relevant activities that can be done with items from around the home, although they beg to be supplemented by a trip to a zoo to see some live specimens. For example, learning how to estimate the length of a snake lying on the ground is something snake scientists must do in the field quickly and accurately. In Blobaum's "Snake Survey" activity, snake stand-ins like lengths of yarn and belts to help children learn the estimating, measuring and data-collecting skills that can definitely be applied in the real world. These are fabulous activities for the young hands-on learner.
Awesome Snake Science! is an amazing book that sets a new standard for how hands-on science should be done. It is sure to appeal to budding scientists, particularly those interested in becoming ophiologists 9snake scientists).
Reading level: Ages 9 and up
Paperback: 144 pages
Publisher: Chicago Review Press (July 1, 2012)
ISBN-10: 1569768072
ISBN-13: 978-1569768075
The Snake Scientist (Scientists in the Field Series) by Sy Montgomery and Nic Bishop (Photographer)
Reading level: Ages 10 and up
Paperback: 48 pages
Publisher: Sandpiper; None edition (February 26, 2001)
ISBN-10: 0618111190
ISBN-13: 978-0618111190
Fiction
Verdi by Janell Cannon – Lovely fiction picture book to pair with nonfiction
Reading level: Ages 4 and up
Hardcover: 56 pages
Publisher: Harcourt Children's Books; 1st edition (April 1, 1997)
ISBN-10: 0152010289
ISBN-13: 978-0152010287