This month we are building a list of children's books about animal architects. Do you have any titles to suggest? We'd love to hear them.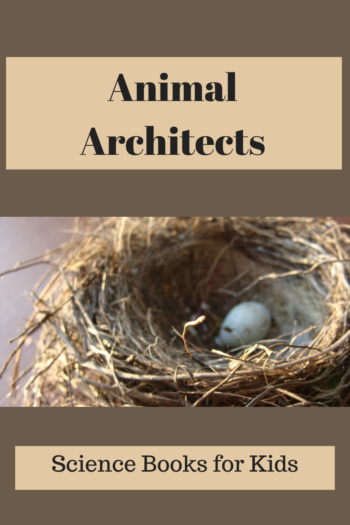 Note: Post contains affiliate links to Amazon. If you click through one of the title links or cover images and purchase a book, I will receive a small commission– at no extra cost to you –which I use to help maintain this blog.
Beginning Readers
National Geographic Readers: Animal Architects by Libby Romero
Using the story of the three little pigs building houses as an entry point into the topic, Libby Romero then guides young readers through many different members of the animal kingdom that really do construct places to live. Some are familiar builder, like beavers and birds, but others will likely be surprises.
The gorgeous photographs by National Geographic, make this a visual treat for Level 3 Fluent Readers.  The back matter includes a quiz, glossary, and index. Excellent reference for older readers who want to browse a topic quickly, as well.
Reading age : 7 – 9 years
Publisher : National Geographic Kids; Illustrated edition (January 15, 2019)
ISBN-10 : 1426333277
ISBN-13 : 978-1426333279
Picture Books
The Nest That Wren Built by Randi Sonenshine and illustrated by Anne Hunter
This gently rhyming book about Carolina wrens building a nest follows the style of "The House That Jack Built."
This is the bark, snippets of twine,
spidery rootlets, and needles of pine
that shape the nest that Wren built.
The text goes into detail about how the wrens gather materials to make the nest, from soft moss for a lining to snakeskin for warding off predators. It also covers how the parents care for the eggs and baby birds.  The back matter includes a glossary and additional interesting facts about wrens.
See activity suggestions at Growing With Science.
Reading age : 4 – 8 years
Publisher : Candlewick; Illustrated edition (March 10, 2020)
ISBN-10 : 1536201537
ISBN-13 : 978-1536201536
A Nest Is Noisy by Dianna Hutts Aston and illustrated by Sylvia Long
Although the cover may lead you to think this book is also about birds, it is actually about all kinds of animal nests, including some unusual ones like that of the African Gray Tree Frog.
These authors have a series of titles together, each one more amazing than the one before. You'll probably want your own personal copy of this one.
Activity suggestions at Growing with Science.
Reading age : 4 – 8 years
Publisher : Chronicle Books; Illustrated edition (March 14, 2017)
ISBN-10 : 1452161356
ISBN-13 : 978-1452161358
We Build Our Homes: Small Stories of Incredible Animal Architects by Laura Knowles and illustrated by Chris Madden
Featuring two-page spreads of 26 different creatures from around the world, each explains how and why these unique animals build homes. Readers will learn about everything from Aardvarks to Weaver Ants. In fact, We Build Our Homes is longer than the average picture book, but that is because the animals are so fascinating that it would have been difficult to include fewer.
As you can see from the cover, Chris Madden's lovely digital illustrations have incredible depth. For those who want to learn more, the back matter has "A Map of the World" and a "Builder's Fact File."
Reading age : 4 – 7 years
Publisher : words & pictures; Illustrated edition (October 16, 2018)
ISBN-10 : 1910277827
ISBN-13 : 978-1910277829
A Wasp Builds a Nest: See Inside a Paper Wasp's Nest and Watch It Grow by Kate Scarborough and Martin Camm
Wasps may not be anyone's favorite creature, but after reading this book, you will be hard-pressed not to admire them. The book opens with a queen wasp awakening from hibernation and follows her through the creation of a colony to her eventual death in the fall, all centered on the nest that she and her daughters construct.
The book design is particularly innovative. The interior pages are shingled, starting as a partial page and getting larger as the wasp nest grows. So cool!
Reading age : 5 – 8 years
Publisher : Firefly Books (August 2, 2016)
ISBN-10 : 1770856951
ISBN-13 : 978-1770856950
Spiders Spin Webs by Yvonne Winer and illustrated by Karen Lloyd-Jones
Although the text in this older title is relatively simple, the gorgeously detailed illustrations more than make up for it. A grand introduction to spider homes.
Reading age : 4 – 9 years
Publisher : Charlesbridge Pub Inc (July 1, 1998)
ISBN-10 : 0881069833
ISBN-13 : 978-0881069839
Middle Grade
Wild Buildings and Bridges: Architecture Inspired by Nature by Etta Kaner and Carl Wiens
Taking the idea of animal architects to another level, several of the examples in this book show how human architects used animal homes to design innovative buildings. Includes ventilation systems copied from termite mounds, and efficiently-shaped dorms modeled after honey combs.
Also includes some simple hands-on activities.
Reading age: 8 – 12 years
Publisher : Kids Can Press; Illustrated edition (October 2, 2018)
ISBN-10 : 1771387815
ISBN-13 : 978-1771387811
Fiction
Roberto, The Insect Architect by Nina Laden
Another older book,this family favorite follows the life of a termite who doesn't want to eat wood, but wants to build with it. Creativity at its best.
Reading age : 6-10 years
Publisher : Chronicle Books; Illustrated edition (September 1, 2000)
ISBN-10 : 0811824659
ISBN-13 : 978-0811824651
You Nest Here With Me by Jane Yolen and Heidi Stemple
In this rhyming bedtime book, the mother narrator describes all sorts of birds in their nests to lull her own little ones to sleep.
Reading age: 4-8 years
Published by Boyds Mills Press (Mar 03, 2015)
ISBN 9781590789230