It is summer and thoughts turn to the beach. Why not read some ocean science-themed books for children? We have something for almost all ages and interests.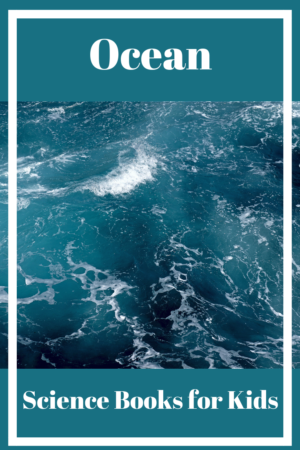 Note:  Because of the number of books in this category, we've created a separate but related list of books about beach and tide pool animals.
________________________
Disclaimer: Just so you know, I am an affiliate with Amazon. If you make a purchase after clicking on one of the title links, I will receive a small commission at no extra charge to you, the proceeds of which will help pay for maintaining this website.
_________________________
We start with books for the youngest reader.
Counting Books: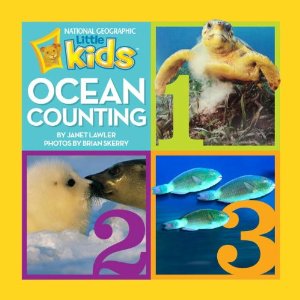 Ocean Counting (National Geographic Little Kids)

by Janet Lawler and photographs by Brian Skerry.
With fabulous National Geographic photographs and snippets of information about each featured creature, this is a counting concept book and more.
Age Range: 2 – 5 years
Hardcover: 32 pages
Publisher: National Geographic Children's Books (May 14, 2013)
ISBN-10: 1426311168
ISBN-13: 978-1426311161
Wordless Books:
Flotsam
by David Wiesner is a wordless fictional picture book about what a young boy discovers at the beach, including a very special camera. Use it to open discussions about floating and sinking, as well as life underwater.
Age Range: 4 – 8 years
Hardcover: 40 pages
Publisher: Clarion Books (September 4, 2006)
ISBN-10: 0618194576
ISBN-13: 978-0618194575
Beginning Readers:
National Geographic Little Kids First Big Book of the Ocean by Catherine D. Hughes
National Geographic Kids First Big Book of the Ocean includes both high-interest animals, such as dolphins, sharks, sea otters, and penguins, as well as some lesser-known creatures.
Age Range: 4 – 8 years
Publisher: National Geographic Children's Books; (October 8, 2013)
ISBN-10: 1426313683
ISBN-13: 978-1426313684
Oceans (Wonder Readers)
by Elizabeth Moore is a beginning reader that is just the right size and vocabulary-level for children ages 4-8. Using bright photographs to illustrate points, it reveals what the ocean is and what lives there.
Reading level: PreK-1
Library Binding: 24 pages
Publisher: Capstone Press (February 1, 2013)
ISBN-10: 147650038X
ISBN-13: 978-1476500386
Picture Books:
Ocean! Waves for All by Stacy McAnulty and illustrated by David Litchfield is narrated in the first person. The tone is lighthearted and conversational, including words like 'bro' and "righteous'.
Dude, I am Ocean.
David Litchfield's illustrations are as big and vibrant as the ocean itself. They are packed full of emotion and creativity. To coincide with the first person voice, the ocean has a floating face with eyes, nose, and mouth.
The back matter includes a note from the author, a discussion about how the ocean is really global — the names don't reflect real boundaries, "Ocean by the Numbers," a Q-and-A with Ocean, a list ways to be a friend to Ocean, and "Sources."
Overall, Ocean! represents a new "wave" of picture books that push the boundary between fiction and nonfiction in interesting ways. Get on board and check out a copy today!
Reading age : 4 – 8 years
Publisher : Henry Holt and Co. (BYR); Illustrated edition (May 5, 2020)
ISBN-10 : 1250108098
ISBN-13 : 978-1250108098

Sometimes you don't know why a particular book strikes you, but The Big Book of the Blue by Yuval Zommer is a beautiful picture book I am thrilled to look at every time I see it.
First thing you notice is the beautiful blue color and the oversized dimensions, perfect for a book about the huge, expansive ocean. Then you pop it open and you see the playful, lively illustrations. You can imagine the fish swimming and the jellyfish bobbing. Delightful!
The Big Book of the Blue is the type of book that begs to be shared. Grab a copy, find a quiet corner, and spend time with it. Children will love it.
Nominated for a 2018 Cybils and reviewed at Wrapped in Foil.
Age Range: 4 – 8 years
Publisher: Thames & Hudson; 1 edition (June 5, 2018)
ISBN-10: 0500651191
ISBN-13: 978-0500651193
Ocean Emporium: A Compilation of Creatures by Susie Brooks and illustrated by Dawn Cooper
What is an emporium? By definition it is a large store that carries a diversity of items, like a department store. In the book it is used in the sense of a place where you can see a collection of many diverse animals.
The first spread introduces readers to an ocean food web and all the different groups that are featured in the rest of the book.
"Deep, mysterious oceans sweep across our planet, making up 99 percent of the living space on Earth. Beneath their rolling waves lies a web of life that ties together creatures great and small."
Turn the pages to find collections of related animals, from hermit crabs to sharks. Dive into a copy today.
Age Range: 5 – 9 years
Publisher: Charlesbridge (March 5, 2019)
ISBN-10: 1580898289
ISBN-13: 978-1580898287
Giant Squid by Candace Fleming and illustrated Eric Rohmann is a finalist for a Cybils award in the elementary/juvenile nonfiction category in 2016. The book explores the mysterious and elusive deep sea creature.
Age Range: 6 – 10 years
Publisher: Roaring Brook Press (September 27, 2016)
ISBN-10: 1596435992
ISBN-13: 978-1596435995
As with other titles in the About… series, About Marine Mammals: A Guide for Children features Cathryn Sill's clear, uncomplicated language and John Sill's gorgeous watercolor illustrations.
Planning a trip to the beach? About Marine Mammals would be a perfect book to get children inspired about ocean creatures before the trip, learn more about what they see during the trip, and reinforce memories and learning after the trip. Not traveling? It would also be a wonderful way to take a trip to distant, cool places in your imagination.
Age Range: 4 – 7 years
Publisher: Peachtree Publishers (August 1, 2016)
ISBN-10: 1561459062
ISBN-13: 978-1561459063
Wandering Whale Sharks
written and illustrated by Susumu Shingu is a gentle book for younger children that follows the largest fish in the world, the whale shark. It was originally published in Japan in 1991, and has recently be translated and republished by Owlkids Books Inc.
The illustrations largely feature black and blue, giving the feeling of being completely under water. The images are incredibly peaceful and the text lyrical, making the book a lovely choice for reading aloud to a group of children.
Wandering Whale Sharks is the type of informational picture book that is likely to appeal to a variety of audiences. Highly recommended!
Age Range: 4 – 8 years
Publisher: Owlkids Books (March 17, 2015)
ISBN-10: 1771471301
ISBN-13: 978-1771471305
Amazing Giant Sea Creatures
by DK introduces young readers to giant sea creatures via lift-up flaps and slide-out pages.
Age Range: 4 – 6 years
Hardcover: 16 pages
Publisher: DK Children; Ltf edition (June 16, 2014)
ISBN-10: 1465419012
ISBN-13: 978-1465419019
Here Come the Humpbacks!
by April Pulley Sayre and illustrated by Jamie Hogan follows the migration of a mother humpback and her baby from the Caribbean Sea to the New England coast and back. During the trip the reader learns about the lives of whales and the challenges they face. Growing with Science has related science activities.
Paperback: 40 pages
Publisher: Charlesbridge Publishing (February 1, 2013)
Language: English
ISBN-10: 1580894062
ISBN-13: 978-1580894067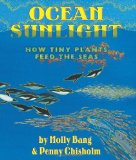 Ocean Sunlight: How Tiny Plants Feed the Seas
written by Molly Bang and Penny Chisholm and illustrated by Molly Bang, is a Bankstreet Children's Nonfiction finalist. It celebrates ocean habitats and food chains. This book is the combination of the talents of Penny Chisholm, who is a MIT professor and expert on oceans, and Molly Bang, who is a Caldecott award winner.
Age Range: 4 – 8 years
Hardcover: 48 pages
Publisher: The Blue Sky Press (May 1, 2012)
ISBN-10: 0545273226
ISBN-13: 978-0545273220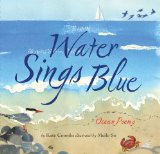 Water Sings Blue
by Kate Coombs expands the reader's experiences by mixing poetry with lavish illustrations. (As of today, the Amazon link offers an audio snippet of a couple of the poems). Poetry and art encourage children to observe their world closely, a skill that is also useful for science.
Reading level:  4-8 years
Publisher:  Chronicle Books (March 14, 2012)
ISBN-10:  9780811872843
ISBN-13:  978-0811872843
Middle Grade Books:
The Great Shark Rescue: Saving the Whale Sharks by Sandra Markle explains whale sharks are not only the biggest fish in the world, but also the coolest sharks because they feed by vacuuming up tons of the smallest creatures in the water (see pages 18-19). Unfortunately, along with many other fascinating creatures, their numbers are plummeting and they have recently become endangered.
Markle gives numbers and explicit reasons why the populations are in decline. Sometimes the sharks are caught is nets during legal fishing ,while at other times they are killed by people who fish for sharks illegally. Climate change is also a factor. Scientists want to try to help the sharks, but they know little about them. It is a race to learn about whale sharks before they disappear.
The Great Shark Rescue will thrill budding marine biologists as well as those interested in conserving endangered species.
Age Range: 9 – 12 years
Series: Sandra Markle's Science Discoveries
Publisher: Millbrook Press TM (October 1, 2019)
ISBN-10: 1541510410
ISBN-13: 978-1541510418
You really need to pick up a copy of The Ultimate Book of Sharks (National Geographic Kids) by Brian Skerry to feel the true impact of it.
Starting out with the cover of this large-scale book, you notice the huge shark at the top with gaping jaws that almost jumps out of the page. Whoa! Underneath, the words Ultimate and Sharks in the title are in silver reflective letters that grab your eye. Inside, chapter one hooks your further with some cool information. Did you know some sharks have organs that glow in the dark? Freaky!
The rest of the chapters mix the amazing photographs we've come to expect from National Geographic with sidebars and other bite-sized chunks of stories and facts about sharks from around the world.
The Ultimate Book of Sharks will thrill both young readers and educators alike. It will entice the most reluctant of readers, but it also has the factual underpinnings to serve as a go-to reference book. Capture a copy today!
Age Range: 9 – 12 years
Publisher: National Geographic Children's Books; edition edition (May 15, 2018)
ISBN-10: 9781426330711
ISBN-13: 978-1426330711
ASIN: 1426330715

Another title in the amazing Scientists in the Field Series, The Orca Scientists by Kim Perez Valice and photographs by Andy Comins
Age Range: 10 – 12 years
Publisher: HMH Books for Young Readers (July 24, 2018)
ISBN-10: 0544898265
ISBN-13: 978-0544898264
Marine Science for Kids: Exploring and Protecting Our Watery World, Includes Cool Careers and 21 Activities by Bethanie Hestermann and Josh Hestermann, with a foreword by Stephanie Arne
If you only can afford one book about oceans, this is the one to pick. Filled with information about marine science, mini-biographies of marine scientists, and hands-on activities to reinforce learning.
Age Range: 9 and up 
Grade Level: 4 and up
Paperback: 144 pages
Publisher: Chicago Review Press (June 1, 2017)
ISBN-10: 1613735367
ISBN-13: 978-1613735367

Neighborhood Sharks: Hunting with the Great Whites of California's Farallon Islands

by Katherine Roy
Great white sharks are fierce predators and this book reflects reality. Right up front, the cover sets the tone for this book, showing a shark with something in its mouth and a suggestion of red blood in the water. Some of the illustrations within the book show the sharks grabbing and eating seals. Certain children are going to find this thrilling and others are probably not. As with any book with potentially disturbing images, it is a good idea to prepare young readers in advance and let them choose whether they want to continue.
That is not to say that this book is about gratuitous violence. In fact, it contains a number of fascinating scientific illustrations detailing the body of the shark, how its blood circulates to help heat up this cold-blooded fish, how its eyes work, how its teeth work, and what makes its jaws unique. Learning facts about any animal definitely helps make it less fearsome.
Neighborhood Sharks has won many awards and honors, including:
Age Range: 7 – 11 years
Publisher: David Macaulay Studio (September 30, 2014)
ISBN-10: 1596438746
ISBN-13: 978-1596438743
The Next Wave: The Quest to Harness the Power of the Oceans (Scientists in the Field Series)
by Elizabeth Rusch introduces us to a number of scientists who are working hard to convert the mechanical energy of ocean waves into electrical energy.
Rusch starts the book with a description of the power of waves, including an example of a cruise ship caught in a powerful storm. She then delves into the early lives of two engineers who are working on converting wave energy into electricity. This part about the "Two Mikes" is perfect for young readers, giving examples of young scientists of similar age or only slightly older and drawing the reader into the story. Rusch then introduces Oregon State University professor Annette von Jouanne and her work. She follows with an overview of the research of several competing groups, showing the progress and setbacks of this interesting field.
See a full review at  Wrapped in Foil.
Age Range: 10 – 14 years
Publisher: HMH Books for Young Readers (October 14, 2014)
ISBN-10: 0544099990
ISBN-13: 978-0544099999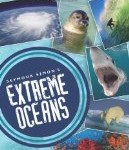 Seymour Simon's Extreme Oceans
by Seymour Simon is for middle grade readers. It has smaller illustrations and deeper text than Coral Reefs, covering topics ranging from extreme ocean animals to extreme ocean weather events. Simon even covers the weather events driven by ocean temperatures in the eastern Pacific Ocean, called El Niño and La Niña. He also mentions coral reefs. Most amazing fact? I thought it was the pinky-nail-sized Australian jellyfish that can deliver a mammoth-sized amount of pain.
Age Range: 9 and up
Hardcover: 60 pages
Publisher: Chronicle Books (April 2, 2013)
ISBN-10: 1452108331
ISBN-13: 978-1452108339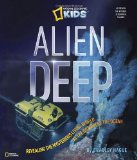 Alien Deep: Revealing the Mysterious Living World at the Bottom of the Ocean
by Bradley Hague has been named a 2013 Outstanding Science Trade Book by the NSTA. It calls on the full resources of National Geographic to chronicle the amazing field of deep water oceanography,
Age Range: 8 and up
Hardcover: 48 pages
Publisher: National Geographic Children's Books (September 11, 2012)
ISBN-10: 1426310676
ISBN-13: 978-1426310676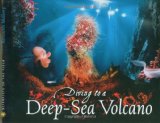 Diving to a Deep-Sea Volcano (Scientists in the Field Series)
by Kenneth Mallory tells the story of marine biologist Rich Lutz as he investigates the odd creatures that have been recently discovered around hydrothermal vents.
Age Range: 10 and up
Hardcover: 64 pages
Publisher: Houghton Mifflin Books for Children (October 2, 2006)
ISBN-10: 0618332057
ISBN-13: 978-0618332052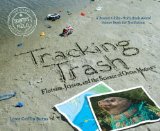 Tracking Trash: Flotsam, Jetsam, and the Science of Ocean Motion (Scientists in the Field Series)
by Loree Griffin Burns is about Dr. Curt Ebbesmeyer, an oceanographer who studies the huge streams of water flowing through the ocean, called currents. Dr. Ebbesmeyer discovered that by tracking how fast and how far floating items spilled from ship accidents (like sneakers and floating toys) moved, he and other scientists could map the direction and speed of the ocean currents.
See related science experiments and activities at Growing With Science.
Age Range: 10 and up
Paperback: 64 pages
Publisher: HMH Books for Young Readers; Reprint edition (April 5, 2010)
ISBN-10: 0547328605
ISBN-13: 978-0547328607
Journey Into the Deep: Discovering New Ocean Creatures (Junior Library Guild Selection)
by Rebecca L. Johnson allows readers learn about cutting edge science, view glorious full-color photographs of creatures never seen before, and get glimpses into the lives of scientists at work. It is so appropriate for kids at an age where they are getting ready to explore their world, as well as starting to think about their career options. This book is sure to inspire everyone to want to study marine biology.
Reading level: Young Adult
Library Binding: 64 pages
Publisher: Millbrook Press (September 2010)
ISBN-10: 076134148X
ISBN-13: 978-0761341482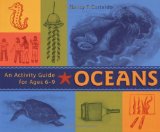 Oceans: An Activity Guide for Ages 6-9
by Nancy F. Castaldo encourages the reader to explore concepts about the ocean using hands-on activities and crafts. Activities range from creating a jellyfish mobile to learning how whales stay warm in cold Arctic waters.
Age Range: 7 – 9 years
Paperback: 144 pages
Publisher: Chicago Review Press; 1 edition (April 1, 2002)
ISBN-10: 1556524439
ISBN-13: 978-1556524431