Summer is a great time to go to the beach. While you are there, learn some science by exploring the creatures that live on the beach and in tide pools.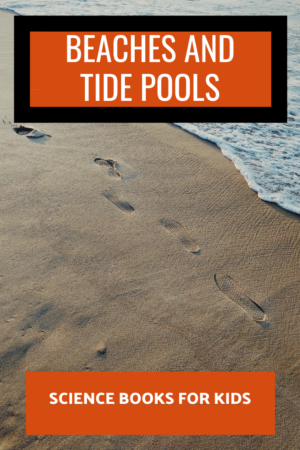 Disclaimer: Just so you know, I am an affiliate with Amazon. If you make a purchase after clicking on one of the image or title links, I will receive a small commission at no extra charge to you, the proceeds of which will help pay for maintaining this website.
Nonfiction
Beginning Reader
Life in a Tide Pool (Rookie Read-About Science)
by Allan Fowler
Simple, straightforward informational nonfiction that covers the tide pool habitat.
Age Range: 6 and up
Series: Rookie Read-About Science
Library Binding: 32 pages
Publisher: Children's Press (CT) (September 1996)
ISBN-10: 0516200313
ISBN-13: 978-0516200316
Picture Books
Seashells: More Than a Home by Melissa Stewart and illustrated by Sarah S. Brannen
This title really stands out because it does so much more than describe or identify shells a child might find on the beach. Instead, it breathes life into the creatures that inhabit different seashells by showing how all the various sizes, shapes, and colors help the members of the Phylum Mollusca — or mollusks — survive.
Seashells: More Than a Home is a wonderful resource for studies on ocean or beach habitats. It would also make a great gift for nature lovers, especially before a trip to the beach. Discover a copy today!
Age Range: 6 – 9 years
Publisher: Charlesbridge (April 2, 2019)
ISBN-10: 1580898106
ISBN-13: 978-1580898102
The Crab Alphabet Book by Jerry Pallotta and illustrated by Tom Leonard
Jerry Pallotta's books combine humor with amazingly detailed information. Although organized alphabetically, these texts are way beyond simple ABC concept books. Always be prepared for surprises, too.
Age Range: 3 – 7 years
Publisher: Charlesbridge (February 12, 2019)
ISBN-10: 1570911444
ISBN-13: 978-1570911446
How to Hide an Octopus and Other Sea Creatures (Reading Railroad)
by Ruth Heller
Ruth Heller's books about camouflage are delightful, with rhyming text and colorful illustration. Highly recommended!
Age Range: 4 – 8 years
Publisher: Grosset & Dunlap (April 29, 1992)
ISBN-10: 0448404788
ISBN-13: 978-0448404783
Seashells, Crabs and Sea Stars: Take-Along Guide (Take Along Guides)
by Christiane Kump Tibbitts and illustrated by Linda Garrow
Introduces children to common tide pool animals, with tips for identifying 15 different kinds of seashells, 5 kinds of crabs and 7 kinds of sea stars. Suggestions for activities included.
Age Range: 7 – 10 years
Publisher: Cooper Square Publishing Llc (January 1, 1999)
ISBN-10: 1559716754
ISBN-13: 978-1559716758
What Lives in a Shell? (Let's-Read-and-Find-Out Science 1)
by Kathleen Weidner Zoehfeld and illustrated by Helen K. Davie
Learn about how snails, turtles, crabs, and clams have shells that act as their homes and protect them from harm. An older title, but the books in the Let's-Read-and-Find-Out Science series are always high quality.
Age Range: 4 – 8 years
Grade Level: Preschool – 3
Publisher: HarperCollins; 1 edition (April 22, 1994)
ISBN-10: 0064451240
ISBN-13: 978-0064451246
What's in the Tide Pool?
by Anne Hunter

The books in this series are small (approximately 5 inches x 5 inches). Each describe a few common animals in a given habitat.
Age Range: 4 – 7 years
Publisher: HMH Books for Young Readers (August 28, 2000)
ISBN-10: 0618015108
ISBN-13: 978-0618015108
In One Tidepool: Crabs, Snails, and Salty Tails
by Anthony D. Fredericks and illustrated by Jennifer Dirubbio
This book includes rhyming text of the "house-that-Jack-built" format.
Age Range: 4 and up
Publisher: Dawn Pubns; 1 edition (August 1, 2002)
ISBN-10: 1584690380
ISBN-13: 978-1584690382
There are a number of books about a single group of invertebrates for young children:
Crab (Welcome Books: Ocean Life)
by Lloyd G. Douglas
Age Range: 4 and up
Publisher: Children's Press(CT) (September 2005)
ISBN-10: 0516237403
ISBN-13: 978-0516237404
Sea Stars (Ocean Life)
by Lola M. Schaefer
Age Range: 4 – 8 years
Publisher: Capstone Press (July 1, 1998)
ISBN-10: 0736882219
ISBN-13: 978-0736882217
Fiction
A House for Hermit Crab (The World of Eric Carle)
by Eric Carle
Growing and having to move are themes in this classic book about a hermit crab looking for a new shell to live in.
Age Range: 5 – 7 years
Publisher: Simon Spotlight; Reissue edition (May 13, 2014)
ISBN-10: 1481409158
ISBN-13: 978-1481409155
Do you have any suggestions for our list of children's books about beaches and tide pools? We'd love to hear them.
Save