Summer means trips to the beach and time near the water. What better time to study fish?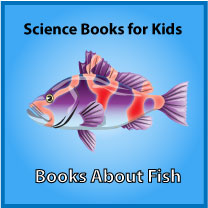 Disclaimer: Just so you know, I am an affiliate with Amazon. If you make a purchase after clicking on one of the image or title links, I will receive a small commission at no extra charge to you, the proceeds of which will help pay for maintaining this website.
Nonfiction
Beginning Readers
Fish Body Parts by Clare Lewis
Learning body parts is important for identification and for understanding function. This series emphasizes what different parts look like and what they are for.
Age Range: 4 – 7 years
Publisher: Heinemann (August 1, 2015)
ISBN-10: 1484625633
National Geographic Readers: Swim Fish!: Explore the Coral Reef by Susan B. Neuman
Straightforward sentences help readers learn about ocean creatures, not just fish.
Age Range: 2 – 5 years
Publisher: National Geographic Children's Books (May 13, 2014)
ISBN-10: 1426315104
ISBN-13: 978-1426315107
Picture Books
What's It Like to Be a Fish? (Let's-Read-and-Find-Out Science 1) by Wendy Pfeffer and illustrated by Holly Keller
Award-winning book discusses the life of fish, including how they eat and breathe underwater.
Age Range: 4 – 8 years
Publisher: HarperCollins; Revised edition (August 4, 2015)
ISBN-10: 0062381997
ISBN-13: 978-0062381996
About Fish: A Guide For Children by Cathryn P. Sill and illustrated by John Sill
Simple introduction to fish with lovely watercolor illustrations
Age Range: 4 – 7 years
Publisher: Peachtree Publishers (March 1, 2005)
ISBN-10: 1561453358
ISBN-13: 978-1561453351
Sea Horse: Read and Wonder: The Shyest Fish in the Sea by Chris Butterworth and illustrated by John Lawrence
Learn all about the life cycle of seahorses.
Age Range: 4 – 8 years
Publisher: Candlewick; Reprint edition (March 24, 2009)
ISBN-10: 0763641405
ISBN-13: 978-0763641405
Wandering Whale Sharks
written and illustrated by Susumu Shingu is a gentle book for younger children that follows the largest fish in the world, the whale shark. It was originally published in Japan in 1991, and has recently be translated and republished by Owlkids Books Inc.
The illustrations largely feature black and blue, giving the feeling of being completely under water. The images are incredibly peaceful and the text lyrical, making the book a lovely choice for reading aloud to a group of children.
Wandering Whale Sharks is the type of informational picture book that is likely to appeal to a variety of audiences. Highly recommended!
Age Range: 4 – 8 years
Publisher: Owlkids Books (March 17, 2015)
ISBN-10: 1771471301
ISBN-13: 978-1771471305
Middle Grade
Amazon Adventure: How Tiny Fish Are Saving the World's Largest Rainforest by Sy Montgomery with photographs by Keith Ellenbogen
Go on a trip to the Amazon with conservation biologist Scott Dowd to learn about how fish like tiny cardinal tetras are important to the ecosystem.
Age Range: 10 – 12 years
Publisher: HMH Books for Young Readers (July 4, 2017)
Language: English
ISBN-10: 0544352998
ISBN-13: 978-0544352995
DK Eyewitness Books: Fish by Steve Parker
Although written at the middle grade level, the brightly-colored photographs can hold the attention of readers of a range of ages.
Age Range: 8 – 12 years
Publisher: DK Children; Rev ed. edition (April 11, 2005)
ISBN-10: 0756610737
ISBN-13: 978-0756610739
Neighborhood Sharks: Hunting with the Great Whites of California's Farallon Islands

by Katherine Roy

Great white sharks are fierce predators and this book reflects reality. Right up front, the cover sets the tone for this book, showing a shark with something in its mouth and a suggestion of red blood in the water. Some of the illustrations within the book show the sharks grabbing and eating seals. Certain children are going to find this thrilling and others are probably not. As with any book with potentially disturbing images, it is a good idea to prepare young readers in advance and let them choose whether they want to continue.
That is not to say that this book is about gratuitous violence. In fact, it contains a number of fascinating scientific illustrations detailing the body of the shark, how its blood circulates to help heat up this cold-blooded fish, how its eyes work, how its teeth work, and what makes its jaws unique. Learning facts about any animal definitely helps make it less fearsome.
Neighborhood Sharks has won many awards and honors, including:
Age Range: 7 – 11 years
Publisher: David Macaulay Studio (September 30, 2014)
ISBN-10: 1596438746
ISBN-13: 978-1596438743
Picture Book Fiction
The Pout-Pout Fish by Deborah Diesen and illustrated by Dan Hanna
Written in rhyme, this is a wildly-popular book for preschoolers. Look for others in the series, too.
Age Range: 3 – 6 years
Publisher: Farrar, Straus and Giroux (August 6, 2013)
ISBN-10: 0374360979
ISBN-13: 978-0374360979
Swimmy by Leo Leoni
A classic book about facing fears and overcoming danger by working together.
Age Range: 3 – 7 years
Publisher: Dragonfly Books; Reissue edition (April 12, 1973)
ISBN-10: 0394826205
ISBN-13: 978-0394826202
The Rainbow Fish by Marcus Pfister and translated by J Alison James
Follow Rainbow Fish as he learns about making friends. Try any of the Rainbow Fish books.
Age Range: 3 – 10 years
Publisher: North-South Books; First Edition edition (January 27, 1999)
ISBN-10: 1558580093
ISBN-13: 978-1558580091
Do you have any suggestions for this list? Please let us know.
Save
Save
Save
Save