Help your children understand the process of decomposition and the nutrient cycle by starting with a good book.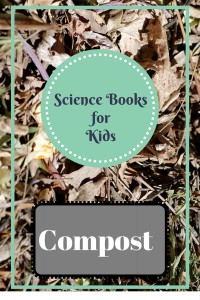 Note: this post contains affiliate links to Amazon.
Board Books
The Little Composter (Teenie Greenies) by Jan Gerardi
A lift-the-flap book that teaches preschoolers about composting with age-appropriate rhyming text. Would be appropriate for young beginning readers, as well.
Age Range: 2 – 3 years
Publisher: Random House Books for Young Readers; Ltf Brdbk edition (March 8, 2011)
ISBN-10: 0375854126
ISBN-13: 978-0375854125
Picture Books
Compost Stew: An A to Z Recipe for the Earth by Mary McKenna Siddals and illustrated by Ashley Wolff
This unique alphabet book is actually a rousing call to compost written in rhyming text. The collage illustrations are also made from recycled materials.
Books in Bloom has a 16-page lesson plan to accompany this book (link to .pdf download)
Age Range: 3 – 7 years
Publisher: Dragonfly Books; Reprint edition (October 14, 2014)
ISBN-10: 0385755384
ISBN-13: 978-0385755382
Garbage Helps Our Garden Grow: A Compost Story by Linda Glaser with photographs by Shelley Rotner
Table scraps that normally go into the garbage can be used to make compost for the garden. Linda Glaser describes how and Shelley Rotner inspires us to go out and compost.
Age Range: 5 – 8 years
Publisher: Millbrook Press (January 1, 2010)
ISBN-10: 0761349111
ISBN-13: 978-0761349112
Composting: Nature's Recyclers (Amazing Science) by Robin Koontz and illustrated by Matthew Harrad
This picture book introduces children to the bacteria, fungi and critters that help turn plant materials into compost.
Age Range: 5 – 10 years
Publisher: Picture Window Books (September 1, 2006)
ISBN-10: 1404822003
ISBN-13: 978-1404822009
Grubs, Bugs, and Worms: Invertebrates of the Underground (Underground Safari) by Jody S. Rake
Each two-page spread contains information about a different group of animals that live in the soil and potentially compost, such as earthworms and cicada grubs. A "Dig-in" sidebar gives a memorial fact or two. A glossary is also included in each spread. The text is clear and succinct.
Age Range: 6 – 9 years
Publisher: Capstone Press (August 1, 2015)
ISBN-10: 1491450614
ISBN-13: 978-1491450611
A Pill Bug's Life (Nature Upclose) by John Himmelman
Himmelman both writes and illustrates this lovely book that introduce children to the lives of "rolypolies."
Age Range: 5 and up
Publisher: Children's Press(CT) (March 1, 2000)
ISBN-10: 0516267981
ISBN-13: 978-0516267982
An Earthworm's Life (Nature Upclose) by John Himmelman
Once again, John Himmelman's watercolor illustrations make this book about earthworms special.
Age Range: 5 and up
Publisher: Childrens Pr (April 2001)
ISBN-10: 0516265350
ISBN-13: 978-0516265353
Wiggling Worms at Work (Let's-Read-and-Find-Out Science 2) by Wendy Pfeffer and illustrated by Steve Jenkins
You can't go wrong with any of the Let's-Read-and-Find-Out Science books. The collage illustrations are Steve Jenkins's trademark. They may or may not work for a science book.
Age Range: 4 – 8 years
Publisher: HarperCollins; 1 edition (December 23, 2003)
ISBN-10: 0064451992
ISBN-13: 978-0064451994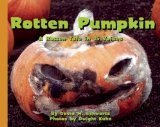 Rotten Pumpkin: A Rotten Tale in 15 Voices
by David M. Schwartz and with photographs by Dwight Kuhn
I'll let you know right up front that this book is not for the highly squeamish. If the thought of fly vomit makes you quiver, then you might not find the book as delightful as I did. Photographer Kuhn spares nothing as he follows the decomposition meltdown of a carved Halloween pumpkin. takes you down and dirty with close-ups of molds, slime molds and yeasts, as well as other organisms, to show how nutrients get recycled and organic matter added to the soil. Remember that kids, however, might enjoy all that goo and ooze. Plus, the team of David M. Schwartz and Dwight Kuhn have worked on a number of projects together and their expertise shows.
Age Range: 4 – 12 years
Grade Level: Preschool – 7
Hardcover: 32 pages
Publisher: Creston Books (July 23, 2013)
Language: English
ISBN-10: 1939547032
ISBN-13: 978-1939547033
Wonderful Worms by Linda Glaser
A classic, this older book has stood the test of time. The illustrations are lovely. The back matter is a two-page spread with facts about earthworms in a question-and-answer format.
Age Range: 4 and up
Publisher: Millbrook Press; Reprint edition (March 1, 1994)
ISBN-10: 1562947303
ISBN-13: 978-1562947309
Magic School Bus Meets the Rot Squad : A Book about Decomposition by Joanna Cole  and illustrated by Carolyn Bracken and Bruce Degen
Truly unique, it is also worth picking up this older book. It delves into decomposition like no other children's book.
Age Range: 4 – 8 years
Publisher: Scholastic (January 1, 1995)
ISBN-10: 0590400231
ISBN-13: 978-0590400237
Middle Grade
Leaf Litter Critters by Leslie Bulion and illustrated by Robert Meganck
Written as a series of poems and with cartoon-like illustrations, this serious text might just entice some readers who prefer fiction to explore a less-than-glamorous ecosystem.
Age Range: 8 – 12 years
Publisher: Peachtree Publishers (March 1, 2018)
ISBN-10: 156145950X
ISBN-13: 978-1561459506
Compost Critters
by Bianca Lavies
Although this book is older, it is really worth trying to get your hands on it. The photographs lead the reader into the miniature life of the compost heap. The author also shows her passion for compost in the detailed text.
Age Range: 9 and up
Publisher: Dutton Juvenile; 1st edition (May 1, 1993)
ISBN-10: 0525447636
ISBN-13: 978-0525447634
Michael Elsohn Ross has a wonderful "-ology" series of science books for middle grade children that cover critters found in compost heaps. Gives life cycles and simple kid-friendly experiments to do.
Age Range: 7 and up
Publisher: Carolrhoda Books (February 1996)
ISBN-10: 0876149379
ISBN-13: 978-0876149379