Water is so important for life. Let's start a growing list of children's books about water science and the water cycle.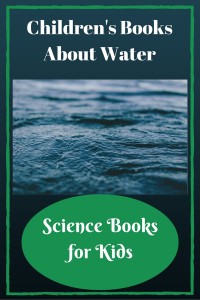 Note: this post contains affiliate links to Amazon.
Beginning Reader
National Geographic Readers: Water by Melissa Stewart
In this level 3 reader, kids will learn about the water cycle through leveled vocabulary. Illustrated with the gorgeous photography readers have come to expect from National Geographic.
Age Range: 6 – 9 years
Publisher: National Geographic Children's Books (July 8, 2014)
ISBN-10: 1426314744
ISBN-13: 978-1426314742
Water Cycle (Pebble Plus: Earth and Space Science)
by Craig Hammersmith
Introduces many important concepts and vocabulary words pertaining to the water cycle, such as evaporation, condensation and precipitation. Along with a glossary and an index, there are instructions for making a "mini-earth" in the form of a terrarium.
Age Range: 4 and up
Publisher: Capstone Press (August 1, 2011)
ISBN-10: 1429671424
ISBN-13: 978-1429671422
Picture Books
This Raindrop: Has a Billion Stories to Tell by Linda Ragsdale and illustrated by Srimalie Bassani
This picture book…
Starts with a single raindrop that "has billions of stories to tell" then follows it through time and space at it cycles again and again. Readers will be thrilled as the words flow like water.
This picture book…
Has incredibly imaginative illustrations that play with perspective, zooming in and out up and down from spread to spread.
This picture book…
Has a little something extra. It features a lovely arlin paper cover with foil text enhancements, illustrated end papers, plus back matter including an explanation of the water cycle, the importance of water conservation, and resources for further reading.
This picture book…
Could help save the planet. As the sticker on the cover says, "Every Book [purchased] Plants a Tree." What could be better than that?
Age Range: 5 – 8 years
Publisher: Flowerpot Press (April 7, 2020)
ISBN-10: 1486718175
ISBN-13: 978-1486718177
Hey, Water! by Antoinette Portis
Catchy text and gorgeous illustrations caught the attention of judges and reviewers all over.  Both a  Robert F. Sibert Honor Book and an ALA Notable Children's Book.
Age Range: 4 – 8 years
Publisher: Neal Porter Books (March 26, 2019)
ISBN-10: 0823441555
ISBN-13: 978-0823441556
Raindrops Roll
by April Pulley Sayre
Raindrops Roll features April Pulley Sayre's fabulous and fresh photographs of wet plants and critters, accompanied by verb-rich, poetic text that captures the very essence of rain.
In the main text, the reader learns that raindrops reflect, magnify and cling. In the two-page spread in the backmatter, the reader can explore "A Splash of Science" to understand more about what they see.
Young children will want to come back to Raindrops Roll again and again. Have a copy handy to read the next time you are trapped inside on a rainy day!
Age Range: 4 – 8 years
Publisher: Beach Lane Books; 1 edition (January 6, 2015)
ISBN-10: 148142064X
ISBN-13: 978-1481420648
Water Can Be . . . (Millbrook Picture Books)
by Laura Purdie Salas and illustrated by Violeta Dabija
At first glance, it might seem to be too lovely to be a serious science book.
Water can be a…

Thirst quencher
Kid drencher
Cloud fluffer
Fire snuffer
As you spend more time with the book, however, you begin to discover the depth Salas has incorporated into it. The back matter has "More About Water" with explanations for each phrase in the main text. In it Salas introduces children to such scientific vocabulary as "condense," "water vapor" and "water cycle." She explains how all living organisms need water to live, how it regulates temperature and how it can be a powerful natural force. It is sure to generate discussion and even more ideas about the importance of water.
Water Can Be… could be used to learn about the seasons, weather, the importance of water to living things, and even life cycles
Ages 5-8
Series: Millbrook Picture Books
Publisher: Millbrook Pr Trade (April 1, 2014)
ISBN-10: 1467705918
ISBN-13: 978-1467705912
Blue on Blue by Dianne White and illustrated by Beth Krommes
Explore the details of a New England rain storm through Diane White's spare rhyme and the amazing watercolor and scatchboard illustrations by Caldecott Medalist Beth Krommes. (If you are put off by the cover linked here, check the Amazon look inside feature. It gives a clearer picture.)
Age Range: 5 – 8 years
Publisher: Beach Lane Books (December 9, 2014)
ISBN-10: 1442412674
ISBN-13: 978-1442412675
Water Rolls, Water Rises: El agua rueda, el agua sube by Pat Mora and illustrated by Meilo So
A lovely, lyrical description of fourteen places water can be found around the world:
"Blown by the wind, water sails high."
Text is written in both English and Spanish.
Age Range: 6 – 11 years
Publisher: Children's Book Press; Bilingual edition (October 1, 2014)
Language: English, Spanish
ISBN-10: 0892393254
ISBN-13: 978-0892393251
Water Is Water: A Book About the Water Cycle
by Miranda Paul and illustrated by Jason Chin
Miranda Paul's spare but engaging story arc
goes from familiar (getting a glass of water) to less familiar (forms of water/weather) and then returns to drinking water again (familiar).
Award-winning author and illustrator Jason Chin's paintings of children doing everyday activities help bring the young reader in, as well.
A two-page spread in the backmatter  helps children learn "More About Water." In this case, the pages explain the vocabulary of the water cycle, from evaporation to seepage.
Pick up a copy of Water is Water to share with children ready to learn the basics of the water cycle. Perfect for young readers who prefer their nonfiction to look and sound like fiction.
Age Range: 6 – 10 years
Hardcover: 40 pages
Publisher: Roaring Brook Press (May 26, 2015)
ISBN-10: 159643984X
ISBN-13: 978-1596439849
All the Water in the World
by George Ella Lyon and illustrated by Katherine Tillotson
The pitch-perfect rhymes are meant to be read aloud. Great for story times. but not a deep explanation of the water cycle.
Age Range: 4 – 8 years
Publisher: Atheneum/Richard Jackson Books (March 22, 2011)
ISBN-10: 1416971300
A Drop Around the World
by Barbara McKinney and illustrated by Michael S. Maydak
This denser explanation of the water cycle would pair well with the All the Water above to give the more detailed explanations some older students crave.
Age Range: 5 and up
Publisher: Dawn Pubns (April 1, 1998)
ISBN-10: 1883220726
ISBN-13: 978-1883220723
Middle Grade
Water Runs Through This Book
by Nancy Bo Flood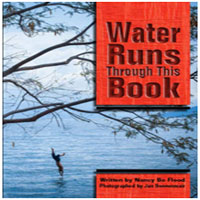 Mixing stories, poems, quotations, and informational text, author Flood explores all aspects of water and its impact on our world. The topics are wide ranging, from the chemistry of water molecules to the geopolitics of water conservation. It reads somewhat like a folder of fascinating tidbits about water put together into a coherent collage.
The illustrations are color photographs by Jan Sonnenmair, supplemented with stock photographs and some diagrams.
Water Runs Through This Book would be a useful reference text to have on hand for a wide range of topics. It also would work well for young adults and even adults, as well as middle grades.
Age Range: 8 – 12 years
Publisher: Fulcrum Publishing (August 25, 2015)
ISBN-10: 1936218135
ISBN-13: 978-1936218134