Want to ramp up your STEM activities for preschoolers? Read some of these children's book about cars, trucks, and trains. No need to stay in the nonfiction section, either.
Then build some actual ramps and learn about physics with toy cars and trucks.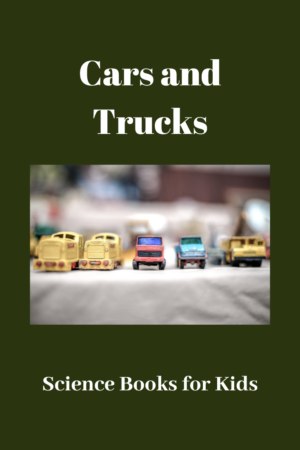 Disclaimer: Just so you know, I am an affiliate with Amazon. If you make a purchase after clicking on one of the image or title links, I will receive a small commission at no extra charge to you, the proceeds of which will help pay for maintaining this website.
Board Books
Little Blue Truck by Alice Schertle and illustrated by Jill McElmurry
At a recent STEM story time, I let the kids pick the book for us to read. Little Blue Truck was clearly a fan favorite.
In the book, a truck helps a bigger truck who is stuck in the mud. (Note:  the central concept of the importance of friendship might be more appropriate for the older preschoolers.)
Although the genre is fiction, you can extend learning with STEM activities like rolling toy trucks in playdough or blue paint to find out more about how friction works.
HMH Books has some great Little Blue truck party and activity ideas to download
Age Range: Baby – 3 years
Publisher: HMH Books for Young Readers; Brdbk edition (July 7, 2015)
ISBN-10: 9780544568037
ISBN-13: 978-0544568037
ASIN: 0544568036
Calling All Cars by Sue Fliess and illustrated by Sarah Beise
Follow all sorts of cars through a day long road trip, which ends with a gentle bedtime message:
Rest cars, Hush cars
No more rush, cars.
Cars pull in, turn off the light.
Sweet dreams, sleepy cars…goodnight!
The artist added interest by including clues to the events of the next page. Children will have great fun guessing what comes next.
Age Range: 1 – 4 years
Publisher: Sourcebooks Jabberwocky; Brdbk edition (June 1, 2016)
ISBN-10: 9781492638360
ISBN-13: 978-1492638360
ASIN: 1492638366
Freight Train by Donald Crews
Another familiar favorite for members of STEM story time. Introduces color and also some terminology about trains, for example caboose and cattle car. Simple, but with gorgeous artwork.
Age Range: 2 – 4 years
Publisher: Greenwillow Books (September 20, 1996)
ISBN-10: 0688149006
ISBN-13: 978-0688149000
Tons of Trucks by Sue Fliess and illustrated by Betsy Snyder
Sue Fliess is the queen of the fun, bouncy rhyme that is so perfect for this age group.  Technically a novelty book, the pages have lots of parts to spin and peek under. Toddlers will love it.
Age Range: Baby – 3 years
Publisher: HMH Books for Young Readers; Ltf Nov edition (July 3, 2012)
ISBN-10: 0547449275
ISBN-13: 978-0547449272
Beginning Readers
National Geographic Readers: Trucks by Wil Mara
To increase interest, this informational text is narrated by a truck driver named "Slick." Describes some different types of trucks and some of their parts, like the hydraulics.
Age Range: 4 – 6 years
Publisher: National Geographic Children's Books; National Geographic Readers edition (September 8, 2009)
ISBN-10: 9781426305269
ISBN-13: 978-1426305269
ASIN: 1426305265
Picture Books
Race! by Sue Fliess and illustrated by Edwardian Taylor
Can you tell we're Sue Fliess fans around here? This book has deeper text and is for a bit older readers than the ones above, but still features lively rhymes and a lot of action words.
Cars go on a race through a winding course that turns out to be the back yard of a very imaginative boy. Read it again to see what you missed racing through the first time.
Age Range: 4 – 8 years
Publisher: little bee books (July 4, 2017)
ISBN-10: 1499802374
ISBN-13: 978-1499802375
If I Built a Car by Chris Van Dusen
Also told in rhyme, this imaginative text explores the potential of cars . Involves thinking way outside the box.  Shifts towards the upper end of the recommended age range and maybe beyond.
Age Range: 3 – 5 years
Publisher: Puffin Books; Reprint edition (June 14, 2007)
ISBN-10: 0147509149
ISBN-13: 978-0147509147
ASIN: 0142408255
What Do Wheels Do All Day? by April Jones Prince and illustrated by Giles Laroche
All the places readers may find wheels in use, from the familiar like cars and bikes, to less familiar like helicopter rotors.  Simple vocabulary, so probably the lower end of the recommended age range.
Age Range: 4 – 7 years
Publisher: HMH Books for Young Readers; 1st edition (May 22, 2006)
ISBN-10: 0618563075
ISBN-13: 978-0618563074
Wheels on the Bus (Raffi Songs to Read) by Raffi and illustrated by Sylvie Wickstrom
Wheels on the Bus is a classic song. The illustrations are somewhat dated.
Age Range: 2 – 3 years
Publisher: Knopf Books for Young Readers (January 20, 1998)
ISBN-10: 0517709988
ISBN-13: 978-0517709986
Cars and How They Go by Joanna Cole and illustrated by Gail Gibbons
If you are an adult and want to know more about how a car works, this is the book for you. It gives details about the inner workings of combustion engines, etc. Probably most useful for children with a passion for learning what makes a car go.
Grade Level: 2 – 3
Publisher: Trophy Pr (August 1, 1986)
ISBN-10: 0064460525
ISBN-13: 978-0064460521