April is Poetry Month. What better time to promote both science and poetry? For budding scientists, hearing science poetry might increase their interest in language arts. For budding poets, reading science poetry will make them realize that any topic can be fodder for a poem. It's a winning combination.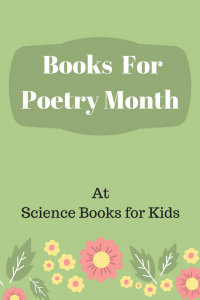 This list is not organized by reading level like some of the others here because poems are often enjoyed by readers of a wide range of ages.
Note: Post contains affiliate links to Amazon.
Poetry Books Featuring Animals
Animal Ark: Celebrating our Wild World in Poetry and Pictures (National Geographic Kids) by Kwame Alexander, Mary Rand Hess, Deanna Nikaido, and photographs by Joel Sartore
Animal Ark is an amazing combination of image and text. Full of vibrant verbs, the poems leap off the page. But the words aren't all that make this a powerful book. The photographs by National Geographic photographer Joel Sartore are incredible, too. Every detail stands out crisp against simple black or white backgrounds. How do you fit over 100 gorgeous photographs into one children's book? The secret is fold out pages. In the back, a fold shows the name of each animal in the book, as well as its IUCN status.
Animal Ark is so moving, it just might leave you breathless. Perfect to share the main pages for story time with a class, or cuddle up with at bedtime with kids and go through the fold outs. At the very least, expect children to want to go back to it again and again.
Age Range: 4 – 8 years
Publisher: National Geographic Children's Books (February 14, 2017)
ISBN-10: 1426327676
ISBN-13: 978-1426327674
Leaf Litter Critters by Leslie Bulion and illustrated by Robert Meganck
Written as a series of poems and with cartoon-like illustrations, this serious text might just entice some readers who prefer fiction to explore a less-than-glamorous ecosystem.
Age Range: 8 – 12 years
Publisher: Peachtree Publishers (March 1, 2018)
ISBN-10: 156145950X
ISBN-13: 978-1561459506
National Geographic Book of Animal Poetry: 200 Poems with Photographs That Squeak, Soar, and Roar! compiled by J. Patrick Lewis
For this book, Lewis combines some of the best poems written about animals with phenomenal photographs, many from National Geographic's own archives. Starting with a chapter called "Welcome to the World" and moving through "the big ones," the little ones," "the winged ones," etc., Lewis has arranged the poems in such a way that they feel like a coherent whole, even though they are by poets as diverse as D.H. Lawrence, Ogden Nash, and Jane Yolen.
In the back are two pages about writing poems the describes the various forms with humorous examples and encourages children to write their own poetry.
Age Range: 4 – 8 years
Publisher: National Geographic Children's Books (September 11, 2012)
ISBN-10: 1426310099
ISBN-13: 978-1426310096
What's for Dinner?: Quirky, Squirmy Poems from the Animal World by Katherine B. Hauth and illustrated by David Clark
A Junior Library Guild selection, this book features 29 poems in a variety of formats. The theme is what animals eat and food chains.
Age Range: 7 – 10 years
Publisher: Charlesbridge; 1 edition (February 1, 2011)
ISBN-10: 1570914729
ISBN-13: 978-1570914720
General Science Poetry Books
What Is Science? by Rebecca Kai Dotlich and illustrated by Sachiko Yoshikawa
As an expansion of a poem originally featured in the next book, Spectacular Science, it gives an overview of scientific fields for the youngest reader.
Age Range: 5 – 7 years
Publisher: Square Fish; Reprint edition (June 14, 2016)
ISBN-10: 1250079497
ISBN-13: 978-1250079497
Spectacular Science: A Book of Poems compiled by Lee Bennett Hopkins and illustrated by Virginia Halstead
Hopkins has selected 15 poems by a variety of poets and about a variety of science-related topics. Probably best for grades 2-3.
Age Range: 5 and up
Publisher: Simon & Schuster Books for Young Readers (July 1, 2002)
ISBN-10: 0689851200
ISBN-13: 978-0689851209
Science Verse (Golden Duck Awards. Picture Book (Awards)) by Jon Scieszka and illustrated by Lane Smith
Get that wacky author-and-illustrator pair together and you know it's going to be a funny book.
Age Range: 7 – 10 years
Publisher: Viking Books for Young Readers; Library Binding edition (September 2004)
ISBN-10: 0670910570
ISBN-13: 978-0670910571
Series by Authors
This section features children's author-poets who have been prolific and popular. We just picked two examples, look for many more titles by each.
Douglas Florian is well known for his poetry books for children that feature nature and science.
For example, try Poetrees.
Florian includes poems about trees from around the world like the banyan and monkey puzzle, not just common North American ones. The layout consists of vertical, two-page spreads, giving the feel of looking at a tall tree. Florian's illustrations are intriguing and unconventional.
Age Range: 6 – 10 years
Publisher: Beach Lane Books; 1 edition (March 9, 2010)
ISBN-10: 1416986723
ISBN-13: 978-1416986720
lizards, frogs, and polliwogs by Douglas Florian
Example Excerpt:
I am a frozen frogsicle.
I froze beneath a logsicle.
…
But I don't care, I feel at ease,
For I am full of antifreeze.
Age Range: 6 – 9 years
Publisher: HMH Books for Young Readers; 1 edition (April 1, 2005)
ISBN-10: 0152052488
ISBN-13: 978-0152052485
Joyce Sidman writes some wonderful science and nature poetry books. Here are just two of her titles.
Ubiquitous:  Celebrating Nature's Survivors by Joyce Sidman and illustrated by Beckie Prange
In this book, Sidman features the species that survived rather than went extinct. Each of the 14 creatures she has chosen is shown in a two-page spread. On one page is a lovely, creative poem and opposite is a page of exquisitely condensed scientific information, including scientific names.
Reading level: Ages 4-8
Hardcover: 40 pages
Publisher: Houghton Mifflin Books for Children (April 5, 2010)
ISBN-10: 0618717196
ISBN-13: 978-0618717194
Winter Bees & Other Poems of the Cold (Junior Library Guild Selection) by Joyce Sidman and illustrated by Rick Allen
Again features poems and then sidebars with scientific facts about how animals survive winter.
Age Range: 6 – 9 years
Publisher: HMH Books for Young Readers (November 4, 2014)
ISBN-10: 0547906501
ISBN-13: 978-0547906508
Although her books are older and some are out of print, Ruth Heller also has a series of nonfiction picture books told in lively rhyme. Here are two of her titles:
How to Hide an Octopus and Other Sea Creatures (Reading Railroad) by Ruth Heller
A lively introduction to camouflage in the animal kingdom that also introduces a number of novel sea creatures, like pipefish and red sea dragons. The bright illustrations by the author are unique and eye-catching, and looking for the animals hiding in each spread is great fun. This classic is well worth revisiting.
Age Range: 4 – 8 years
Publisher: Grosset & Dunlap (April 29, 1992)
ISBN-10: 0448404788
ISBN-13: 978-0448404783
The Reason for a Flower: A Book About Flowers, Pollen, and Seeds (Explore!) by Ruth Heller
Although for the most part still accurate, this older book does include fungi with plants. The two groups are know organized into separate kingdoms.
Age Range: 5 – 8 years
Publisher: Puffin Books; Reissue edition (February 15, 1999)
ISBN-10: 0698115597
ISBN-13: 978-0698115590
Tish Rabe at The Cat in The Hat's Learning Library has a series of outstanding books with rhyming text on a variety of science topics.
Oh Say Can You Say What's the Weather Today?: All About Weather (Cat in the Hat's Learning Library)
by Tish Rabe and illustrated by Aristides Ruiz
What better way to learn about weather phenomena and vocabulary than through bouncy rhymes with the Cat in the Hat? This unique series encourages children to explore complex concepts in a painless way. The best part is, in spite of the cartoon illustrations, they are well-researched and informative.
Age Range: 4 – 8 years
Publisher: Random House Books for Young Readers; English Language edition (May 25, 2004)
ISBN-10: 0375822763
ISBN-13: 978-0375822766
Inside Your Outside: All About the Human Body by Tish Rabe and illustrated by Aristides Ruiz
Another example of the books in this fabulous series.
Age Range: 4 – 8 years
Publisher: Random House Books for Young Readers; 1 edition (August 26, 2003)
ISBN-10: 0375811001
ISBN-13: 978-0375811005
For Educators
The Poetry Friday Anthology for Science (Teacher's Edition): Poems for the School Year Integrating Science, Reading, and Language Arts by Sylvia Vardell and Janet Wong
Why stop at just Poetry Month? This anthology contains poems and activity ideas for an entire school year. Both teacher and student additions by grade level are available.
Paperback: 308 pages
Publisher: Pomelo Books (February 28, 2014)
ISBN-10: 1937057976
ISBN-13: 978-1937057978
Related Lists:
You may want to visit these related lists of poetry books from Science Books for Kids, too: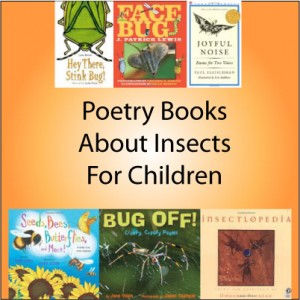 Poetry books about insects for children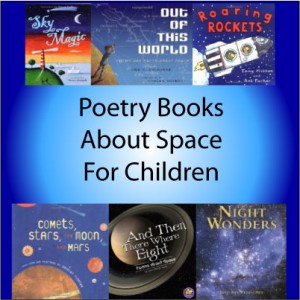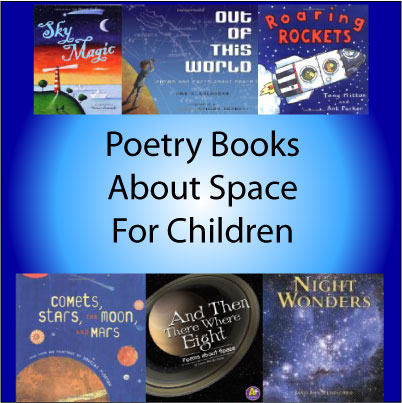 Poetry books about planets and space for children