Frogs and toads are amphibians. Summer is a great time to find out more about them by reading some good books organized by reading level. Related activities can be found at Growing with Science blog.
Note: Post contains affiliate links to Amazon.

Nonfiction
Beginning /Easy Reader
Beginning readers feature short sentences and controlled, age-appropriate vocabulary.
DK Readers L0: Frogs & Toads by Camilla Gersh and DK
DK books are known for their high quality photographs and well-researched information.
Age Range: 4 – 6 years
Publisher: DK Children (May 19, 2014)
ISBN-10: 146542010X
ISBN-13: 978-1465420107
Scholastic Reader Level 1: From Tadpole to Frog by Kathleen Weidner Zoehfeld
Watch a tiny tadpole grow into an adult frog in this book full of facts and photographs. Learn what tadpoles eat, how they survive, and how they transform into frogs.
Age Range: 4 – 7 years
Publisher: Scholastic Paperbacks; 1.2.2011 edition (February 1, 2011)
ISBN-10: 0545273374
ISBN-13: 978-0545273374
National Geographic Readers: Frogs by Elizabeth Carney
Another reader full of gorgeous color photographs, this time from the cameras of National Geographic. Are we seeing a trend here? This one describes the different kinds of frogs, from tiny rain forest frogs to huge bullfrogs.
Age Range: 4 – 6 years
Publisher: National Geographic Children's Books (2009)
ISBN-10: 1426303920
ISBN-13: 978-1426303920
Frog (Watch Me Grow) by DK Publishing
DK books are known for their high quality illustrations. This title emphasizes frog development through the life cycle. Appropriate for preschoolers.
Age Range: 5 – 8 years
Publisher: DK Preschool; 1st edition (August 4, 2003)
ISBN-10: 0789496291
ISBN-13: 978-0789496294
Picture Books
A Frog's Life by Irene Kelly and illustrated by Margherita Borin
When you pick up the book, the first things that catch your eye are the brightly colored frogs on the cover. Margherita Borin's watercolor, pen and pencil illustrations leap off the page. They are both marvelously accurate and cleverly put together in ways that will make young readers smile.
The text takes readers on a journey into the world of frogs. They will learn what frogs are, where frogs live (their habitats), compare the biggest to the smallest, and find out about their life cycles.
A Frog's Life will delight young readers interested in nature, animals, and particularly in frogs. Hop on over to your local library or book store, and pick up a copy today!
See our full review and activity suggestions at Growing With Science.
Age Range: 4 – 8 years
Publisher: Holiday House (May 8, 2018)
ISBN-10: 0823426017
ISBN-13: 978-0823426010
The Hidden Life of a Toad by Doug Wechsler
As you can see from this list, toads often get ignored. This title by biologist and photographer Doug Wechsler helps bring attention to these neglected creatures.
The main text concentrates on life cycle information illustrated with gorgeous photographs by the author. Back matter is filled with more detailed information, including a glossary, toad facts, and suggestions for helping toads..
Age Range: 4 – 8 years
Publisher: Charlesbridge (March 14, 2017)
ISBN-10: 158089738X
ISBN-13: 978-1580897389
Frog Song by Brenda Z. Guiberson and illustrated by Gennady Spirin
Lushly illustrated double-page spreads highlight 11 different species of frogs from around the world.
Age Range: 4 – 8 years
Publisher: Henry Holt and Co. (BYR); First Edition edition (February 5, 2013)
ISBN-10: 0805092544
ISBN-13: 978-0805092547
A Place for Frogs by Melissa Stewart and illustrated by Higgins Bond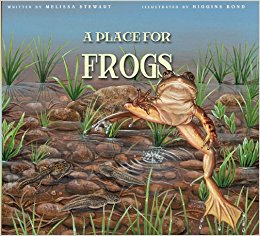 Excellent introduction to frogs from an award-winning children's science author. Includes an ecological perspective.
Age Range: 7 – 10 years
Publisher: Peachtree Publishers, Ltd.; Revised Edition edition (April 1, 2016)
ISBN-10: 156145902X
ISBN-13: 978-1561459025
See-Thru Frogs (See-Thru Books) by Sherry Gerstein
This spiral bound book has see-through pages that lets the reader see the interior anatomy of frogs. Check out how their skeletons are different from ours.
Age Range: 7 – 9 years
Publisher: Millbrook Press; Spi edition (September 1, 2015)
ISBN-10: 160684587X
ISBN-13: 978-1606845875
Face to Face with Frogs (Face to Face with Animals)
by Mark Moffett
Mark Moffett is one of my favorite nature photographers. His work is often seen in National Geographic, which published this book. He's also a top notch biologist with a passion for frogs. It's a winning combination.
Age Range: 7 – 10 years
Publisher: National Geographic Children's Books (March 9, 2010)
ISBN-10: 1426306261
ISBN-13: 978-1426306266
From Tadpole to Frog (Let's-Read-and-Find-Out Science 1)
by Wendy Pfeffer and illustrated by Holly Keller
Appropriate for younger readers, this book emphasizes the life cycle of the frog with a bit more information about different types of frogs at the end. The books in the Let's-Read-and-Find-Out Science series are always high quality.
Age Range: 4 – 8 years
Publisher: HarperCollins; Revised edition (August 4, 2015)
ISBN-10: 0062381865
ISBN-13: 978-0062381866
Frogs
by Gail Gibbons, a prolific and award-winning author
Although this older book may be hard to find, Gail Gibbons knows exactly what children want to read about.
Age Range: 5 – 8 years
Publisher: Holiday House; Reprint edition (January 1, 1993)
ISBN-10: 0823411346
ISBN-13: 978-0823411344
Upper Elementary/Middle Grade
Amazing Amphibians: 30 Activities and Observations for Exploring Frogs, Toads, Salamanders, and More by Lisa J. Amstutz
If you've never experienced one of the Young Naturalists series books from Chicago Review Press, you are in for a real treat. These books are designed not only for children who are independent researchers interested in a topic — in this case amphibians — but also for educators who need information and age-appropriate activity ideas for science lessons.
Lisa Amstutz's text covers everything readers will want to know:
What an amphibian is
What animals belong to the different families
Amphibian anatomy
What amphibians eat
Their life cycles
Some of the threats to amphibians
And much more!
The activities (30 of them!) will keep young scientists engaged for hours. They range from making fake frog eggs from water beads to making your yard more toad friendly.
The bottom line is Amazing Amphibians is an exceptionally well organized and well written introduction to a fascinating group of animals. It is perfect for young naturalists and scientists. It is also a must-have resource for educators. Investigate a copy today!
Age Range: 7 – 9 years
Publisher: Chicago Review Press; First edition (January 7, 2020)
ISBN-10: 1641600721
ISBN-13: 978-1641600729
Frogs!: Strange and Wonderful by Laurence Pringle and illustrated by Meryl Henderson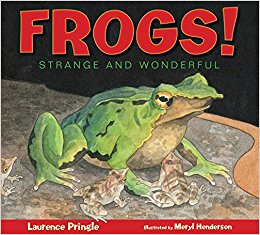 Although officially for early elementary readers, because it has denser text, higher-level vocabulary, and deeper information this title is perfect for older students who want to learn about frogs in depth.  Camouflage, kinds of frogs, anatomy, and life cycle, this book covers it all.
Age Range: 7 – 9 years
Publisher: Boyds Mills Press (April 1, 2012)
ISBN-10: 1590783719
ISBN-13: 978-1590783719
Living Wild: Frogs by Melissa Gish
Although probably not for everyone, this title covers frogs from a unique global perspective. It is illustrated with large, colorful stock photographs.
Age Range: 9 – 12 years
Publisher: Creative Paperbacks (April 1, 2014)
ISBN-10: 0898128404
ISBN-13: 978-0898128406
The Case of the Vanishing Golden Frogs: A Scientific Mystery by Sandra Markle
Why are the golden frogs of Panama dying? Follow the scientists as they search for clues.
Age Range: 9 – 12 years
Publisher: Millbrook Pr (October 2011)
ISBN-10: 0761351086
ISBN-13: 978-0761351085
Fiction
Frog and Toad Storybook Treasury: 4 Complete Stories in 1 Volume! (I Can Read Level 2) by Arnold Lobel
These classic stories will inspire young readers to want to learn more about frogs and toads.
Age Range: 4 – 8 years
Publisher: HarperCollins; 1 edition (December 23, 2013)
ISBN-10: 0062292587
ISBN-13: 978-0062292582