The August 21, 2017 solar eclipse that will be visible from much of North America is generating a lot of interest in Astronomy. Now is a perfect time to introduce children to the science of eclipses.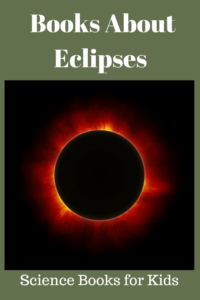 Note:  This post contains Amazon Affiliate links.
Beginning/Easy Reader
Beginning reader books typically have short sentences and carefully-controlled vocabulary.
Eclipses (Amazing Sights of the Sky) by Martha E. H. Rustad
Age Range: 4 – 8 years
Grade Level: Kindergarten – 1
Publisher: Capstone Press (August 1, 2017)
ISBN-10: 1515767590
ISBN-13: 978-1515767596
Eclipses (The Night Sky: and Other Amazing Sights in Space) by Nick Hunter
This title includes information about both solar and lunar eclipses. There's also an activity suggestion and viewing tips.
(The date of the 2017 will be August 21, not August 17.)
Age Range: 6 – 8 years
Grade Level: 1 – 3
Series: The Night Sky: and Other Amazing Sights in Space
Publisher: Heinemann (July 1, 2013)
ISBN-10: 143297520X
ISBN-13: 978-1432975203
Picture Books
The Moon Book by Gail Gibbons
Gail Gibbons has an incredible knack for knowing exactly what young children want to learn and how to explain it to them. Although about the moon, it includes explanations of eclipses.
Age Range: 5 – 8 years
Publisher: National Geographic School Pub (January 1, 1997)
ISBN-10: 0823413640
ISBN-13: 978-0823413645
The Big Eclipse by Nancy Coffelt
All you'll need to learn about the eclipse. There's also an accompanying activity book available.
Paperback: 16 pages
Publisher: Orbit Oregon; 1st edition (2016)
Language: English
ASIN: 1945170859
Middle Grade
When the Sun Goes Dark by Andrew Fraknoi and Dennis Schatz
Age Range: 9 – 12 years
Publisher: NSTA Kids (May 1, 2017)
ISBN-10: 1681400111
ISBN-13: 978-1681400112
Go See The Eclipse: And Take a Kid with You by Chap Percival

Go See the Eclipse explains what an eclipse is, and gives specific advice on where to go, what to take, and how to prepare. Also contains personal anecdotes about the thrill of viewing a total eclipse.
Paperback: 148 pages
Publisher: Bee Ridge Press; 1a edition (April 24, 2015)
ISBN-10: 0986197521
ISBN-13: 978-0986197529
Adult eclipse books
American Eclipse: A Nation's Epic Race to Catch the Shadow of the Moon and Win the Glory of the World 1st Edition by David Baron
Hardcover: 352 pages
Publisher: Liveright; 1 edition (June 6, 2017)
ISBN-10: 1631490168
ISBN-13: 978-1631490163
Sun Moon Earth: The History of Solar Eclipses from Omens of Doom to Einstein and Exoplanets by Tyler Nordgren (Author)
Hardcover: 264 pages
Publisher: Basic Books; 1 edition (September 13, 2016)
ISBN-10: 0465060927
ISBN-13: 978-0465060924
Fiction
The Eclipse: A Guatemalan Folktale by Nicholas Beatty and illustrated by Antonio Ixtamer
Paperback: 42 pages
Publisher: Goops Unlimited (May 5, 2013)
ISBN-10: 098348659X
ISBN-13: 978-0983486596
Do you have a favorite book about eclipses? We'd love to hear about it.