Young children often go through a phase when they are fascinated by the moon. You'll want to have these books ready to satisfy their scientific curiosity.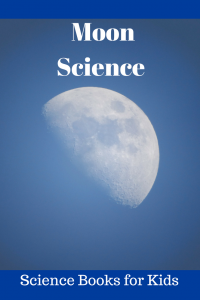 And see our related lists of children's books about:
Note:  Post contains Amazon Affiliate links.
Nonfiction
Beginning Readers
The Moon (Space) by Martha E. H. Rustad
This book contains focused science vocabulary and short sentences to explain basic facts about the moon. Test accompanied by carefully chosen photographs and illustrations.
Age Range: 4 – 8 years
Publisher: Capstone Press; Reprint edition (January 1, 2016)
ISBN-10: 149148327X
ISBN-13: 978-1491483275
Picture Books about the Moon
Moon! Earth's Best Friend by Stacy McAnulty and illustrated by Stevie Lewis.
Although the sweet Moon face on the cover and the fact Moon! is narrated by the Moon (in first person) might make you think this picture book is for the youngest reader, in fact it is for older children.
Inside you will find some big numbers and complex scientific concepts. For example,
Average distance between Earth and me: 238,855 miles.
There's also a summary or the most recent ideas about how the moon formed when a planet-like rock the size of Mars crashed into the Earth.
Moon! is for serious young readers who enjoy learning science facts. However, it might also be a good choice for older reluctant readers who will be sucked in by the less serious aspects.
Age Range: 4 – 8 years
Publisher: Henry Holt and Co. (BYR) (June 11, 2019)
ISBN-10: 1250199344
ISBN-13: 978-1250199348
If You Were the Moon by Laura Purdie Salas and illustrated by Jaime Kim
Combining spare, imaginative text on one level with denser scientific explanations, this book has potential for a multitude of uses. It can be a lovely bedtime book, the basis for a language arts lesson, or a great accompaniment to a lesson on the solar system.
If You Were the Moon is a must have for budding astronomers and poets everywhere.
Visit Laurie Purdie Salas's website for downloadable teaching guides (long and short versions) and other goodies.
Age Range: 4 – 8 years
Publisher: Millbrook Press (March 1, 2017)
ISBN-10: 146778009X
ISBN-13: 978-1467780094
The Moon Seems to Change (Let's-Read-and-Find-Out Science 2)

by Franklyn M. Branley and illustrated by Barbara & Ed Emberley
This explanation of the phases of the moon incorporates a demonstration using an orange and a flashlight right in the text. It is all young readers will need to explore this concept in enough different ways to gain understanding.
Age Range: 4 – 8 years
Publisher: HarperCollins; Revised edition (July 24, 1987)
ISBN-10: 0064450651
ISBN-13: 978-0064450652
What the Moon is Like (Let's-Read-and-Find-Out Science, Stage 2)
by Franklyn M. Branley and illustrated by True Kelley
Age Range: 4 – 8 years
Publisher: HarperCollins; Ill edition (May 3, 2000)
ISBN-10: 0064451852
ISBN-13: 978-0064451857
The Moon Book by Gail Gibbons
Gail Gibbons has an incredible knack for knowing exactly what young children want to learn and how to explain it to them. Includes explanations of solar and lunar eclipses.
Age Range: 5 – 8 years
Publisher: National Geographic School Pub (January 1, 1997)
ISBN-10: 0823413640
ISBN-13: 978-0823413645
Now available in a new and updated version!
Age Range: 4 – 8 years
Publisher: Holiday House; New, Updated edition (May 14, 2019)
ISBN-10: 082344323X
ISBN-13: 978-0823443239
Middle Grade Books About the Moon
Luna: The Science and Stories of Our Moon by David A. Aguilar
Beginning with how the moon is thought to have come about and how the moon compares with Earth, Aguilar then takes the reader on a ride through other moons, as well as moon myths and hoaxes, before settling down for a detailed discussion of moon features. Perfect for lunar landing anniversaries is a section about what the Apollo astronauts discovered.
The pluses:  The book is filled with fantastic illustrations by David A. Agulilar. Also there are three hands-on activities in the back: making a 3D model of lunar craters with Plaster of Paris, using a small telescope to explore the moon, and directions for drawing the moon.
Explore a copy today!
Age Range: 10 – 12 years
Publisher: National Geographic Children's Books (June 11, 2019)
ISBN-10: 1426333226
ISBN-13: 978-1426333224
The Moon by Hannah Pang and illustrated by Thomas Hegbrook
Discover the history of mankind's relationship with the Moon: the science, the myths, the facts, the fiction, and how it affects our everyday lives and the world around us.
Age Range: 8 – 12 years
Publisher: Tiger Tales (April 1, 2019)
ISBN-10: 194453024X
ISBN-13: 978-1944530242
Beginning Reader about the Lunar Landing
DK Readers L3: Spacebusters: The Race to the Moon by Philip Wilkinson
Age Range: 7 – 9 years
Publisher: DK Children (January 30, 2012)
ISBN-10: 0756690846
ISBN-13: 978-0756690847
Picture books About the Lunar Landing:
The Astronaut Who Painted the Moon: The True Story of Alan Bean by Dean Robbins and illustrated by Sean Rubin
Pete Conrad and Alan Bean were the third and fourth people to walk on the moon, but they aren't the household names their predecessors Buzz Aldrin and Neil Armstrong are. This picture book helps correct that omission and bring Alan Bean's story to the next generation of readers.
As to be expected, the illustrations are amazing. They combine the look of Alan Bean's art with Sean Rubin's skillful images. The highlight is a wordless two-page spread of the surface of the moon with the shadows of the two astronauts in the foreground and the blue, spherical Earth in the distance. Wow!
The Astronaut Who Painted the Moon will thrill budding astronauts and artists alike.
Age Range: 4 – 8 years
Publisher: Orchard Books (May 28, 2019)
ISBN-10: 1338259539
ISBN-13: 978-1338259537
Footprints on the Moon
by Alexandra Siy
Illustrated with stunning photographs, this book documents the human quest to walk on the moon. It covers both history, starting with Galileo and Robert Goddard, and takes the reader through the Apollo missions.
Age Range: 3 – 7 years
Publisher: Charlesbridge (February 1, 2001)
ISBN-10: 1570914095
ISBN-13: 978-1570914096
Moonshot: The Flight of Apollo 11 by Brian Floca is an extraordinary book. You can tell the minute you open it and see the front endpapers, which have exquisite, detailed illustrations of Apollo 11.
The story itself begins with a well-grounded view of the moon from the earth. Simple, poetic words start you on your journey, a journey like no other. The first trip to the moon.
Following the astronauts as they get ready, you hear the clicks of their equipment as the pieces snap into place. Before long the earth is shaking, as the rocket takes off. The pace, the number of words and the energy all accelerate as the Eagle is about to land. Wow!
Age Range: 4 – 10 years
Series: Richard Jackson Books (Atheneum Hardcover)
Publisher: Atheneum/Richard Jackson Books (April 7, 2009)
ISBN-10: 141695046X
ISBN-13: 978-1416950462
One Giant Leap
by Robert Burleigh and illustrated by Mike Wimmer
In yet another book to commemorate the 40th anniversary lunar landing, One Giant Leap gives a lyrical, imaginative description of the landing itself.
Age Range: 6 – 8 years
Publisher: Philomel (April 2, 2009)
ISBN-10: 0399238832
ISBN-13: 978-0399238833
Look to the Stars
by Buzz Aldrin and illustrated by Wendell Minor is remarkable because it is much more than merely an account by the second human being to touch the surface of the moon. Dr. Aldrin shows us how this incredible accomplishment is part of a long history of discoveries and advancements, and how it may lead to many more new things in the future.
Full review at Wrapped in Foil
Age Range: 6 – 8 years
Grade Level: 1 – 3
Hardcover: 40 pages
Publisher: Putnam Juvenile (May 14, 2009)
ISBN-10: 0399247211
ISBN-13: 978-0399247217
Middle Grade
Apollo 11 Moon Landing: An Interactive Space Exploration Adventure (You Choose: Space) by Thomas K. Adamson
Although it sounds complicated, it is actually simply very well organized. After reading it, you will wonder why more books aren't organized this way.
Age Range: 8 – 12 years
Grade Level: 3 – 4
Publisher: Capstone Press (August 1, 2016)
ISBN-10: 1491481374
ISBN-13: 978-1491481370
Far Side of the Moon: The Story of Apollo 11's Third Man by Alex Irvine and illustrated by Ben Bishop
This is a unique book for two reasons. First of all, it is presented in a graphic novel style, which may appeal to a different range of readers. Secondly, it's about astronaut Michael Collins, who commanded the lunar orbiter while Neil Armstrong and Buzz Aldrin landed on the moon. His story isn't mentioned as often.
Age Range: 8 – 12 years
Publisher: Tilbury House Publishers; 1 edition (March 28, 2017)
ISBN-10: 0884484521
ISBN-13: 978-0884484523
Science Project Ideas About the Moon by Robert Gardner
This older title contains background information about the moon and a number of detailed experiments, such as watching the moon (observation), building models, and making a simple reflecting telescope. It contains all the instructions the reader will need and no frills.
The illustrations are straightforward and effective line drawings.
Age Range: 9 and up
Publisher: Enslow Pub Inc (October 1, 1997)
ISBN-10: 0894908448
ISBN-13: 978-0894908446
Young Adult
Earthrise: My Adventures as an Apollo 14 Astronaut
by Edgar Mitchell, Ellen Mahoney, and with a foreword by Dr. Brian Cox
Fast-paced autobiography of Dr. Edgar Mitchell, who went to the moon in 1971 on Apollo 14. Although obviously a must-have resource for future astronauts, Earthrise is also likely to appeal to those interested in history, science, engineering, and aviation. It is a revealing look at how one man's sense of adventure took him places that the rest of us can only imagine.
Full review at Growing with Science.
Age Range: 12 and up
Publisher: Chicago Review Press (April 1, 2014)
ISBN-10: 1613749015
ISBN-13: 978-1613749012
Fiction Picture Book
Maya Moon by Marianne Mitchell
Our family enjoyed this delightful folktale about the phases of the moon.
Paperback: 28 pages
Publisher: Sundance Publishing (June 1, 1995)
ISBN-10: 1568017944
ISBN-13: 978-1568017945