What is more inspiring than gazing at the stars? How about the amazing photographs of nebulae taken by the Hubble telescope?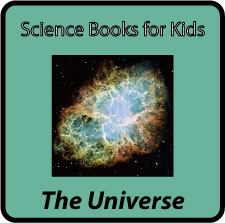 In this list of books, we have flown beyond the planets in our solar system and are now exploring the stars, galaxies and other features of the universe. The titles are organized by genre and reading level.
This list is still under construction and we'd love your suggestions!
You might also be interested in our list of space and astronomy poetry books for kids, and our list of children's books about the solar system and planets.
(Note:  Linked titles go to Amazon for more information. Please see the disclaimer below).
Nonfiction
Beginning Readers- Informational Texts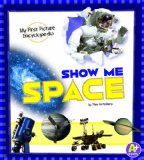 Show Me Space: My First Picture Encyclopedia (My First Picture Encyclopedias)
by Steve Kortenkamp is a visually-stimulating way to learn about our sun, the planets, moons and even far away galaxies.
Reading level: 1-2
Ages 4-8
Series: My First Picture Encyclopedias
Publisher: Capstone Press (February 1, 2013)
ISBN-10: 1620659220
ISBN-13: 978-1620659229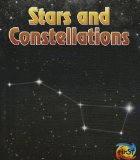 Stars and Constellations (Heinemann First Library: The Night Sky: And Other Amazing Sights in Space)
by Nick Hunter explores what stars are, where they come from, what makes them shine, what people thought of them in the past, and how we study stars today, starting with the nearest star, the Sun. A fun activity is provided along with advice on viewing stars.
Reading Level:  Grades 1-3
Publisher: Heinemann (August 1, 2013)
Language: English
ISBN-10: 143297517X
ISBN-13: 978-1432975173
Picture Books
Stars
by Seymour Simon
Seymour Simon is known for his science books for kids. This text gives an introduction to stars and star cycles. Note: as one reviewer pointed out, the color of a star is related to mass rather than age.
Age Range: 6 – 10 years
Publisher: HarperCollins (May 23, 2006)
ISBN-10: 0060890010
ISBN-13: 978-0060890018
Let's-Read-and-Find-Out Science 2 has a whole series of titles about space and space exploration:
Floating in Space (Let's-Read-and-Find-Out Science 2)
by Franklyn M. Branley and illustrated by True Kelley
Age Range: 4 – 8 years
Publisher: HarperCollins (January 3, 1998)
ISBN-10: 0064451429
ISBN-13: 978-0064451420

The Sky Is Full of Stars (Let's-Read-and-Find-Out Science 2)

 by Franklyn M. Branley and illustrated by Felicia Bond
This title is about the constellations you can see in the night sky. Because it is illustrated by Felicia Bond (Give a Mouse a Cookie), it has a different look than some of the others that come later in the series.
Age Range: 4 – 8 years
Publisher: HarperCollins; 1 edition (March 9, 1983)
ISBN-10: 0064450023
ISBN-13: 978-0064450027
The Big Dipper (Let's-Read-and-Find-Out Science 1)

 by Franklyn M. Branley and illustrated by Molly Coxe
Age Range: 4 – 8 years
Publisher: HarperCollins; Revised edition (April 15, 1991)
ISBN-10: 0064451003
ISBN-13: 978-0064451000
Middle Grade
Inside Stars (Inside Series)
by Andra Serlin Abramson and Mordecai-Mark Mac Low
The illustrations in Inside Stars are just amazing, as you can tell from the cover image.  Author Mordecai-Mark Mac Low is a curator at the American Museum of Natural History in the department of Astrophysics, so you know the information is accurate.
Age Range: 8 – 12 years
Publisher: Sterling (July 5, 2011)
ISBN-10: 1402781628
ISBN-13: 978-1402781629
Planets, Stars, and Galaxies: A Visual Encyclopedia of Our Universe
by David A. Aguilar
Lovely illustrations. Just be aware that although author David A. Aguilar has a good reputation, at least one reviewer found a number of errors in this book. If you are using it as a resource for a report, be sure to double-check your facts with other sources.
Age Range: 10 and up
Publisher: National Geographic Children's Books; Reprint edition (October 9, 2007)
ISBN-10: 1426301707
ISBN-13: 978-1426301704
Space, Stars, and the Beginning of Time: What the Hubble Telescope Saw
by Elaine Scott
A history of the Hubble Telescope and overview of how the images it has captured have added to the field of astronomy. Although written for middle grades, it is also useful for adults wishing to brush up on the topic.
Age Range: 9 – 12 years
Grade Level: 4 – 7
Publisher: Clarion Books (January 24, 2011)
ISBN-10: 0547241895
ISBN-13: 978-0547241890
Beyond the Solar System: Exploring Galaxies, Black Holes, Alien Planets, and More; A History with 21 Activities (For Kids series)
by Mary Kay Carson
Just as it says in the subtitle, Beyond the Solar System is an amazing history lesson, capturing mini-biographies of many of the key players in the development of our current understanding of space. The reader learns about the contributions of astronomers such as al-Sufi, Galileo, Kepler, Newton, Einstein, Caroline Herschel, and Annie Jump Cannon. Each piece builds on the previous sections. It also is a thought-provoking overview of the science of astronomy, moving from early observations of constellations to dark energy and dark matter, and beyond. Seeing the discoveries and concepts unfurl against the backdrop of history really helps put them in perspective and makes it easy to understand and remember.
Add in 21 hands-on activities to reinforce learning and you have a truly stellar book!
Age Range: 9 and up
Publisher: Chicago Review Press (June 1, 2013)
ISBN-10: 1613745443
ISBN-13: 978-1613745441
A Black Hole Is Not a Hole
by Carolyn Cinami DeCristofano
Using analogies and straightforward language intermixed with more light, conversational tone, Carolyn DeCristofano does a wonderful job of explaining what a black hole is and what it is not. The author's note in the back matter about fact-checking should be required reading for everyone, not just children.
Age Range: 9 – 12 years
Publisher: Charlesbridge (February 1, 2012)
ISBN-10: 1570917833
ISBN-13: 978-1570917837
Universe: Journey Into Deep Space
by Mike Goldsmith and illustrated by Mark A. Garlick
Imagine you were on a space ship traveling past the moon, out of solar system and through our galaxy to 55,000 light years away, while taking photographs of things you would see on the way. This is the unique premise of this book that delves not only deeply into space, but also into a deep explanation of many space phenomena. Be prepared to learn vocabulary like pulsars, nebulae, supernovas and supermassive black holes, etc.
Age Range: 8 – 14 years
Publisher: Kingfisher; Har/Pstr edition (September 18, 2012)
ISBN-10: 075346876X
ISBN-13: 978-0753468760
Young Adult
It is often difficult to find good nonfiction science books for young adults. By the time readers reach their teen years, if they are interested in science they are often forced to resort to reading books written for adults. That is why we were excited to find Our Universe Revealed: A Cosmic Exploration by E. L. Strauss, which targets this under-served age group.
The illustrations in the book are amazing. They include a selection of photographs and artist's renditions of that are wondrous to behold, as well as numerous detailed charts and tables. Instead of a simple illustration of the Scientific Method, Strauss gives a much more complex and realistic "Process of Investigation" flow chart. What scientist hasn't wandered "down a few dark alleys" as Strauss explains?
Although – as the book summary states – Our Universe Revealed is "aimed at bright, gifted, curious and creative teens," it is also likely to appeal to adults who want a clear understanding of some of the most cutting-edge concepts in astronomy today. Nothing expands your mind like exploring the cosmos and this book is a wonderful way to start.
Disclaimer: Just so you know, I am an affiliate with Amazon. If you make a purchase after clicking on one of the title links, I will receive a small commission at no extra charge to you, the proceeds of which will help pay for maintaining this website.