Rather than focus on a certain kind of animal, sometimes children want to investigate the groups of living organisms found in a particular habitat. For this post, we are going to focus on animals found around the North and South Poles.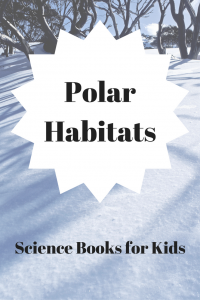 Note: this post contains affiliate links to Amazon.
Beginning Reader
National Geographic Readers: Polar Bears by Laura Marsh
National Geographic Children's books pair top quality photographs with clear, age -appropriate informational text. Polar bears are in the news today, and this book is a great introduction for the youngest reader.
Age Range: 4 – 6 years
Publisher: National Geographic Children's Books (April 9, 2013)
ISBN-10: 1426311044
ISBN-13: 978-1426311048
Amazing Arctic Animals (Penguin Young Readers, Level 3) by Jackie Glassman and illustrated by Lisa Bonforte
Grouped by whether they occur on the land, in the sea, or in the air, this book features many of the key animals found in the Arctic.
Age Range: 6 – 8 years
Publisher: Penguin Young Readers (September 16, 2002)
ISBN-10: 044842844X
ISBN-13: 978-0448428444
Picture Books
About Habitats: Polar Regions by Cathryn Sill and illustrated by John Sill
The Sills are a talented couple who have been collaborating on books in the About Habitats series. If you have seen their work before, you know what to expect. John Sill's gorgeous watercolor illustrations catch the readers' eyes. Then they turn to Cathryn Sill's clear, uncomplicated language. In remarkably few words she explains the scene and draws readers into it.
Age Range: 4 – 7 years
Publisher: Peachtree Publishers (August 1, 2015)
ISBN-10: 1561458325
ISBN-13: 978-1561458325
Polar Bears by Mark Newman
The photographs in the book are the author, Mark Newman, who is a famous wildlife photographer. Need I say more?
Age Range: 4 – 8 years
Publisher: Square Fish; First Edition edition (November 17, 2015)
ISBN-10: 1250069556
ISBN-13: 978-1250069559
Where Do Polar Bears Live? (Let's-Read-and-Find-Out Science 2) by Sarah L. Thomson and Illustrated by Jason Chin
The Let's-Read-and-Find-Out Science series books are always well-researched and informative. Add illustrations by award-winning author-illustrator Jason Chin and you have a treat.
Age Range: 4 – 8 years
Publisher: HarperCollins; 1 edition (December 31, 2012)
ISBN-10: 0061575178
ISBN-13: 978-0061575174
Polar Bears by Gail Gibbons and Megan Lloyd
Gail Gibbons is the queen of children's nonfiction. She always seems to know what questions children ask.This book covers the life of polar bears in detail.
Age Range: 6 – 9 years
Publisher: Holiday House; Ill edition (September 1, 2002)
ISBN-10: 0823417689
ISBN-13: 978-0823417681
Polar Bears and Penguins: A Compare and Contrast Book by Katharine Hall
Ever see a picture or cartoon with penguins and polar bears in the same scene? This book carefully explains why that is incorrect and covers the life of each animal.
Age Range: 5 – 8 years
Publisher: Sylvan Dell Publishing (February 10, 2014)
ISBN-10: 1628552182
ISBN-13: 978-1628552188
Animal Planet Polar Animals (Animal Bites Series)
by Laaren Brown
As you can see from the images on the cover, this books deals with animals in cold places from polar bears in the Arctic to penguins in the Antarctic. In fact, maps of the two poles are included, as well as a sidebar with the average summer and winter temperatures in both regions.
Do you know what a bergy bit or a growler are? Not only does the book cover animals, but also other unique aspects of the habitat. (Bergy bits and growlers are different types of ice that can be found floating in seawater.)
Polar Animals is an enjoyable introduction to the animals in the Arctic and Antarctic regions. It has something from everyone because it offers both a fast facts and breathtaking photographs for the casual reader, and sufficient in-depth information for the more serious reader.
Age Range: 6 – 9 years
Publisher: Animal Planet (March 1, 2016)
ISBN-10: 161893161X
ISBN-13: 978-1618931610
Ice Is Nice!: All About the North and South Poles (Cat in the Hat's Learning Library) by Bonnie Worth and illustrated by Aristides Ruiz and Joe Mathieu
The books in the Cat in the Hat's Learning Library series use familiar characters and rhyming text to bring nonfiction to a wider audience. Excellent series!
Age Range: 4 – 8 years
Publisher: Random House Books for Young Readers; 1 edition (August 10, 2010)
ISBN-10: 0375828850
ISBN-13: 978-0375828850
Little Penguin: The Emperor of Antarctica by Jonathan London and illustrated by Julie Olson
Young children will relate to this story about the first few months in a young penguin's life.
Age Range: 6 – 8 years
Publisher: Two Lions (October 1, 2011)
ISBN-10: 0761459545
ISBN-13: 978-0761459545
Middle Grade
Hopping Ahead of Climate Change by Sneed B. Collard III
Many people have heard about the plight of polar bears, having to swim farther and farther to find food because of the melting sea ice in the Arctic. This book discusses Professor Scott Mills's research on the effects of climate change on a smaller, cuter animal: the snowshoe hare.
The book is illustrated with color photographs of hares and their habitats, as well as helpful graphs, charts, and maps. Although it may look superficially like a picture book, this is a solidly middle grade title for readers 10 years old and older.
Pick up Hopping Ahead of Climate Change for students interested in environmental issues, animals, or science. You will be glad you did.
Hardcover: 64 pages
Publisher: Bucking Horse Books (November 1, 2016)
ISBN-10: 0984446087
ISBN-13: 978-0984446087
Save