Around Halloween may seem to be the perfect time to study bats. On the other hand because they are important mammals that eat insects, pollinate plants and disperse seeds, any time is a good time to learn more about bats by reading a good children's book.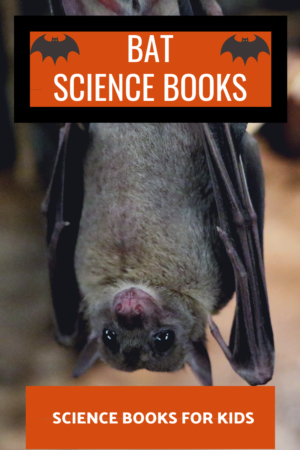 Beginning Readers
Bats: Nocturnal Flyers by Rebecca Rissman
With short sentences and controlled vocabulary, Rissman uses a question-and-answer format to introduce beginning readers to bats. Find out what a bat is, what they eat, and where they go in the winter.
Age Range: 4 – 7 years
Publisher: Heinemann (July 1, 2014)
ISBN-10: 9781484603154
ISBN-13: 978-1484603154
National Geographic Reader Bats by Elizabeth Carney
Bats is a reader level 2, for children 4 to 8 years old. It is full of gorgeous full-color photographs, accurate scientific information, and at the top of some pages are silly riddles and jokes that kids will love. The photograph of baby fruit bats all cuddled in blankets at a bat rescue nursery is too cute for words. This book is a great way to find out more about bats!
Age Range: 4 – 8 years
Publisher: National Geographic Children's Books (September 14, 2010)
ISBN-10: 9781426307102
ISBN-13: 978-1426307102
Picture Books
The Secret Life of the Little Brown Bat by Laurence Pringle and illustrated by Kate Garchinsky
Follow Otis the bat pup as he grows into an adult bat. Explore how he feeds, learns about dangers, finds a place to hibernate, and even how he lands upside down.
Although the text appears to be deceptively simple, it is full of detailed scientific information dressed up in an easy-to-follow story. Plus, Garchinsky's pastel illustrations are mesmerizing.
The Secret Life of the Little Brown Bat is a perfect introduction to bats for young readers.
Age Range: 6 – 9 years
Publisher: Boyds Mills Press (September 11, 2018)
ISBN-10: 9781629796017
ISBN-13: 978-1629796017
A Place for Bats by Melissa Stewart  and illustrated by Higgins Bond
In addition to facts about bats, the author discusses how humans effect bat populations. She offers suggestions how we can protect and encourage bats.
Age Range: 7 – 10 years
Publisher: Peachtree Publishers; Revised Edition  (April 1, 2017)
ISBN-10: 1561457639
ISBN-13: 978-1561457632
Amazing, Misunderstood Bats by Marta Magellan with photographs by Merlin Tuttle.
Author Marta Magellan starts by explaining all the ways that bats are helpful, including that bats:
Pollinate plants
Disperse seeds
Eat tons of insect pests
Make a source of fertilizer (guano)
Then she explodes some of the common bat myths, such as bats are not blind at all. Finally, she explains why bats are fun.
The best part is the amazing photographs used to illustrate the book, many by famous bat scientist Merlin Tuttle.
Ages: 6-10
Publisher : Eifrig Publishing (January 9, 2020)
ISBN-10 : 1632332116
ISBN-13 : 978-1632332110
The Bat Book by Conrad Storad and illustrated by Nate Jensen and Tristan Jensen
Little Boy Bat lives under the famous Congress Avenue Bridge in Austin, Texas. He decides to write a book to help humans learn bats are not frightening. The result is both enlightening and fun.
The Bat Book is full of passion about bats and that enthusiasm is sure to spill over to the reader. Don't be "scared" to pick a copy up today. Reviewed at Growing with Science.
Bats by Gail Gibbons
Gail Gibbons always knows what kids are curious about for a given topic. She describes different kinds of bats, as well as their physical characteristics, behaviors, and life cycle.
Age Range: 4 – 8 years
Publisher: Holiday House (January 1, 1999)
ISBN-10: 0823416372
ISBN-13: 978-0823416370
Zipping, Zapping, Zooming Bats (Let's-Read-and-Find-Out Science 2) by Ann Earle  and illustrated by Henry Cole
Explore where bats live, how mothers raise their pups, and how bats hunt for food. Backmatter includes a plan for a building a bat house.
Age Range: 4 – 8 years
Publisher: HarperCollins (March 31, 1995)
ISBN-10: 006445133X
ISBN-13: 978-0064451338
Middle Grade
Bat Citizens by Rob Laidlaw
The "bat citizens" from the title are young people from around the world who study bats and let others know how they can help conserve them. Meet Truth Miller from New York, Dara McAnulty from Northern Ireland, and Eleanor and Samson Davis from Australia, among others.
In between the descriptions of the kids and their projects are interesting facts about bats. The center features a fold-out illustration of the anatomy of a hoary bat. The back matter includes lists of 14 ways you can help bats and organizations that help bats.
Bat Citizens introduces young ambassadors for bats in a way that is likely to inspire others to get involved in science and conservation efforts. It is a great choice for budding scientists and conservationists alike.
Age Range: 8 – 12 years
Publisher: Pajama Press (May 11, 2018)
ISBN-10: 1772780391
ISBN-13: 978-1772780390
The Bat Scientists
by Mary Kay Carson and photographs by her husband, Tom Uhlman
Author Carson accompanies bat scientist Merlin Tuttle into a cave in Texas to find out what studying bats in like. Immediately the reader learns that this field is not for the squeamish. Why would anyone wade through bat guano teeming with insects while breathing through a respirator in a smelly cave at temperatures of 100° F? They do it because it turns out that bats are pretty important in the scheme of things. By learning more about them, hopefully we can protect these fragile and misunderstood little creatures before it is too late.
Reviewed at Wrapped in Foil.
Combining Fact and Fiction
The Magic School Bus Going Batty: A Book About Bats by Joanna Cole and illustrated by Bruce Degen
It's always tricky to know where to place these delightfully imaginative books. Although the story flies off into the realm of science fiction, readers are sure to learn a lot of science facts.
Age Range: 4 – 8 years
Publisher: Scholastic Paperbacks; First Edition edition (October 1, 1996)
ISBN-10: 0590738720
ISBN-13: 978-0590738729
Stellaluna by Janell Cannon
Readers learn a lot from a mixed up bat who thinks she's a bird. A classic.
Age Range: 4 – 7 years
Publisher: HMH Books for Young Readers; Oversize edition (February 15, 1997)
ISBN-10: 015201540X
ISBN-13: 978-0152015404