We've got lists about ants, honey bees, butterflies and moths, and insect-themed poetry. Let's start a list of beetle science books for kids.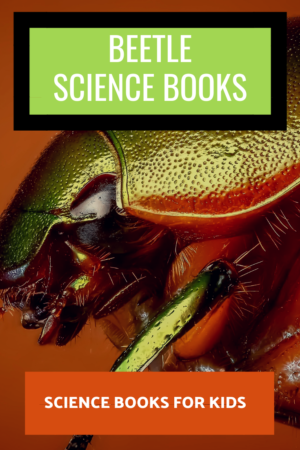 Of all the insect orders, the beetles have the largest number of species by a wide margin. Over 350,000 species have been recognized so far.
This list contains Amazon Affiliate links.
Beginning Readers
It's a Good Thing There Are Ladybugs by Joanne Mattern
Along with some fun facts, this book also starts and ends with a list of reasons ladybugs are important in nature. Part of the Rookie Read-About Science series.
Age Range: 5 – 8 years
Publisher: Childrens Pr (September 1, 2014)
ISBN-10: 9780531228302
ISBN-13: 978-0531228302
Beetles by Colleen A. Sexton
Illustrated with colorful stock photographs, the text features controlled vocabulary and bold glossary words, plus short sentences perfect for beginning readers. A brief introduction to the wonderful world of beetles.
Age Range: 4 – 8 years
Publisher: Bellwether Media (January 30, 2007)
ISBN-10: 1600140505
ISBN-13: 978-1600140501
Picture Books
Bonkers About Beetles by Owen Davey
Owen Davey is a freelance illustrator and his artistic skills make this book a visual treat. The accompanying text is fact-filled and fun, covering topics from beetle anatomy and identification to how to conserve beetles. For older readers than some of the other picture books featured here.
Age Range: 5 – 9 years
Publisher: Flying Eye Books (June 5, 2018)
ISBN-10: 1911171984
ISBN-13: 978-1911171980
A Ladybug's Life by John Himmelman
Although named ladybugs, these insects are really beetles. Young readers learn about the lady beetle life cycle. Watercolor illustrations by the author.
Age Range: 5 – 6 years
Publisher: Childrens Pr (August 1, 1998)
ISBN-10: 0516263536
ISBN-13: 978-0516263533
A Beetle Is Shy by Dianna Hutts Aston and illustrated by the fabulous Sylvia Long.
The beetle installment from this long-running author/illustrator collaboration is as lovely and beautifully written as the others in the series.
Age Range: 5 – 8 years
Publisher: Chronicle Books (April 5, 2016)
ISBN-10: 1452127123
ISBN-13: 978-1452127125
Are You a Ladybug? (Backyard Books)
by Judy Allen and illustrated by Tudor Humphries
Another picture book in the Are you a… series that brings young readers into the book by making direct comparisons from humans to insects. These quality books are fun and full of age-appropriate information.
Age Range: 5 – 8 years
Publisher: Kingfisher; 1 edition (May 16, 2003)
ISBN-10: 0753456036
ISBN-13: 978-0753456033
Ladybugs
by Gail Gibbons
Gail Gibbons knows what questions kids ask, and she provides the answers in a clear and concise way. Illustrated by the author.
Age Range: 5 – 8 years
Publisher: Holiday House; Reprint edition (January 7, 2013)
ISBN-10: 0823427609
ISBN-13: 978-0823427604
From Mealworm to Beetle: Following the Life Cycle (Amazing Science: Life Cycles)
by Laura Purdie Salas and illustrated by Jeff Yesh
Mealworms are grown for pet food and used as bait, but raising them is also a common science project. Learn more about insect metamorphosis by studying the life cycle of this beetle.
Age Range: 6 – 9 years
Publisher: Picture Window Books (September 1, 2008)
ISBN-10: 1404849254
ISBN-13: 978-1404849259
Middle Grade
Beetle Busters: A Rogue Insect and the People Who Track It (Scientists in the Field Series)
by Loree Griffin Burns and illustrated by Ellen Harasimowicz
Asian longhorned beetles, Anoplophora glabripennis, were first noticed in 1996 in New York City. Because the beetles don't move far from their emergence site, officials decided the best policy is to destroy all infested trees by cutting them down and chipping them in an effort to eradicate the insects. In her Author's Note, Loree Griffin Burns admits that she questioned whether attempting to eradicate the beetles was going to be a successful tactic. In an effort to find out more, she gathered the materials that would eventually become the book.
This book is another wonderful addition to the award-winning Scientists in the Field series. Although written at the middle grade level, it will be a valuable resource for older readers, as well. If you live in eastern North America and are interested in nature and science, and particularly in trees, this book a must read.
Age Range: 10 – 14 years
Grade Level: 5 – 9
Publisher: HMH Books for Young Readers; 1st Edition, 1st Printing edition (October 7, 2014)
ISBN-10: 0547792670
ISBN-13: 978-0547792675
Teacher's Guides
If you can find a copy, Ladybugs
by Jean C. Echols is a great resource for educators.
Series: Lawrence Hall of Science, University of California at Berkeley
Paperback: 100 pages
Publisher: Gems; Tch edition (September 1, 1999)
ISBN-10: 0924886196
ISBN-13: 978-0924886195
Disclosure: I am an affiliate with Amazon so I can provide you with cover images and links to more information about books and products. As you probably are aware, if you click through the highlighted title link and purchase a product, I will receive a very small commission, at no extra cost to you. Any proceeds help defray the costs of hosting and maintaining this website.