Fall is more than simply leaves changing color, it is about getting ready for winter. For birds or insects, it might mean migrating south. For other animals, it might mean getting ready to hibernate. For trees and other plants, it might mean dropping leaves. There's a lot going on in the autumn.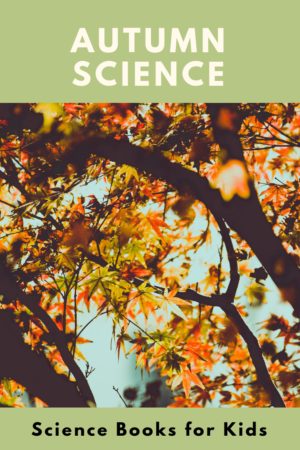 Beginning Readers
How Do You Know It's Fall? (Rookie Read-About Science) by Lisa M. Herrington, Randy C. Bilik, Jeanne M., Ph.D. Clidas
Explores what happens to the weather, plants and animals with simple sentences. Includes suggestions for a related activity.
Age Range: 5 – 8 years
Publisher: Childrens Pr (September 1, 2013)
ISBN-10: 0531225755
ISBN-13: 978-0531225752
Exploring Fall by Terri DeGezelle

See how fall brings changes for weather, people, plants, and animals.
The book is part of the Exploring the Seasons Series.
Age Range: 4 – 8 years
Publisher: Capstone Press (February 1, 2012)
ISBN-10: 9781429679084
ISBN-13: 978-1429679084
ASIN: 1429679085
Count Down to Fall by Fran Hawk and illustrated by Sherry Neidigh
Told in rhyme, the book counts down from ten to one things found outside in autumn. The back matter has suggestions for related science and math activities.
Age Range: 5 – 6 years
Publisher: Sylvan Dell Publishing; Reprint edition (March 5, 2013)
ISBN-10: 9781607188650
ISBN-13: 978-1607188650
ASIN: 1607188651
Picture Books
Summer Green to Autumn Gold: Uncovering Leaves' Hidden Colors by Mia Posada.
Have you ever wondered how and why leaves of certain trees change color in the fall? This book gives the answers. Mia Posada combines gorgeous –gorgeous! — cut paper collage and watercolor illustrations with a succinct explanation of the science behind all those brilliant colors.
The extensive back matter includes a glossary and links to hands-on experiments.
Summer Green to Autumn Gold is a perfect combination that will appeal to both budding artists and scientists.
Age Range: 5 – 10 years
Publisher: Millbrook Press TM (August 6, 2019)
ISBN-10: 1541528999
ISBN-13: 978-1541528994
Full of Fall by April Pulley Sayre
The author pairs her own gorgeous photographs with gentle, lyrical text. The back matter is full of scientific information about leaves changing color. Wonderful!
Age Range: 3 – 8 years
Publisher: Beach Lane Books (August 29, 2017)
ISBN-10: 1481479849
ISBN-13: 978-1481479844
Awesome Autumn by Bruce Goldstone
As you can see from the cover, Goldstone's beautiful photography celebrates the vibrant color of fall leaves. He also has pages about how autumn feels, how autumn tastes, how it sounds and although he doesn't have a page for it, you definitely get an idea of the smells of autumn as well, from decaying leaves to Thanksgiving dinner. He even points out some autumn shapes.
He ventures on to talk about the fall migrations and hibernation. At the end are instructions for fall activities such as roasting pumpkin seeds. If you are ready to jump into a pile of colorful autumn leaves, then you are ready for this book!
Reading level: Ages 4 and up
Hardcover: 48 pages
Publisher: Henry Holt and Co. (BYR); First Edition edition (August 7, 2012)
ISBN-10: 0805092102
ISBN-13: 978-0805092103
Why Do Leaves Change Color? (Let's-Read-and-Find-Out Science 2) by Betsy Maestro and illustrated by Loretta Krupinski
What is photosynthesis and why do leaves change color? What are some different kinds of leaves? Answers to those questions, plus instructions for making a leaf rubbing.
Age Range: 4 – 8 years
Grade Level: Preschool – 3
Publisher: HarperCollins; Revised edition (August 4, 2015)
ISBN-10: 9780062382016
ISBN-13: 978-0062382016
ASIN: 0062382012
Butterfly Tree by Sandra Markle and illustrated by Leslie Wu
A short introduction to the idea that monarch butterflies migrate in the fall.
Age Range: 4 – 8 years
Publisher: Peachtree Publishers (September 1, 2011)
ISBN-10: 9781561455393
ISBN-13: 978-1561455393
ASIN: 1561455393
Leaf Jumpers by Carole Gerber and illustrated by Leslie Evans
Beautifully illustrated, Leaf Jumpers allows children to explore different kinds of tree leaves and learn why leaves change color in the fall.
Age Range: 3 – 7 years
Publisher: Charlesbridge (July 1, 2004)
ISBN-10: 1570914974
ISBN-13: 978-1570914973
Middle Grade
The Acadia Files: Book Two, Autumn Science by Katie Coppens and illustrated by Holly Hatam
The books in The Acadia Files series are hybrids between chapter books and laboratory notebooks. The chapters start off with a story, complete with characters and dialogue. The story reveals detailed scientific information.
After the story, each chapter has a few pages of illustrations and text formatted like a laboratory notebook. The illustrations are delightful and really make the book. Educators will appreciate this section as a jumping off place for related activities. Most of the topics may loosely tie to the season, but could be relevant all year around.
The bottom line: The Acadia Files: Book Two, Autumn Science is an appealing way to introduce science to kids who might be put off by more traditional informational text. Why not give it a try?
See our full review and activity suggestions at Growing With Science blog.
Grade Level: 4 – 7
Publisher: Tilbury House Publishers; 1 edition (September 18, 2018)
ISBN-10: 0884486044
ISBN-13: 978-0884486046