What is mathematics and why is it important? Let's explore the lives of women who love math (and computers).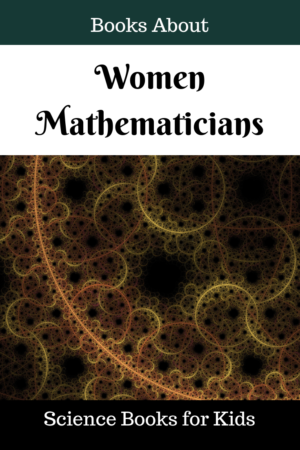 Disclaimer: Just so you know, I am an affiliate with Amazon. If you make a purchase after clicking on one of the title links, I will receive a small commission at no extra charge to you, the proceeds of which will help maintain this website.
Let us know if you have any suggestions for this list.
Last Name A – G
Elizabeth Friedman
Code Breaker, Spy Hunter: How Elizebeth Friedman Changed the Course of Two World Wars by Laurie Wallmark and illustrated by Brooke Smart
Elizebeth Friedman was brilliant at cracking codes, but her story has been unknown for years because her work was classified. When her papers were declassified in 2015, the general public learned that during the years around World Wars I and II she uncovered spy rings, took down smugglers, and created the first cryptology unit for the CIA (at the time called the OSS).
Review and more information at Growing with Science blog
Reading age : 7 – 11 years
Publisher : Harry N Abrams Inc; Illustrated edition (March 2, 2021)
ISBN-10 : 1419739638
ISBN-13 : 978-1419739637
Sophie Germian
Nothing Stopped Sophie: The Story of Unshakable Mathematician Sophie Germain by Cheryl Bardoe and illustrated by Barbara McClintock
Nothing would stop Sophie Germian, not her parents taking away her candles so she couldn't study math at night, not the professor who discovered that the homework that he thought was from a man came from a woman, and not when she tackled a math problem that everyone said would be impossible to solve.
Age Range: 6 – 9 years
Publisher: Little, Brown Books for Young Readers (June 12, 2018)
ISBN-10: 0316278203
ISBN-13: 978-0316278201
Last Name H – L
Grace Hopper
Grace Hopper: Queen of Computer Code (People Who Shaped Our World) by Laurie Wallmark and illustrated by Katy Wu
Grace Hopper enlisted in the Navy during World War II and discovered a love for computers. She rose to the rank of Rear Admiral before her retirement. Among her many accomplishments she is probably best known for naming the "computer bug."
Age Range: 5 and up
Publisher: Sterling Children's Books (May 16, 2017)
ISBN-10: 1454920009
ISBN-13: 978-1454920007
Hypatia
Of Numbers and Stars: The Story of Hypatia
by D. Anne Love and illustrated by Pamela Paparone
Hypatia, the daughter of a mathematician and philosopher named Theon, studied mathematics, astronomy, and philosophy at a time when few women received an education. She became a scholar and teacher.
Katherine Johnson
Counting on Katherine: How Katherine Johnson Saved Apollo 13 by Helaine Becker and illustrated by Dow Phumiruk
Katherine Johnson was a gifted mathematician who was denied a high school education where she lived because of her skin color. Her father decided to move the family to another town where there was a school she could attend. Through persistence and hard work Katherine ended up working for NASA, where she performed the many complicated calculations needed for successful space flight.
This is the kind of biography that makes you want to stand up and cheer at the end. Helaine Becker does a wonderful job of summarizing Katherine Johnson's life, distilling it to the essentials needed for a picture book. It's delightful how she plays with Katherine's love of counting by repetition of the phrase "count on me" through the text.
Age Range: 5 – 9 years
Publisher: Henry Holt and Co. (BYR) (June 19, 2018)
ISBN-10: 9781250137524
ISBN-13: 978-1250137524
ASIN: 1250137527
Sophie Kowalevski
Numbers in Motion: Sophie Kowalevski, Queen of Mathematics by Laurie Wallmark and illustrated by Yevgenia Nayberg
Sophie Kowalevski grew up observing the pages of calculus problems her father had used to paper her bedroom walls. The desire to understand the intriguing symbols propelled her to study advanced math. Later she became a prominent mathematician — the first to earn a doctorate at an European university — and professor in a time when women weren't even allowed to enter many college campuses. Sophie broke down barriers for women who came after her.
Numbers in Motion will inspire budding mathematicians and historians alike. Readers will likely end up wanting to learn more about this remarkable woman. Investigate a copy today.
Age Range: 8 – 12 years
Publisher: Creston Books (March 3, 2020)
ISBN-10: 1939547636
ISBN-13: 978-1939547637
Ada Byron Lovelace
Ada Byron Lovelace and the Thinking Machine
by Laurie Wallmark and illustrated by April Chu, which is the story of a unique and fascinating woman who was years ahead of her time.
Adults may have heard of the British poet Lord Byron, but likely they have missed the story of his inventive math whiz of a daughter, Ada Byron Lovelace. Lovelace overcame a severe childhood illness to write the first computer program. Who knows what she might have achieved if she hadn't died at a relatively young age and if her collaborator, Charles Babbage, had actually built the analytical machine he had planned.
Ada Byron Lovelace and the Thinking Machine is likely to resonate with kids interested in computers, math, and engineering and inspire some who haven't yet found their passions. History buffs, particularly those interested in women's history, will also want to check it out.
Age Range: 5 and up
Publisher: Creston Books (October 13, 2015)
ISBN-10: 1939547202
ISBN-13: 978-1939547200
Last Name M – Q
Danica McKellar
Not only do we have books about women mathematicians, we also have some children's books by a woman. Danica McKellar, who best known as the actress on The Wonder Years, is not just another celebrity using their fame to hawk children's books. She is a serious mathematician whose goal is to get kids excited about math through books and videos.
Goodnight, Numbers by Danica McKellar and illustrated by Alicia Padron is for children who are learning their numbers.
Age Range: 2 – 5 years
Publisher: Crown Books for Young Readers (March 7, 2017)
ISBN-10: 110193378X
ISBN-13: 978-1101933787
Hot X: Algebra Exposed!
by Danica McKellar
Don't let the suggestive title fool you, this is a serious guide to algebra and more. It's also a call for young people to work hard, particularly at math, in order to attain their dreams. McKellar wants her readers to feel smart and confident, and develop the skills to be successful. It is a very positive message repeated throughout the book.
Although clearly written as a resource to supplement a math course, the tips and exercises could be a useful for instructors or for tutors looking for yet another way to get a point across. There are are additional solutions to problems on McKellar's Hot X website.
The bottom line is that Hot X is much more than just a pretty face and a clever title. If you are studying or teaching algebra, you should take a look at it.
Hardcover: 876 pages
Publisher: W. H. Freeman (1979)
Language: English
ISBN-10: 0716710471
ISBN-13: 978-0716710479
Girls Get Curves: Geometry Takes Shape
by Danica McKellar
Once again, the cover may give a suggestive message, but it is only designed to get reluctant mathematicians to look inside. There they'll find ways to master the core concepts of high school geometry, including congruent triangles, quadrilaterals, circles, proofs, theorems, etc.
Paperback: 432 pages
Publisher: Plume; 6.2.2013 edition (July 2, 2013)
ISBN-10: 0452298741
ISBN-13: 978-0452298743
Raye Montague
The Girl With a Mind for Math: The Story of Raye Montague (Amazing Scientists) by Julia Finley Mosca and illustrated by Daniel Rieley
Raye Montague wanted to design ships, but the college she went to wouldn't allow women into the engineering program. After studying business instead, she landed a job typing for the Navy. Working hard, she learned about computers and devised a program that could design a ship in much less time. Eventually she became an official engineer and took over as head of the department where she had started as a typist.
The rhyming text is supported with eight pages of back matter. An awesome book!
Age Range: 5 – 10 years
Publisher: The Innovation Press (September 4, 2018)
ISBN-10: 1943147426
ISBN-13: 978-1943147427
Last Name R – Z
Do you have any suggestions?
Collections
Hidden Figures: The True Story of Four Black Women and the Space Race by Margot Lee Shetterly and illustrated by Laura Freeman
Author Margot Lee Shetterly wrote the original bestselling book, Hidden Figures: The American Dream and the Untold Story of the Black Women Mathematicians Who Helped Win the Space Race, for adults. In this picture book for children, she gives a brief summary of each woman's career, interweaving their stories and at the same time emphasizing their similar struggles as human computers for NASA.
Hidden Figures is a good introduction to these amazing women. It would be a great book to have on hand for both Black History Month and Women's History Month.
Age Range: 4 – 8 years
Publisher: HarperCollins (January 16, 2018)
ISBN-10: 0062742469
ISBN-13: 978-0062742469