Explore science and nature with these great children's books about slugs and snails!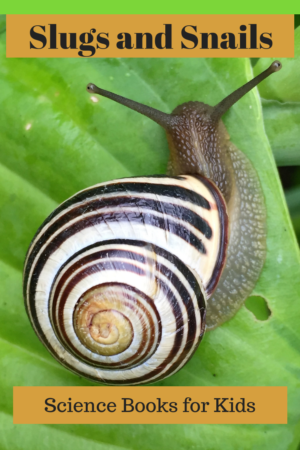 (Note:  Linked titles go to Amazon for more information. Please see the disclaimer below).
Beginning Readers:
Snail-Snaily-Snails (Penguin Young Readers, Level 2) by Bonnie Bader

Good mix of facts presented with controlled vocabulary and simple sentences ideal for the young reader. Illustrated with color photographs. Covers both anatomy and some of the different kinds of snails.
Age Range: 6 – 7 years
Publisher: Penguin Young Readers (March 21, 2017)
ISBN-10: 9780451534392
ISBN-13: 978-0451534392
Nonfiction Picture Books
Are You a Snail? (Backyard Books) by Judy Allen and illustrated by Tudor Humphries
The Allen-Humphries team has come up with a winning formula in this series. Young readers learn about snails by comparing a snail's life with their own.
Age Range: 5 – 8 years
Publisher: Kingfisher; Reprint edition (May 16, 2003)
ISBN-10: 9780753456040
ISBN-13: 978-0753456040
Let's Look at Snails by Laura Hamilton Waxman
Full color photographs grab the readers eye. Text is age-appropriate and filled with interesting facts.
Age Range: 6 – 9 years
Publisher: Lerner Classroom (August 1, 2009)
ISBN-10: 1580138659
ISBN-13: 978-1580138659
Snails Are Just My Speed! by Kevin McCloskey
Part of the Giggle and Learn series, this title combines fun illustrations with serious information about snails.
Keven McCloskey put the eyes where they should be, on the eye stalks or tentacles. Yes!
He also puts in a lot of mucus for the "ick, gross" factor, but also adds useful information, like humans make mucus too, but it is mostly on the inside.
In the back is an awesome lesson on how to draw a snail (Turn the page for useful tips for parents and teachers about "How To Read Comics With Kids.")
Snails Are Just My Speed! should fly off the shelves. Check out a copy today!
Age Range: 4 – 7 years
Publisher: TOON Books (May 1, 2018)
ISBN-10: 194314527X
ISBN-13: 978-1943145270
The Slug: The Disgusting Critters Series by Elise Gravel
Combining accurate information with  silly cartoon illustrations and hilarious asides, Elise Gravel has come up with a winning formula for making nonfiction "slide" down easily.
Age Range: 6 – 9 years
Publisher: Tundra Books; Reprint edition (July 5, 2016)
ISBN-10: 1770496564
ISBN-13: 978-1770496569
A Slug's Life by John Himmelman
An older book that might be harder to find. The illustrations are amazing as the reader follows a slug through adventures. Includes information about the life cycle.
Age Range: 5 and up
Publisher: Childrens Pr (August 1, 1998)
ISBN-10: 0516263560
ISBN-13: 978-0516263564
Snailology (Backyard Buddies) by Michael Elsohn Ross and illustrated by Darren Erickson  with Brian Grogan (Illustrator, Photographer)
This older book may be hard to find, but it is well worth the hunt. Contains both scientifically-accurate information and activity suggestions for slightly older readers.
Age Range: 7 and up
Publisher: First Avenue Editions (February 1, 2000)
ISBN-10: 157505437X
ISBN-13: 978-1575054377
Picture Book Fiction:
A writing friend recently introduced me to the cutest fiction picture book about a snail, Escargot by Daska Slater and illustrated by Sydney Hanson.
Delightful! See for yourself:
Age Range: 4 – 6 years
Publisher: Farrar, Straus and Giroux (BYR) (April 11, 2017)
ISBN-10: 0374302812
ISBN-13: 978-0374302818
Snail Trail by Ruth Brown
Short, sweet rhyming picture book for preschoolers about a snail's adventure.
Age Range: 3 – 5 years
Publisher: Andersen Press (April 1, 2013)
ISBN-10: 1849392528
ISBN-13: 978-1849392525
Disclaimer: Just so you know, I am an affiliate with Amazon. If you make a purchase after clicking on one of the title links, I will receive a small commission at no extra charge to you, the proceeds of which will help pay for maintaining this website.