Children often become interested in different aspects of weather as they grow older or as they experience different weather extremes.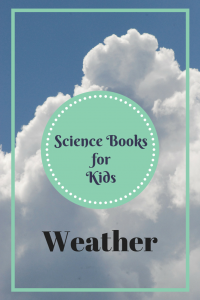 Disclosure: I am an affiliate for Amazon. If you click through the linked titles or ads and make a purchase, I will receive a small commission at no extra charge to you. Proceeds will be used to maintain this self-hosted blog/website.
Beginning Reader
Thunder and Lightning (Weather Wise)
by Helen Cox Cannons
Amazing, vibrant color photographs of lightning storms accompany simple text in this book for the youngest reader. Also has illustrations to explain how lightning happens.
Be sure to check the "Notes for Parents and Teachers" in the back matter for pre-reading and post-reading activity suggestions.
Age Range: 4 – 6 years
Publisher: Heinemann; Nov edition (July 1, 2014)
ISBN-10: 1484605586
ISBN-13: 978-1484605585
National Geographic Readers: Weather
by Kristin Baird Rattini
This level one reader is packed with information to explain basic weather, such as wind, clouds, thunderstorms, etc. Text accompanied with amazing color photographs.
Age Range: 4 – 6 years
Publisher: National Geographic Children's Books (July 9, 2013)
ISBN-10: 1426313489
ISBN-13: 978-1426313486
DK Readers: Whatever The Weather (Level 1: Beginning to Read)
by Karen Wallace
Illustrations engage the reader by showing a young child observing the weather through a window.
Age Range: 5 – 7 years
Publisher: DK Children; 1 edition (September 6, 1999)
ISBN-10: 0789447509
ISBN-13: 978-0789447500
Raindrops Roll
by April Pulley Sayre
Riding the line between beginning reader and picture book, this gorgeous title has only a few words or short sentences per two-page spread. The words, however, are beautifully chosen and the photographs tell much more. In the back matter are more detailed explanations of each spread, to help educators field questions or engage readers more fully. Excellent!
Age Range: 4 – 8 years
Grade Level: Preschool – 3
Hardcover: 40 pages
Publisher: Beach Lane Books; 1 edition (January 6, 2015)
Language: English
ISBN-10: 148142064X
ISBN-13: 978-1481420648
Nonfiction Picture Books
Clouds: A Compare and Contrast Book
by Katharine Hall
Young readers explore the concept of comparing and contrasting, while at the same time learning about different kinds of clouds and how to describe them. "For Creative Minds" in the back matter has four pages of interactive activities to reinforce learning. Examples include experiments with evaporation, a cloud match exercise, and information about how clouds are connected to weather prediction.
Ages: 4-8
Lexile Measure: 230L (What's this?)
Publisher: Arbordale Publishing (September 10, 2014)
ISBN-10: 1628554576
ISBN-13: 978-1628554571
Oh Say Can You Say What's the Weather Today?: All About Weather (Cat in the Hat's Learning Library)
by Tish Rabe and illustrated by Aristides Ruiz
What better way to learn about weather phenomena and vocabulary than through bouncy rhymes with the Cat in the Hat? This unique series encourages children to explore complex concepts in a painless way. The best part is, in spite of the cartoon illustrations, they are well-researched and informative.
Age Range: 4 – 8 years
Publisher: Random House Books for Young Readers; English Language edition (May 25, 2004)
ISBN-10: 0375822763
ISBN-13: 978-0375822766
It's Raining!
by Gail Gibbons
Covers not only the water cycle and common weather events, but also has information about how to stay safe during severe weather events. Gail Gibbons is a prolific and award-winning author of children's nonfiction.
Paperback: 32 pages
Publisher: Holiday House (January 30, 2015)
Language: English
ISBN-10: 082343303X
ISBN-13: 978-0823433032
Nonfiction Middle Grade
National Geographic Kids Everything Weather: Facts, Photos, and Fun that Will Blow You Away
by Kathy Furgang
Illustrated with the high-quality photographs you have come to expect from National Geographic, this weather book is likely to "blow you away."
Age Range: 8 – 12 years
Publisher: National Geographic Children's Books (March 27, 2012)
ISBN-10: 1426310587
ISBN-13: 978-1426310584
Tornado: Perspectives on Tornado Disasters (Disaster Dossiers)
by Ben Hubbard
With timelines, maps, and numerous photographs and illustrations, Tornado documents the aftermath of actual tornadoes to help readers learn about these extreme weather events.
Age Range: 11 – 16 years
Publisher: Heinemann (July 1, 2014)
ISBN-10: 1484601890
ISBN-13: 978-1484601891
Inside Hurricanes (Inside Series)
by Mary Kay Carson
With hurricane season well under way, children are likely to be curious about these enormous weather systems. Readers soon learn that as Carson says, "Hurricanes are disasters that have called ahead to say they're coming."
Publisher: Sterling (October 2010)
ISBN: 1-4027-7780-9
ISBN13: 9781402777806
Navigators: Extreme Weather
by Margaret Hynes
When you think of extreme weather, an image of tornadoes or hurricanes usually comes to mind. Many more aspects of weather can be extreme, however, from temperature (both hot and cold) to rainfall (drought versus the extreme rains of monsoons). Hynes tells the story of all these kinds of weather, rightfully pointing out that all our weather is powered by the sun.
With a very modern look, this book has large color photographs overlaid with smaller glimpses of particular events, along with sidebars and keys to explain some aspects in more detail.
One thing I really like about this book is that the last section describes some things that are being done to mitigate the effects of extreme weather. In the back are suggestions for ways to investigate weather defenses, as well. From building hurricane shelters to planting trees on hillsides, the fact that a few things can be done to make things better gives children some sense of control. Who knows, maybe someday one of the children who read the book will come up with an even better way to help protect us from natural disasters due to extreme weather.
Related hands on activity: Build a weather station
Reading level: Ages 9 and up
Hardcover: 48 pages
Publisher: Kingfisher; First Edition (June 21, 2011)
ISBN-10: 0753465787
ISBN-13: 978-0753465783
Young Adult Nonfiction
National Audubon Society Field Guide to North American Weather
by David Ludlum
Although published a number of years ago, this interesting field guide is still pertinent.
Vinyl Bound: 656 pages
Publisher: Knopf (October 15, 1991)
ISBN-10: 0679408517
ISBN-13: 978-0679408512
Fiction Picture Books
Bartholomew and the Oobleck: (Caldecott Honor Book) (Classic Seuss)
by Dr. Seuss
When the king gets bored with regular weather, trouble ensues.
Age Range: 5 – 9 years
Publisher: Random House Books for Young Readers (October 12, 1949)
ISBN-10: 0394800753
ISBN-13: 978-0394800752
Do you have any suggestions for this list? We would love to hear from you!