Fall and spring are wonderful times to introduce children to the idea that birds migrate.
Pair some great nonfiction with fiction to celebrate the seasonal flights of birds.
(Note:  Linked titles go to Amazon for more information. Please see the disclaimer below).
Nonfiction Picture Books
Warbler Wave by April Pulley Sayre with contributions by Jeff Sayre
Photographer and award-winning author April Pulley Sayre and her husband Jeff Sayre have been observing warblers during their annual spring migration for years. Now they share their experiences with this gorgeous book for children.
Warblers are tiny and elusive birds, but the Sayres have captured many wonderful photographs to fill the pages of the book. As she explains on her website, they chose photographs of birds in action to give children the experience of viewing live warblers in nature, rather than choosing those that are simply posed well.
Warbler Wave is simply wonderful. It is likely to inspire children to take up birdwatching as a hobby or maybe even as a career!
Age Range: 3 – 8 years
Publisher: Beach Lane Books (February 13, 2018)
ISBN-10: 1481448293
ISBN-13: 978-1481448291
How Do Birds Find Their Way? (Let's-Read-and-Find-Out Science 2)
by Roma Gans and illustrated by Paul Mirocha
The Let's-Read-and-Find-Out Science series offers consistently high quality children's science books. This title covers what starts birds on their migrations and some of the common migration pathways.
Age Range: 4 – 8 years
Publisher: HarperCollins (January 18, 1996)
ISBN-10: 006445150X
ISBN-13: 978-0064451505
Red Knot: A Shorebird's Incredible Journey
by Nancy Carol Willis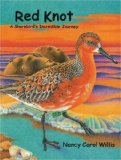 Although the bird in this nonfiction book migrates long distances, one important stop on the way is Delaware Bay were it refuels on horseshoe crab eggs. Same type of bird that s featured in the middle grade book Moonbird (see below).
Age Range: 7 – 9 years
Grade Level: 2 – 4
Publisher: Birdsong Books (May 1, 2006)
ISBN-10: 0966276159
ISBN-13: 978-0966276152
The Peregrine's Journey: A Story of Migration
by Madeleine Dunphy and illustrated by Kristin Kest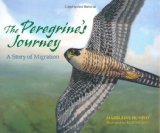 Flying from Alaska to Argentina, the peregrine makes an 8,000 mile journey during its migration. Based on the flight of an actual bird followed by the U.S. Fish and Wildlife Service.
Age Range: 5 – 9 years
Publisher: Web of Life Children's Books (January 28, 2008)
ISBN-10: 097775393X
ISBN-13: 978-0977753932
The Flight of the Snow Geese
by Deborah King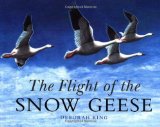 Did you know that snow geese fly from their Arctic nesting ground to the New Mexico desert where they spend the winter?
Age Range: 4 and up
Publisher: Orchard Books (NY) (September 1998)
ISBN-10: 0531300889
ISBN-13: 978-0531300886
The Long, Long Journey: The Godwit's Amazing Migration
by Sandra Markle and illustrated by Mia Posada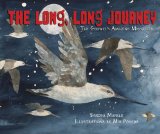 Follow the flight of the bar-tailed godwit from Alaska to New Zealand. Some of the birds fly an amazing 7000 miles without stopping! Perfect nonfiction to pair with Baba Didi and the Godwits Fly below.
Library Binding: 32 pages
Publisher: Millbrook Pr Trade (January 1, 2013)
ISBN-10: 0761356231
ISBN-13: 978-0761356233
Middle Grade Nonfiction
Belle's Journey: An Osprey Takes Flight by Rob Bierregaard and illustrated by Kate Garchinsky
Dr. Rob Bierregaard ( Dr. B. as he calls himself in the book) studies osprey migrations. One August he captured an osprey he named Belle on Martha's Vineyard in Massachusetts. He fitted her with a radio transmitter. After he released her, the transmitter sent her location data to a computer so he could study where she went. That fall, Belle flew all the way to the rain forests of Brazil.
In the forward Dr. B. explains that "this is a mostly true story." Belle really made the flight to Brazil and he knew her location at different times, but he used creative nonfiction techniques to fill in details about her experiences and the dangers she faced. His descriptions of her daily activities are lush and detailed. Readers learn a lot about all the places Belle visits.
Belle's Journey is likely to appeal to youngsters who enjoy reading fiction as well as to those who want to find out more about ospreys and bird migration.
Age Range: 7 – 10 years
Publisher: Charlesbridge (May 15, 2018)
ISBN-10: 1580897924
ISBN-13: 978-1580897921
Snowy Owl Invasion!: Tracking an Unusual Migration by Sandra Markle
In 2013, large numbers of white owls started showing up in lower Canada and along the east coast of the United States where they weren't normally seen. Why were snowy owls migrating to new places?
Sandra Markle used her research skills to track down experts and find the answers. What she discovered was that the snowy owls were experiencing an irruption, which means they migrating beyond their usual range, because their populations had swelled the previous summer. She also found out why, which I won't reveal here. Like Belle in the story above, some of the scientists used GPS transmitters to follow the birds.
The book is filled with amazing photographs of beautiful snowy owls.
Age Range: 8 – 12 years
Publisher: Millbrook Pr (January 1, 2018)
ISBN-10: 1512431060
ISBN-13: 978-1512431063
Flight of the Golden Plover: The Amazing Migration Between Hawaii and Alaska
by Debbie S. Miller and illustrated by Daniel Van Zyle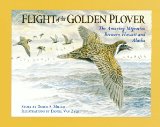 An older book, it tells the story of the Pacific golden plover, which is a tiny shorebird that migrates from Alaska to Hawaii.
Age Range: 9 and up
Publisher: Alaska Northwest Books; First Edition edition (June 1, 1996)
ISBN-10: 0882404741
ISBN-13: 978-0882404745
On the Wing: American Birds in Migration
by Carol Lerner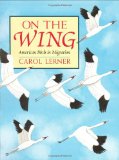 In addition to illustrations of birds flying, this book also includes colorful maps of migrations and ranges.
Age Range: 8 and up
Grade Level: 3 and up
Publisher: HarperCollins (June 5, 2001)
ISBN-10: 0688166490
ISBN-13: 978-0688166496
Moonbird: A Year on the Wind with the Great Survivor B95 (Robert F. Sibert Informational Book Honor (Awards))
by Phillip Hoose
The bird of the title or "Moonbird" is also known as B95 because that was the number he was banded with in South America in 1995. A male shorebird commonly called a red knot, he is called "Moonbird" because he has been documented to have flown an estimated 350,000 miles – over the distance to the moon and halfway back – in his lifetime!
Age Range: 10 – 14 years
Grade Level: 4 – 8
Series: Robert F. Sibert Informational Book Honor (Awards)
Publisher: Farrar, Straus and Giroux (BYR) (July 17, 2012)
ISBN-10: 0374304688
ISBN-13: 978-0374304683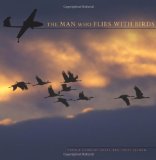 The Man Who Flies With Birds (Israel)
by Carole G. Vogel and Yossi Leshem
Yossi Leshem studied bird migrations over Israel, in part to prevent bird strikes on airplanes.
Age Range: 10 and up
Grade Level: 5 and up
Publisher: Kar-Ben Publishing (September 1, 2009)
ISBN-10: 0822576430
ASIN: B00DF86QLQ
Nonfiction Video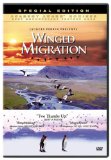 Winged Migration (2003)
Jacques Perrin (Actor), Philippe Labro (Actor), Jacques Perrin (Director), Jacques Cluzaud (Director) | Rated: G | Format: DVD
Amazing footage of geese and other birds flying through the air, filmed using ultralights that are moving right with the birds. If you like birds, this one shouldn't be missed.
Fiction/Informational Fiction:
Waiting for a Warbler by Sneed B. Collard III and illustrated by Thomas Brooks
The story is told in two separate strands. The main text shows two children, Owen and his sister, as they watch for birds to return to their area. They particularly anticipate the arrival of the Cerulean warbler whom they had briefly spotted the year before.
The second strand follows a group of migrating birds as they take the harrowing journey north across the Gulf of Mexico. It is intense and fraught with danger.
The story switches back and forth between the two story lines before converging. Along the way, readers learn about the importance of providing habitat for birds.
Reading age : 6 – 8 years
Publisher : Tilbury House Publishers (February 2, 2021)
ISBN-10 : 0884488527
ISBN-13 : 978-0884488521
All Eyes on Alexandra by Anna Levine and illustrated by Chiara Pasqualotto
In All Eyes on Alexandra, young Alexandra Crane is terrible at following her family in their flying Vee. She can't help it that the world is so full of interesting distracting sights! When it's time for the Cranes to migrate to Israel's Hula Valley for the winter, Alexandra is excited but her family is worried. Will Alexandra stay with the group, and what happens if a dangerous situation should arise? Might Alexandra—and the rest of the flock—discover that a bad follower can sometimes make a great leader?
Age Range: 3 – 8 years
Publisher: Kar-Ben Pub (August 1, 2018)
ISBN-10: 1512444391
ISBN-13: 978-1512444391
Baba Didi and the Godwits Fly
by Nicola Muir and illustrated by Annie Hayward with a foreword by Former Prime Minister of New Zealand, Helen Clark
Baba Didi of the title is the narrator and Isabella's grandmother. When they discover brown shorebirds called bar-tailed godwits feeding on the beach near their home in New Zealand, Baba Didi explains how the birds make a migration flight all the way to Alaska each year. The reader soon learns Baba Didi made an equally perilous journey when she and her husband left Croatia when they were young and sailed all the way to New Zealand.
Series: Searchlight Books
Publisher: Lerner Publishing Group (August 1, 2013)
ISBN-10: 1467715522
ISBN-13: 978-1467715522
Flute's Journey: The Life of a Wood Thrush
by Lynne Cherry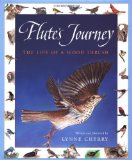 Flute is a wood thrush that migrates from Maryland to Costa Rica and back.
Age Range: 4 – 8 years
Grade Level: Kindergarten – 2
Publisher: HMH Books for Young Readers; 1st edition (February 15, 1997)
ISBN-10: 0152928537
ISBN-13: 978-0152928537
Welcome, Brown Bird
by Mary Lyn Ray and illustrated by Peter Sylvada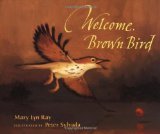 Also following a wood thrush, the story centers on a boy in New England and a boy in Central America, each of whom treasure their experiences with the same bird, but don't know the other exists.
Age Range: 3 – 7 years
Grade Level: Preschool – 1
Publisher: HMH Books for Young Readers; 1 edition (April 1, 2004)
ISBN-10: 0152928634
ISBN-13: 978-0152928636
The Far-Flung Adventures of Homer the Hummer
by Cynthia Furlong Reynolds and illustrated by Catherine McClung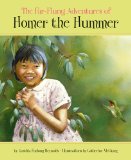 Just one look at the cover, and you know this is a special children's book. It follows a ruby-throated hummingbird's migration from Michigan to Costa Rica.
Hardcover: 32 pages
Publisher: Ann Arbor Editions (August 1, 2005)
ISBN-10: 158726269X
ISBN-13: 978-1587262692
______
Disclaimer: Just so you know, I am an affiliate with Amazon. If you make a purchase after clicking on one of the title links, I will receive a small commission at no extra charge to you, the proceeds of which will help pay for maintaining this website.