Desert habitats are unique and fascinating. Time to find out more through some great books.
________________________
Disclaimer: Just so you know, I am an affiliate with Amazon. If you make a purchase after clicking on one of the title links, I will receive a small commission at no extra charge to you, the proceeds of which will help pay for maintaining this website.
_________________________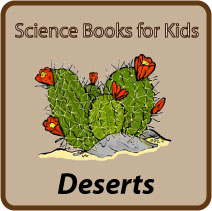 Nonfiction:
The Night Flower by Lara Hawthorne is a great place to start.
Lara Hawthorne is an illustrator so it is no surprise this book is an incredible visual treat.
The book starts with an informational paragraph about the saguaro cactus. From there gentle rhyming text takes the reader on a journey through one day and night in the desert. Along the way readers meet many different animals and learn about the role the saguaro plays in their lives.
The Night Flower is a beautiful introduction to a unique plant and its habitat. It is perfect to accompany a unit on deserts or plants, or to prepare for a trip to Arizona. Poke around in a copy today!
Age Range: 3 – 7 years
Publisher: Big Picture Press (March 12, 2019)
ISBN-10: 1536206164
ISBN-13: 978-1536206166
Get to Know Gila Monsters (Get To Know Reptiles)
by Flora Brett
In this book Brett has done a good job of finding facts that will be interesting to children, such as how big are Gila monsters, what do they eat, what is their life cycle, and whether or not Gila monsters are venomous. She also separates the facts (Gila monsters are venomous) from the myths (their bite is not fatal to humans).
The book is illustrated with color photographs. Just a note, there is one photograph of a Gila monster eating a deer mouse that might be too graphic for sensitive youngsters.
Get to Know Gila Monsters is a perfect introduction to a desert creature is unfamiliar to many people. This is a must have for units on deserts and would also be useful for lessons about life cycles.
Age Range: 6 – 9 years
Publisher: Capstone Press (January 1, 2015)
ISBN-10: 1491422459
ISBN-13: 978-1491422458
A Day and Night in the Desert (Caroline Arnold's Habitats)
by Caroline Arnold
As the words "day" and "night" suggest, this story reveals which Sonoran desert creatures are active through a 24-hour cycle from 6:00 a.m. one morning until 6:00 a.m. the following day. With the distinctive cut-paper collage illustrations and narrative style, Arnold has created a nonfiction book that will appeal to young readers who prefer fiction.
A Day and Night in the Desert is a wonderful book to introduce the concept of time (for youngest readers), the terms diurnal and nocturnal, and also how different desert animals respond to desert habitats.
Age Range: 5 – 8 years
Publisher: Picture Window Books (February 1, 2015)
ISBN-10: 1479560847
ISBN-13: 978-1479560844
Cactus Hotel (An Owlet Book)
by Brenda Z. Guiberson and illustrated by Megan Lloyd
This classic picture book follows all the desert creatures that use the giant saguaro cactus as a home.
Age Range: 5 – 8 years
Publisher: Square Fish; 1 edition (October 15, 1993)
ISBN-10: 0805029605
ISBN-13: 978-0805029604
Deserts
by Gail Gibbons
Gail Gibbons is really the queen of picture book nonfiction. Her books are always impeccably researched. She also creates the illustrations.
Age Range: 6 and up
Publisher: Holiday House (October 1, 1999)
ISBN-10: 0823415198
ISBN-13: 978-0823415199
Why Oh Why Are Deserts Dry?: All About Deserts (Cat in the Hat's Learning Library)
by Tish Rabe and illustrated by Aristides Ruiz and Joe Mathieu
The Cat in the Hat books bring rhyming text to serious science nonfiction. Learn about desert animals from around the world, as well as desert phenomenon such as mirages. Highly recommended.
Age Range: 4 – 8 years
Publisher: Random House Books for Young Readers (January 11, 2011)
ISBN-10: 0375858687
ISBN-13: 978-0375858680
Desert Giant: The World of the Saguaro Cactus (Tree Tales)

by Barbara Bash
Age Range: 6 – 10 years
Publisher: Sierra Club Books for Children (September 6, 2002)
ISBN-10: 1578050855
ISBN-13: 978-1578050857
Southwestern author Conrad Storad has written quite a few books about the plants and animals of the Sonoran desert. Here are just two examples:
Saguaro Cactus (Early Bird Nature)
by Conrad J. Storad and photographs by Paula Jansen
Age Range: 7 and up
Publisher: Lerner Publications (September 1994)
ISBN-10: 0822530023
ISBN-13: 978-0822530022
Lizards for Lunch: A Roadrunner's Tale
by Conrad J. Storad and illustrated by Beth Neely and Don Rantz
Age Range: 4 and up
Grade Level: Preschool and up
Paperback: 32 pages
Publisher: Sunbelt Publications (March 1, 2002)
Language: English
ISBN-10: 1891795007
ISBN-13: 978-1891795008
Cactus Desert (One Small Square)
by Donald Silver and Patricia Wynne
Another older title that is well worth getting your hands on. What I like about this book is that it includes all the living creatures of the desert, including fungi, protists and plants. Cactus Desert has excellent suggestions for hands-on activities. Although it says 6 and up and it looks a bit like a picture book, I would say the density of text and level of vocabulary would make it perfect for middle grades.
Age Range: 6 and up
Publisher: McGraw-Hill; 1 edition (September 22, 1997)
ISBN-10: 0070579342
ISBN-13: 978-0070579347
Desert Discoveries
by Ginger Wadsworth
This title focuses on the animals found in deserts. The illustrations have hide-and-seek questions to encourage children to observe closely, as well as analog clock images to helps children learn how to tell time using hands. The first page says, "…animals, birds, and insects." Of course, this is an error because birds and insects are also considered animals (members of the animal kingdom).
Age Range: 5 – 8 years
Publisher: Charlesbridge (February 1, 1997)
ISBN-10: 0881068179
ISBN-13: 978-0881068177
Deserts: An Activity Guide for Ages 6 to 9
by Nancy F. Castaldo
One of the few books to cover deserts found throughout the world, this book also contains hands-on activities such as making a didgeridoo (to celebrate Australian deserts) and growing your own date palm. Fun!
Fiction:
Nobody Hugs a Cactus by Carter Goodrich
Hank the Cactus sits all alone in his pot on a windowsill and that's the way he likes it. Whenever someone tries to visit him, he ignores them. Sometimes he even yells at his neighbors, tortoise and jack rabbit. Over time, Hank realizes his lifestyle is making him lonely. Will he ever find a friend?
Carter Goodrich is an illustrator who is known for his covers on The New Yorker, so it is not surprising that it is the art that strikes you first when you open the book. The colors capture the brilliant light of the desert Southwest. Plus, Hank's expressions range from silly to enchanting.
In addition to being an introduction to social skills, Nobody Hugs a Cactus would be appropriate to accompany a unit on deserts.  Get a warm, fuzzy feeling from a copy today!
Age Range: 4 – 8 years
Publisher: Simon & Schuster Books for Young Readers (April 16, 2019)
ISBN-10: 1534400907
ISBN-13: 978-1534400900