Most of us learn about chemistry from a textbook, but that doesn't have to be the only way. There are a number of popular science books about chemistry. Many are written for adults, but may be appropriate for young adults as well. If you have any question as to how appropriate a given title might be for your child(ren), be sure to read it yourself first.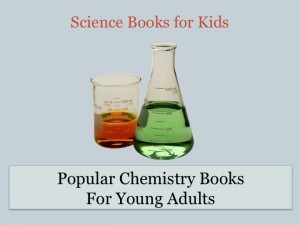 Rust: The Longest War
by Jonathan Waldman
Breaking into a topic that has gotten very little attention, Jonathan Waldman explores how rust quietly changes our lives.
Like rusty metal, the book is somewhat tarnished by uneven text, although with some skimming it is possible to find bits that will be interesting to young chemists. For example, the story of the Statue of Liberty shows how very little we know about the chemistry of corrosion and is tightly constructed. On the other hand, the author goes on a walkabout by over-describing a visit with rust photographer, Alyssha Eve Csük (that is not to say that Csük's abstract photographs are flawed, because they are very beautiful and intriguing. They are simply better seen than described.)  Rust also lacks a bibliography and an index, making it less useful as a research tool. Too bad, because with a bit of polish, this could have been an excellent book and those who are deeply interested in chemistry, history, and human culture will find it worthwhile.
Hardcover: 304 pages
Publisher: Simon & Schuster; 1St Edition edition (March 10, 2015)
ISBN-10: 1451691599
ISBN-13: 978-1451691597
Your Atomic Self: The Invisible Elements That Connect You to Everything Else in the Universe
by Curt Stager
Although all matter in the universe is made up of atoms, Dr. Stager has chosen to use the human body as his point of reference, which provides general readers with both a way to relate to the information and a sense of scale.
Rather than an in-depth exploration of human biology, however, it is more like a wandering walk using our basic knowledge of ourselves as a trail marker for exploring the world of elements. The "walk" covers topics from why the sky is blue to how the nitrogen atoms from salmon end up in spruce trees in the Pacific Northwest. The text is roughly organized by sections on the most common elements:  carbon, nitrogen, oxygen, hydrogen, etc.
(Note:  The book does contain references to what happens to bodies after death, which may not be appropriate for some younger teens.)
Hardcover: 320 pages
Publisher: Thomas Dunne Books (October 14, 2014)
ISBN-10: 1250018846
ISBN-13: 978-1250018847
The Disappearing Spoon: And Other True Tales of Madness, Love, and the History of the World from the Periodic Table of the Elements
by Sam Kean
This title is also about elements, but is covers the groups in the periodic table as units. How was an element discovered and who discovered it? Why is it useful and what properties does it have? Interesting tidbits, such as the use of gallium by practical jokers to create "disappearing spoons," keeps the reader engaged and enthralled.
Paperback: 416 pages
Publisher: Back Bay Books; Reprint edition (June 6, 2011)
ISBN-10: 9780316051637
ISBN-13: 978-0316051637
ASIN: 0316051632
Periodic Tales: A Cultural History of the Elements, from Arsenic to Zinc
by Hugh Aldersey-Williams
As suggested by the title, this book is not so much scientific as a cultural history of how we humans have discovered and use the chemical elements.
Paperback: 448 pages
Publisher: Ecco; Reprint edition (February 28, 2012)
Language: English
ISBN-10: 0061824739
ISBN-13: 978-0061824739
The Elements: A Visual Exploration of Every Known Atom in the Universe
by Theodore Gray, with photographs by Nick Mann
Really a photographic wonder, this book is a series of two-page spreads for each of the first 100 elements. The author has found concrete examples of every element in its pure form, giving the reader a visual understanding of their properties. It is intriguing, unique and entirely appropriate for children.
To get an idea what the book and cards below are like, Theodore Gray has his periodic table of element photographs at http://periodictable.com. To look at each element, click on the photograph.
Paperback: 240 pages
Publisher: Black Dog & Leventhal Publishers; Reprint edition (April 3, 2012)
Language: English
ISBN-10: 1579128955
ISBN-13: 978-1579128951
The Photographic Card Deck of The Elements: With Big Beautiful Photographs of All 118 Elements in the Periodic Table

by Theodore Gray
Same author and photographer as the above book, but in a card format.
Cards: 126 pages
Publisher: Black Dog & Leventhal Publishers; Crds edition (October 27, 2010)
Language: English
ISBN-10: 1603761985
ISBN-13: 978-1603761987
Napoleon's Buttons: How 17 Molecules Changed History
by Penny Le Couteur and Jay Burreson
This title probably contains the most "adult" themes of any in this list, but it also differs from the others because it concentrates on molecules rather than elements.The 17 molecules were chosen for their historical importance.
Paperback: 384 pages
Publisher: Jeremy P Tarcher; Reprint edition (May 24, 2004)
Language: English
ISBN-10: 1585423319
ISBN-13: 978-1585423316
The Cartoon Guide to Chemistry
by Larry Gonick and Craig Criddle
Cartoon guides like this one are a great way for visual learners to grasp complicated material. Might also draw in older reluctant readers who are intimidated by textbooks.
Series: Cartoon Guide To…
Paperback: 256 pages
Publisher: Collins Reference; 1 edition (May 3, 2005)
Language: English
ISBN-10: 0060936770
ISBN-13: 978-0060936778
Nature's Building Blocks: An A-Z Guide to the Elements
by John Emsley
The serious chemistry student may enjoy reading this book from cover to cover, but it also serves as an excellent handy reference to the elements.
Paperback: 720 pages
Publisher: Oxford University Press; New Rev Up edition (October 1, 2011)
Language: English
ISBN-10: 0199605637
ISBN-13: 978-0199605637
Feel free to leave a comment if you have any suggestions for this list.
______
Disclaimer: Just so you know, I am an affiliate with Amazon. If you make a purchase after clicking on one of the title links, I will receive a small commission at no extra charge to you, the proceeds of which will help pay for maintaining this website.