Most of us learn about chemistry in high school and usually from a textbook, but that doesn't have to be the only way. Children will enjoy learning about chemistry from these popular books.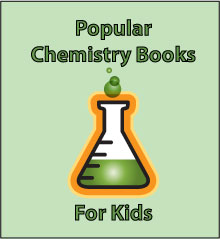 Beginning Readers
What Are Atoms? (Rookie Read-About Science)
by Lisa Trumbauer
With short sentences and controlled vocabulary, this is an introduction to atoms for the youngest reader.
Age Range: 6 and up
Publisher: Childrens Pr (March 2005)
ISBN-10: 0516246658
ISBN-13: 978-0516246659
What Is Density? (Rookie Read-About Science)
by Joanne Barkan
What does a baseball and a birthday party balloon have in common? Although they are the same because they are both made of matter and take up space, young readers will also find out that they don't have the same density.
Age Range: 6 and up
Publisher: Children's Press(CT) (September 1, 2006)
ISBN-10: 0516246607
ISBN-13: 978-0516246604
All about Matter (Science Builders)
by Mari Schuh
With only 151 words, this beginning reader book still manages define matter and explore the three states of matter:  solids, liquids, and gases. As you can see from the cover, it is illustrated with big, colorful photographs.
Age Range: 4 – 8 years
Publisher: Pebble Plus (August 1, 2011)
ISBN-10: 142967105X
ISBN-13: 978-1429671057
Elementary/Picture Books
What Is the World Made Of? All About Solids, Liquids, and Gases (Let's-Read-and-Find-Out Science, Stage 2)
by Kathleen Weidner Zoehfeld and Paul Meisel
In a gently humorous way, this book introduces children to the idea the world is made of matter and that matter occurs in three states:  solid, liquid, or gas. You can never go wrong with any of the Let's-Read-and-Find-Out Science series books.

Age Range: 4 – 8 years
Series: Let's-Read-and-Find-Out Science 2 (Book 1)
Publisher: HarperCollins (August 8, 1998)
ISBN-10: 0064451631
ISBN-13: 978-0064451635

The Solid Truth about Matter (LOL Physical Science)
by Mark Weakland and illustrated by Bernice Lum
Humor is also the target of the books in the LOL Physical Science series, but that doesn't mean the science is not serious. For example, you can find out all about more advanced concepts such as friction and viscosity on page 16 in the book.
Age Range: 8 – 10 years
Grade Level: 3 – 4
Publisher: Fact Finders (August 1, 2012)
ISBN-10: 1429693029
ISBN-13: 978-1429693028
Molecule Mayhem
Pop-Up Chemistry Chaos by Tom Adams and illustrated by Thomas Flintham.
The winner of the 2013 ALCS Educational Writers' Award, this title from the UK combines the interactivity of pop-ups, pull tabs and booklets with the answers to some chemistry mysteries ("Why do onions make us cry?") and suggestions for hands-on activities.
Age: 7+
Hardcover: 18 pages
Publisher: Templar (August 1, 2012)
ISBN-10: 1848772920
ISBN-13: 978-1848772922
Solids, Liquids and Gases (Starting with Science)
by Ontario Science Centre, illustrated by Ray Boudreau
Tested at the Ontario Science Centre, these 13 experiments exploring solids, liquids, and gases are sure to be hits with younger scientists. Illustrated throughout with bright, lively photographs.
Age Range: 5 – 9 years
Publisher: Kids Can Press (August 12, 1995)
ISBN-10: 1550744011
ISBN-13: 978-1550744019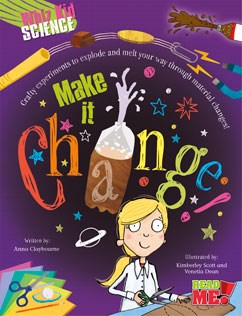 Make It Change! (Whiz Kid Science)
by Anna Claybourne, and illustrated by Kimberly Scott and Venetia Dean introduces some easy-to-do hands-on chemistry activities that are sure to intrigue and inspire kids. Are these unique, groundbreaking experiments? No, you can probably find instructions for the twelve experiments that are included throughout the Internet. The difference is the instructions are clear, there are suggestions for troubleshooting, the science behind the experiment is revealed in a concise and accurate way, and suggestions for extending the activities are included.
Grade Level: 2 – 4
Publisher: Raintree (July 1, 2014)
ISBN-10: 1410967468
ISBN-13: 978-1410967466
Middle Grade
Your Guide to the Periodic Table by Gill Arbuthnott and illustrated by Marc Mones
After a brief introduction to the periodic table, Arbuthnott delves into over 70 of the 92 elements.Common elements warrant a two page spread, whereas less common are covered in a page or less. Lively illustrations and photographs add interest. It is a good first introduction/overview.
Age Range: 9 – 12 years
Publisher: Crabtree Publishing Company (April 1, 2016)
ISBN-10: 0778722538
ISBN-13: 978-0778722533
Fizz, Bubble & Flash!: Element Explorations & Atom Adventures for Hands-On Science Fun! (Williamson Kids Can! Series)
by Anita Brandolini and illustrated by Michael Kline
Don't be fooled by the cover, this book really is written for older kids. Organized by chemical families, it introduces the everyday elements, such as boron, bismuth, and calcium and gives instructions for hands-on activities to explore them. There is some serious science hiding behind the less-than-serious cartoon illustrations.
Age Range: 9 and up
Series: Williamson Kids Can! Series
Paperback: 128 pages
Publisher: Williamson Pub; First Edition edition (May 2003)
ISBN-10: 188559383X
ISBN-13: 978-1885593832
Cool Chemistry Concoctions: 50 Formulas that Fizz, Foam, Splatter & Ooze

by Joe Rhatigan and Veronika Gunter, with illustrations by Tom La Baff
This book gives the instructions for 50 experiments kids can do with materials generally found around the house. In addition to explaining "What You Do," each experiment is accompanied by a "Why It Works" section explaining the science behind it. Most of the experiments are classics, but there are a few fresh ones.
Age Range: 8 and up
Paperback: 80 pages
Publisher: Lark Books (March 1, 2007)
ISBN-10: 1579908829
ISBN-13: 978-1579908829
How to Make a Universe with 92 Ingredients: An Electrifying Guide to the Elements
by Adrian Dingle
Once readers have a good idea that everything is made up of the same 92 elements, they can flip through and find the elements that intrigue them the most. Wacky illustrations and blasts of humor make it easy to read.
Age Range: 10 – 14 years
Publisher: Owlkids Books (October 15, 2013)
ISBN-10: 1771470089
ISBN-13: 978-1771470087
Why Is Milk White?: & 200 Other Curious Chemistry Questions
by Alexa Coelho and Simon Quellen Field
In this interesting project, 11-year-old Alexa Coelho came up with the questions and science writer Simon Field answered them. Readers can skip to questions that interest them, which is an added plus for reluctant readers. Those fascinated by chemistry, however, won't be able to put it down.
Age Range: 9 and up
Grade Level: 4 and up
Paperback: 288 pages
Publisher: Chicago Review Press; 1 edition (January 1, 2013)
ISBN-10: 1613744528
ISBN-13: 978-1613744529
Chemical Chaos (Horrible Science)
by Nick Arnold and illustrated by Tony De Saulles
The books of the Horrible Science series try to be gross and irreverent, but many, like this one, turn out to be much more educational than crass. Chemical Chaos has history, facts and hands-on activity suggestions all rolled into one. The cartoon illustrations and sidebars are great for visual learners. Members of our family read it again and again.
Age Range: 10 and up
Publisher: Scholastic (September 1998)
ISBN-10: 0590108859
ISBN-13: 978-0590108850
Chemical Chaos (Horrible Science)
is also available in Kindle format.

Chemistry (Experimenting With Science)
by Antonella Meiani
The layout of the text is clean and serious, with specific instructions for experiments and clear explanations of what is happening. Could be used with a range of ages.
Age Range: 9 and up
Publisher: Lerner Pub Group (L) (September 2002)
ISBN-10: 0822500876
ISBN-13: 978-0822500872
Science Fair Projects: Chemistry
 by Bob Bonnet and Dan Keen, illustrated by Frances Zweifel
Starting with instructions for 47 interesting hands-on experiments and activities, the reader is then invited to expand them into science fair projects. Best for the beginner who needs to learn the scientific method. Although the cover has a gorgeous full-color photograph, the illustrations inside are black and white drawings.

Age Range: 9 and up
Paperback: 96 pages
Publisher: Sterling (June 30, 2001)
ISBN-10: 080697799X
ISBN-13: 978-0806977997
Basher Science: Chemistry: Getting a Big Reaction
by Simon Basher and Dan Green
Do you know a child who is interested in science but finds the traditional nonfiction books a bit too tame and lame? Looking for something a little edgy with a bite of humor ("You have to keep your 'Ion' this bunch…")? Then you might want to take a look at the Basher series science books. Each concept is illustrated in Basher's unique style.
Full review at Wrapped in Foil
Age Range: 10 – 15 years
Paperback: 128 pages
Publisher: Kingfisher; Pap/Pstr edition (July 6, 2010)
ISBN-10: 0753464136
ISBN-13: 978-0753464137
The Periodic Table: Elements with Style!
by Simon Basher and Adrian Dingle
Once again, Basher's humor and first person narratives are not for everyone, but just might be the ticket for a reluctant reader.
Age Range: 10 – 15 years
Paperback: 128 pages
Publisher: Kingfisher; Pap/Pstr edition (May 23, 2007)
ISBN-10: 0753460858
ISBN-13: 978-0753460856
Do you have any favorite chemistry books? We'd love to hear about them!
______
Disclaimer: Just so you know, I am an affiliate with Amazon. If you make a purchase after clicking on one of the title links, I will receive a small commission at no extra charge to you, the proceeds of which will help pay for maintaining this website.