Kids tend to get excited for Pi Day, which is observed on March 14 (3/14) as a nod to the fact that pi is 3.14… What a great opportunity to pull out some math books for kids to share.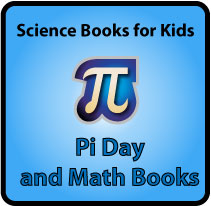 Disclaimer: Just so you know, I am an affiliate with Amazon. If you make a purchase after clicking on one of the title links, I will receive a small commission at no extra charge to you, the proceeds of which will help pay for maintaining this website.
Pi Day Books
The classic Pi Day book is Sir Cumference and the Dragon of Pi (A Math Adventure)
by Cindy Neuschwander and illustrated by Wayne Geehan.
This is the second of a very popular series that turns common math concepts into memorable stories. When Sir Cumference turns into a dragon, can his family and friends use math to save him?
Although it looks a bit like a picture book, this is actually written for middle grades. See some of the other titles below.
Age Range: 8 – 12 years
Publisher: Charlesbridge (February 1, 1999)
ISBN-10: 1570911649
ISBN-13: 978-1570911644
Why Pi? (Big Questions) by Johnny Ball
Why Pi? is not just about pi, but is a general history of all things math. It covers how humans have used numbers and measured things from the past all the way to the present. Pages are bright colors, some contrasted with black like the cover. This is a follow-up book to the award-winning title, Go Figure, by the same author (see middle grade level below), which contains information about why all the world's phone numbers appear in pi.
Age Range: 7 – 10 years
Paperback: 96 pages
Publisher: DK Children; Revised edition (January 19, 2016)
ISBN-10: 1465443878
ISBN-13: 978-1465443878
Piece of Pi: Wit-Sharpening, Brain-bruising, Number-Crunching Activities with Pi (Grades 6-8)
by Naila Bokhari and illustrated by S. O'Shaughnessy
Not only does this book explain what pi is and how it came about, it also has some great hands-on activities to help students learn how to apply it.
Grades 6–8
Paperback: 48 pages
Publisher: Prufrock Press (January 1, 2005)
ISBN-10: 1593631200
ISBN-13: 978-1593631208
Popular Books About Math and Mathematicians:
Beginning Readers/Counting Books
Mice Mischief: Math Facts in Action
by Caroline Stills walks young readers through all the ways 1 through 9 can add up to 10.
Age: 3-6
Hardcover: 24 pages
Publisher: Holiday House (January 14, 2014)
ISBN-10: 0823429474
ISBN-13: 978-0823429479
Edible Numbers
by Jennifer Vogel Bass combines counting, colors, and yummy fruits and vegetables into one delightful adventure.
Age Range: 2 – 5 years
Hardcover: 32 pages
Publisher: Roaring Brook Press (May 26, 2015)
ISBN-10: 1626720037
ISBN-13: 978-1626720039
Taking Away with Tigers (Animal Math)
by Tracey Steffora helps young readers learn how to subtract.
Illustrated with photographs of live tigers in various poses, the concepts are made concrete enough to help the curious child master them. Want to take the lesson to the next level? Obtain some tiger figurines, toy tigers and/or plush tigers to use as manipulatives. Count and move the tigers guided by the text. Then have some fun by playing hide and seek. Take turns hiding the figurines and then "hunting" for them like real tigers.
Full review at Wrapped in Foil
Age Range: 4 – 6 years
Publisher: Heinemann (July 1, 2013)
ISBN-10: 1432975706
ISBN-13: 978-1432975708
Picture Books/Early Elementary
Infinity and Me by Kate Hosford and illustrated by Gabi Swiatkowska
Infinity and Me is an amazing nonfiction picture book that brings a difficult abstract concept into focus for young children. Hosford doesn't tell the reader the definitive answer of what infinity is, but instead gently shows how each person can search for his or her own answer. Where they take it from there is, well, potentially infinite.
Reviewed at Wrapped in Foil.
Curriculum Guide available in pdf
Age Range: 5 – 10 years
Publisher: Carolrhoda Picture Books (August 1, 2012)
ISBN-10: 0761367268
ISBN-13: 978-0761367260
Equal Shmequal by Virginia Kroll
Mouse and her animal friends explore the concept of what it means to be equal.
Age Range: 5 – 8 years
Publisher: Charlesbridge (July 1, 2005)
ISBN-10: 1570918910
ISBN-13: 978-1570918919
Bedtime Math: A Fun Excuse to Stay Up Late (Bedtime Math Series)
by Laura Overdeck and illustrated by Jim Paillot
This is the first book in an innovative and fun series in which Laura Overdeck suggests number riddles and challenges that can easily be "added" to the bedtime routine. Over 100 riddles, each with three different levels for families with several children. Check the Fun Nightly Math section of the Daily Math website to see examples of the leveled challenges, including some for pi day.
Age Range: 3 – 7 years
Publisher: Feiwel & Friends (June 25, 2013)
ISBN-10: 1250035856
ISBN-13: 978-1250035851
Bedtime Math: This Time It's Personal (Bedtime Math Series)
by Laura Overdeck and illustrated by Jim Paillot
In this second book from the Bedtime Math series, Overdeck shows children how to use math to investigate how their bodies work, personal habits, etc.
Age Range: 3 – 7 years
Series: Bedtime Math Series
Hardcover: 96 pages
Publisher: Feiwel & Friends (March 11, 2014)
Language: English
ISBN-10: 1250040965
ISBN-13: 978-1250040961
Bedtime Math: The Truth Comes Out (Bedtime Math Series)
by Laura Overdeck and illustrated by Jim Paillot
In the third book in the series, Overdeck has assembled math challenges relating to the wild questions that children love to investigate. Example: how many eyelids does a camel have? See more at the Bedtime Math website.
Age Range: 3 – 7 years
Series: Bedtime Math Series
Hardcover: 96 pages
Publisher: Feiwel & Friends (March 3, 2015)
Language: English
ISBN-10: 1250047757
ISBN-13: 978-1250047755
The Boy Who Loved Math: The Improbable Life of Paul Erdos
by Deborah Heiligman and illustrated by LeUyen Pham
Heiligman's book explores the life of a boy who thinks about math all day.
Messages I love from this book:
Math can be exciting and interesting
It is okay to be different from everyone else
The Boy Who Loved Math is as special, lovable, and one-of-a-kind as its subject. "Added plus": the illustrator has incorporated a great deal of math in the illustrations.
Age Range: 3 – 8 years
Grade Level: Preschool – 2
Publisher: Roaring Brook Press (June 25, 2013)
ISBN-10: 1596433078
ISBN-13: 978-1596433076
Lemonade for Sale (MathStart 3)
by Stuart J. Murphy and illustrated by Tricia Tusa
Love using reading to explain math? Using a story of four children and a parrot running a lemonade stand to set the stage, this book shows children how to understand bar graphs.
Be sure to look for other titles in the MathStart series by Stuart J. Murphy that explain many different early math concepts.
Age Range: 6 – 10 years
Grade Level: 2 and up
Publisher: HarperCollins; MathStart 3 edition (December 18, 1997)
ISBN-10: 0064467155
ISBN-13: 978-0064467155
Math Curse
by Jon Scieszka and illustrated by Lane Smith
This is wildly popular introduction to math by the genius pair of Scieszka and Smith. Although it is included in the picture book category, it may also be appropriate for older kids.
Age Range: 3 – 7 years
Publisher: Viking Books for Young Readers; Library Binding edition (October 1, 1995)
ISBN-10: 0670861944
ISBN-13: 978-0670861941
How Much Is a Million? 20th Anniversary Edition (Reading Rainbow Books)
by David M. Schwartz and illustrated by Steven Kellogg
Some adults may question whether young children are interested in big numbers, but often they are. This book makes big numbers understandable and relatible.
Age Range: 4 – 8 years
Publisher: HarperCollins; Reissue edition (December 28, 2004)
ISBN-10: 0688099335
ISBN-13: 978-0688099336
"Quirky Math"
What do I mean by quirky math? These are unique books that introduce math concepts in ways that don't always align with school standards and aren't easy to assign age categories. Because of that, they may not be a good fit for everyone. On the other hand, for the right reader, they can open doors to a whole new way of thinking about the world.
Anno's Math Games
by Mitsumasa Anno
The brilliance of Anno's books can be really hard to explain, but I will try. They are use imaginative, creative, and unusual illustrations and stories to encourage children to explore math concepts ranging from basic to highly advanced. These are books that children will want to return to again and again as their understanding increases.
Age Range: 5 and up
Hardcover: 104 pages
Publisher: Philomel; 1st edition (September 21, 1987)
Language: English
ISBN-10: 0399211519
ISBN-13: 978-0399211515
Anno's Math Games 2
by Mitsumasa Anno
In the first section of this book, Anno introduces concepts children will use in algebra with a "magic machine." The characters put things into the machine and they change when they come out. For example, a chicken becomes a chick. The children are challenged to figure out what is happening in various scenarios and to make up their own examples.
Hardcover: 103 pages
Publisher: Philomel (September 6, 1989)
Language: English
ISBN-10: 0399216154
ISBN-13: 978-0399216152
Anno's Math Games III
by Mitsumasa Anno
Exploring the most advanced concepts yet, Anno takes on topology, mazes, and Euclidean geometry. It is literally about thinking outside the box.
Hardcover: 103 pages
Publisher: Philomel (March 28, 1991)
Language: English
ISBN-10: 039922274X
ISBN-13: 978-0399222740
Life of Fred: Apples, Elementary Math Book, Math As Serious As It Needs to Be (Life of Fred, Volume 1)
(Life of Fred, Volume 1) by Stanley F. Schmidt, Ph.D.
Life a Fred is a series of math books ranging from elementary to high school levels. Some people absolutely love their quirky uniqueness, and others find it off-putting. I have to say that underlying the stories (and frankly somewhat odd illustrations) is carefully-thought-out math presented in such a way to make it understandable and memorable.
See the Life of Fred website and check this .pdf sample to get an better idea of what it is like.
Middle Grade
Mysterious Patterns: Finding Fractals in Nature
by Sarah C. Campbell and photographs by Richard P. Campbell
This gorgeous book is at the interface between picture book and middle grade level. It starts simply, with common shapes found in the environment, giving the impression of a picture book for youngsters. Step-by-step the shapes become more complex, until we are seeing the repeating patterns called fractals, revealing exciting concepts for older students. Then readers are taken through examples of fractals that range in scale from Queen Anne's lace flowers to mountain ranges. Amazing!
In the back is an activity to make a type of fractal called a Sierpinski triangle, perfect to reinforce learning. The afterword by Michael Frame summarizes the life of Benoit Mandelbrot, who named fractals, as well as proposing some practical and potential uses for fractals.
Mysterious Patterns: Finding Fractals in Nature is a great introduction to complex patterns and is sure to inspire students, particularly reluctant ones, to investigate math in greater depth.
Age Range: 7 – 10 years
Publisher: Boyds Mills Press; SEW edition (April 1, 2014)
ISBN-10: 1620916274
ISBN-13: 978-1620916278
The expert team of Hilary Koll and Steve Mills have developed a unique series of math books illustrated by Vladimir Aleksic. Each feature gritty, real world applications of math with problems to solve embedded within the story. The challenges vary in difficulty and math skills needed.
In Solve a Crime (You Do the Math)
Alex, an undercover police detective, shows how math can help catch a criminal. For example, on one page the reader is asked to use co-ordinates to map the evidence and then look on a grid to calculate the distance between certain items. These problems will require a pencil and piece of paper to do the work.
The graphic-style illustrations are bold and serious, adding to the true-to-life feel.
Age Range: 6 – 8 years
Publisher: QEB Publishing (April 1, 2015)
ISBN-10: 160992732X
ISBN-13: 978-1609927325
Fly a Jet Fighter (You Do the Math)
follows pilot Katie as she handles data, interprets tables, and reads dials and scales. The goal is to create a squadron of jet fighter aces and complete the mission.
Age Range: 6 – 8 years
Publisher: QEB Publishing (April 1, 2015)
ISBN-10: 1609927311
ISBN-13: 978-1609927318
Launch a Rocket into Space (You Do the Math)
follows each stage of the space mission to make sure the rocket blasts clear of the atmosphere and returns safely. It features astronaut Michael who helps the reader compete the math exercises and learn about everything from fractions to timelines. A few problems will require a protractor to measure angles.
Each of the books has a glossary and the answers for all the questions are in the back matter.
Although recommended for ages 6-8, these books could also be useful for older children who are struggling with math concepts or don't quite see how the math they are learning might be useful.
The entire You Do the Math series would be perfect for homeschoolers and after school math clubs because it can be entirely child-directed reading.
Sir Cumference and the First Round Table (A Math Adventure)
by Cindy Neuschwander and Wayne Geehan
In this first of the series, we are introduced to the main characters (and some hilarious puns.) Sir Cumference, his wife Lady Di of Ameter, their son Radius, and the carpenter, Geo of Metry, help King Arthur deal with a neighbor who is threatening war by finding the perfect table. Again, although this may look like a picture book, it is meant for middle grades.
Age Range: 8 – 12 years
Publisher: Charlesbridge; First Paperback Edition edition (July 1, 1997)
ISBN-10: 1570911525
ISBN-13: 978-1570911521
Here's the newest title in the series:
Sir Cumference and the Fracton Faire (A Math Adventures) by Cindy Neuschwander and illustrated by Wayne Geehan
Even though the title says "Fracton," it's a sneaky tale to learn about fractions. This one would be best for grades 2 -5.
Age Range: 7 – 10 years
Publisher: Charlesbridge (March 7, 2017)
ISBN-10: 1570917728
ISBN-13: 978-1570917721
Go Figure!: A Totally Cool Book About Numbers (Bccb Blue Ribbon Nonfiction Book Award (Awards))
by Johnny Ball (Author)
An award-winning title packed with math history and concepts, as well as math puzzles, tricks and challenges sure to get kids using math.
Age Range: 8 – 12 years
Publisher: DK (August 15, 2005)
ISBN-10: 0756613744
ISBN-13: 978-0756613747
Mathemagic!: Number Tricks
by Lynda Colgan and illustrated by Jane Kurisu
Mathemagic shows kids how to entertain their friends with number tricks and then explains the math behind the magic. Certain children of the target age are likely to really enjoy activities like "mind reading" and "calculator magic."
Educators will also want to put this book into their trick toolbox. It will appeal to the math whizzes who play math games anyway, but it might also be useful to those who are struggling math because it makes many aspects of math more concrete, allows children to see math computations from a new angle, lets them see math in everyday life, and may help motivate them to practice the skills that they need for standardized tests.
Full review at Wrapped in Foil
Age Range: 10 – 14 years
Publisher: Kids Can Press, Ltd. (March 1, 2011)
ISBN-10: 1554534259
ISBN-13: 978-1554534258
Math Talk: Mathematical Ideas in Poems for Two Voices
by Theoni Pappas
Each subject has its own vocabulary to be mastered. This small book introduces children to math via well-written poetry. Particularly useful for those looking for novel ways to introduce math topics.
Age Range: 7 and up
Publisher: Wide World Publishing, Tetra (January 25, 1993)
ISBN-10: 0933174748
ISBN-13: 978-0933174740
Theoni Pappas also offers a yearly mathematical calendar with math problems to solve for every day:
High School
Looking for a way to keep teenagers engaged in STEM? Chaos Theory Uncovered: How chaos and fractals shape our world by E L Strauss might be just the ticket. It reveals how math can be used to help us understand and make predictions about large, complex events in a beautiful way.
When you first open the book the computer-generated illustrations might just give you chills, particularly the swirling brightly-colored lines against a black background that are visual representations of chaos. The images of fractals are stunning as well, particularly the Mandelbrot set. Magic happens when art meets math.
The best part about the book is it is not watered down for kids. To get the most out of it, the reader should probably have a working understanding of at least algebra, and an inkling of beginning calculus would be helpful.
Chaos Theory Uncovered: How Chaos and Fractals Shape Our World is sure to help young adults and adults to understand complex math. It might also help some to discover an astonishing new passion.
Mathematics: The Science of Patterns: The Search for Order in Life, Mind and the Universe (Scientific American Paperback Library)
by Keith Devlin
Meant to appeal as a popular math book, Keith Devlin's text reveals that math is about much more than numbers. Many people rave about the illustrations as well as the text.
Series: Scientific American Paperback Library
Paperback: 216 pages
Publisher: Scientific American Library; 1st edition (1997)
Language: English
ISBN-10: 0716760223
ISBN-13: 978-0716760221
Elementary Algebra
by Harold R. Jacobs
Excellent title for homeschooling or self-study, the explanations by Jacobs are especially easy to follow and helpful. Although this title is out of print, it is well worth trying to dig up a copy if you are interested in learning algebra.
Hardcover: 876 pages
Publisher: W. H. Freeman (1979)
Language: English
ISBN-10: 0716710471
ISBN-13: 978-0716710479
Hot X: Algebra Exposed!
by Danica McKellar
Don't let the suggestive title fool you, this is a serious guide to algebra and more. It's also a hip call for young people to work hard, particularly at math, in order to attain their dreams. McKellar wants her readers to feel smart and confident, and develop the skills to be successful. It is a very positive message repeated throughout the book.
Although clearly written as a resource to supplement a math course, the tips and exercises could be a useful for instructors or for tutors looking for yet another way to get a point across. There are are additional solutions to problems on McKellar's Hot X website.
The bottom line is that Hot X is much more than just a pretty face and a clever title. If you are studying or teaching algebra, you should take a look at it.
Hardcover: 876 pages
Publisher: W. H. Freeman (1979)
Language: English
ISBN-10: 0716710471
ISBN-13: 978-0716710479
Girls Get Curves: Geometry Takes Shape
by Danica McKellar
Once again, the cover may give a suggestive message, but it is only designed to get reluctant mathematicians to look inside. There they'll find ways to master the core concepts of high school geometry, including congruent triangles, quadrilaterals, circles, proofs, theorems, etc.
Paperback: 432 pages
Publisher: Plume; 6.2.2013 edition (July 2, 2013)
ISBN-10: 0452298741
ISBN-13: 978-0452298743