Below is a list of children's books that focus on plants and gardening, organized by reading level and genre. They were chosen to support and inspire gardening science projects. Be sure to visit our earlier list of children's books about seeds, as well.
Do you have any favorite gardening science books for kids? We'd love to hear your suggestions.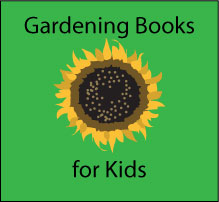 Note: Linked titles go to Amazon for further information and reviews. Just so you know, I am an affiliate with Amazon. If you make a purchase after clicking on one of the links, I will receive a small commission at no extra charge to you, the proceeds of which will help pay for maintaining this website.
Nonfiction
Beginning Readers
Plants: Real Size Science
by Rebecca Rissman
Don't let the short sentences fool you, this informational book is full of vocabulary and concepts, such as what are roots, stems and flowers. Be sure to read the notes for parents and educators in the back to get the most from the book.
Age Range: 4 – 6 years
Publisher: Acorn (July 1, 2013)
ISBN-10: 143297887X
ISBN-13: 978-1432978877
Picture Books
New Books:

Plants Can't Sit Still by Rebecca E. Hirsch and illustrated by Mia Posada
Although they can't run around like some animals can, plants can move quite a bit. Sunflowers follow the sun, tendrils can creep around, and seeds can shoot away. A deeper look into the life of plants.
Isn't the cover beautiful?
Age Range: 5 – 8 years
Publisher: Millbrook Press (September 1, 2016)
ISBN-10: 1467780316
ISBN-13: 978-1467780315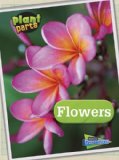 Flowers (Plant Parts)
by Melanie Waldron is the perfect introduction to flowers in the garden. This informational book covers what a flower is, the parts of a flower, how flowers make seeds, and become fruit, etc. It also discusses how flowers attract insect pollinators. Two hands-on activities are included with clear and well-organized instructions to help reinforce learning.
Age Range: 7 – 9 years
Grade Level: 2 – 4
Series: Plant Parts
Publisher: Raintree Perspectives (January 1, 2014)
ISBN-10: 1410954269
ISBN-13: 978-1410954268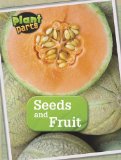 Seeds and Fruits (Plant Parts)
is also by Melanie Waldron and is part of the same series as Flowers. It covers variation in seeds and fruits, what seeds and fruit are for, the parts of a flowering plant, how seeds are made, what's inside a seed, what seeds need to germinate, different types of fruit, methods plants use to disperse seeds, and how humans interact with seeds and fruits. This book contains an activity of finding seeds in fruit and an experiment to investigate germination of bean seeds under different conditions.
These books in the Plant Parts series would work well with a school garden as well as in the classroom for a unit on plants.
Age Range: 7 – 9 years
Grade Level: 2 – 4
Series: Plant Parts
Publisher: Raintree Perspectives (January 1, 2014)
ISBN-10: 1406274801
ISBN-13: 978-1406274806
Vegetables aren't the only plants found in the garden. Weeds Find a Way
by Cindy Jenson-Elliott and illustrated by Carolyn Fisher introduces young readers to the wonders of the natural world by exploring these often ignored, deplored plants. Jenson-Elliott's text conjures up lighthearted word pictures. For example, can't you imagine seeds coming out of pods "…like confetti from a popped balloon?"  The back matter, however, includes a serious discussion of weeds, why they are interesting and important, and a list and descriptions of some common weeds.Pick up a copy and you will find out, as the author says, "Weeds are amazing!" (Review with activity suggestions at Growing with Science).
Age Range: 4 – 8 years
Grade Level: Preschool – 3
Publisher: Beach Lane Books (February 4, 2014)
ISBN-10: 1442412607
ISBN-13: 978-1442412606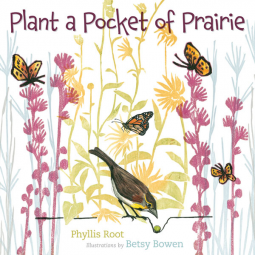 Ever consider gardening for wildlife? Plant a Pocket of Prairie by Phyllis Root and illustrated by Betsy Bowen is a perfect introduction because it encourages planting of locally-adapted plants in pocket wildlife gardens. The book may focus on the prairies of Minnesota, but it carries a message about preserving habitats that is important anywhere in the world. Get the full scoop at Growing with Science.
Ages 5-10
Hardcover: 40 pages
Publisher: University of Minnesota Press (April 15, 2014)
ISBN-10: 0816679800
ISBN-13: 978-0816679805
It's Our Garden: From Seeds to Harvest in a School Garden
by George Ancona is a warm and delightful picture book about a school garden at the Acequia Madre elementary school in Santa Fe. Ancona provides both color photographs and samples of the children's art work to document the changes that occur with the seasons (review Wrapped In Foil).
Age Range: 5 – 8 years
Publisher: Candlewick (January 8, 2013)
ISBN-10: 0763653926
ISBN-13: 978-0763653927

Secrets of the Garden: Food Chains and the Food Web in Our Backyard
by Kathleen Weidner Zoehfeld and illustrated by Priscilla Lamont
This creative picture book walks the line between fiction and nonfiction. Although Alice is the narrator, leading the way to her discoveries in her family's garden, two chickens provide the science concepts in informative sidebars.
Age Range: 5 – 9 years
Hardcover: 40 pages
Publisher: Knopf Books for Young Readers; First Printing edition (February 28, 2012)
ISBN-10: 0517709902
ISBN-13: 978-0517709900
Molly's Organic Farm
by Carol L. Malnor and illustrated by Trina Hunner
Beautifully-illustrated, this book also walks the line between fiction and nonfiction as it describes various aspects of organic farming from the viewpoint of a cat, Molly. The publisher has several related activities to download for free (scroll down to M)
Ages 4-10
Publisher: Dawn Publications (March 1, 2012)
ISBN-10: 1584691670
ISBN-13: 978-1584691679
Older favorites: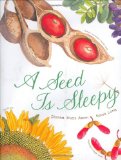 A Seed Is Sleepy
by Dianna Hutts Aston and Sylvia Long
This is an absolutely gorgeous and well-researched book. Highly recommended!
Age Range: 5 – 10 years
Publisher: Chronicle Books; First Edition edition (March 1, 2007)
ISBN-10: 0811855201
ISBN-13: 978-0811855204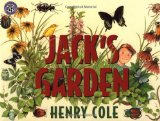 Jack's Garden
by Henry Cole
This lovely book is a retelling of the nursery rhyme "This is the House that Jack Built," using a gardening theme. It starts with tools a gardener would use, then critters you would find in the soil, all the way to a mature garden with birds and butterflies. Even though it is a picture book with few words, the illustrations are so rich it can be used with almost any age. Wonderful book!
Age Range: 4 – 8 years
Publisher: Greenwillow Books; Reprint edition (March 28, 1997)
ISBN-10: 9780688152833
ISBN-13: 978-0688152833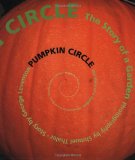 Pumpkin Circle: The Story of a Garden
by George Levenson, Shmuel Thaler (Photographer)
When I lent this one to someone and never got it back, I knew I had to go out and buy another copy. This book is really one of a kind. The photographs are exceptional, although they do have a flower fly identified as a honey bee, which is a common mistake. The website has good information, too.
Age Range: 5 – 8 years
Publisher: Tricycle Press (August 7, 2002)
ISBN-10: 1582460787
ISBN-13: 978-1582460789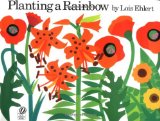 Planting a Rainbow
by Lois Ehlert
Age Range: 4 – 8 years
Paperback: 40 pages
Publisher: HMH Books for Young Readers; Reprint edition (February 28, 1992)
ISBN-10: 0152626107
ISBN-13: 978-0152626105
What is a garden without soil, and what is soil without compost to make it healthy?
Compost and Soil:
What's Sprouting in My Trash?: A Book about Composting (Earth Matters)
by Esther Porter is a visually-interesting quick overview of composting for children. The huge color photographs cover each two-page spread. Unlike Rotten Pumpkin (see below), other than an earthworm or two there isn't anything that might dissuade a reader. In fact, the compost looks colorful and attractive with relatively fresh flowers and fruit in each view.
Reading Level: Grades 1-2
Series: A+ Books: Earth Matters
Paperback: 32 pages
Publisher: Capstone Press (February 1, 2013)
ISBN-10: 1620657457
ISBN-13: 978-1620657454
Rotten Pumpkin: A Rotten Tale in 15 Voices
by David M. Schwartz and with photographs by Dwight Kuhn is another book on the composting theme, but it is not for the highly squeamish. If the thought of fly vomit makes you quiver, then you might not find the book as delightful as I did. Photographer Kuhn spares nothing as he follows the decomposition meltdown of a carved Halloween pumpkin. He takes you down and dirty with close-ups of molds, slime molds and yeasts, as well as other organisms, to show how nutrients get recycled and organic matter added to the soil. (Review and activities at Growing with Science).
Age Range: 4 – 12 years
Publisher: Creston Books (July 23, 2013)
Language: English
ISBN-10: 1939547032
ISBN-13: 978-1939547033

Compost Critters
by Bianca Lavies
This older book (1993) has stunning photographs of the inhabitants of a compost heap. Amazing!
Age Range: 9 and up
Hardcover: 32 pages
Publisher: Dutton Juvenile; 1st edition (May 1, 1993)
ISBN-10: 0525447636
ISBN-13: 978-0525447634
Middle Grade
Linnea's Windowsill Garden (Linnea books)
by Cristina Bjork, illustrated by Lena Anderson, and translated by Joan Sandin
For fans of Linnea's Garden (see fiction section below), this gardening how-to is a useful introduction to indoor gardening. It is written in a cozy, journal style.
Age Range: 9 – 12 years
Grade Level: 4 – 7
Publisher: R & S Books (October 1, 1988)
ISBN-10: 9129590647
ISBN-13: 978-9129590647
Gardening Lab for Kids: 52 Fun Experiments to Learn, Grow, Harvest, Make, Play, and Enjoy Your Garden (Hands-On Family)
by Renata Fossen Brown, Vice President of Education at the Cleveland Botanical Garden
Although the term "experiments" in the subtitle might suggest scientific trials or investigations, for this book "experiment" is actually used more in the sense of "to try something new." Gardening Lab for Kids is a lovely collection of hands-on activities for children to do for every week of the year, from designing a garden and making seed tape, to planting a garden in a shoe, growing a pizza garden, and constructing a wind chime. In addition, children will certainly learn some science as they explore parts of plants, investigate soils, try out composting, and learn about watering.
Age Range: 5 – 12 years
Publisher: Quarry Books (April 1, 2014)
ISBN-10: 1592539041
ISBN-13: 978-1592539048
Nonfiction for adults working with children
Note:  This part of the list became so long that we decided to move it to its own post.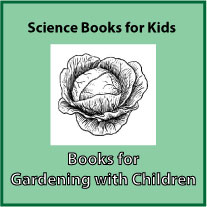 Related Fiction
Picture Books
The Gardener
by Sarah Stewart and illustrated by David Small
Lydia Grace Finch isn't used to living in the city, let alone with her dour uncle. Can she work miracles with a small suitcase full of seeds?
Age Range: 4 – 7 years
Publisher: Square Fish; Reissue edition (May 1, 2007)
ISBN-10: 031236749X
ISBN-13: 978-0312367497
Miss Rumphius
by Barbara Cooney
This classic picture book reveals how planting flowers can make a difference.
Age Range: 5 and up
Publisher: Puffin; Reprint edition (November 6, 1985)
ISBN-10: 0140505393
ISBN-13: 978-0140505399
Middle Grade
Our School Garden!
by Rick Swann and illustrated by Christy Hale
Discovering the joys of the school garden helps lonely Michael make friends.
Winner, 2013 Growing Good Kids Book Award, Junior Master Gardener & American Horticultural Society
Age Range: 8 – 12 years
Publisher: Readers to Eaters (March 6, 2012)
ISBN-10: 0983661502
ISBN-13: 978-0983661504
Linnea in Monet's Garden
by Cristina Bjork, Lena Anderson (Illustrator), Joan Sandin (Translator)
If you are interested in art, artists, Monet, nature, gardening or traveling to Paris, this is the book for you. Definitely inspires me to want to grow a "Monet Garden" of my own. Beautiful, sweet, and informative, I keep our copy with the art books, but it wants to be with the nature and gardening books, too.
Age Range: 9 – 12 years
Publisher: R & S Books; 1st American ed edition (October 1, 1987)
ISBN-10: 9129583144
ISBN-13: 978-9129583144
Grow: A Novel in Verse
by Juanita Havill and illustrated by Stansislawa Kodman
Twelve-year-old Kate helps Berneetha turn a vacant lot into a community garden, gathering help and friends along the way. Can they protect the garden when the lot owner decides to build on it?
Age Range: 9 and up
Publisher: Peachtree Publishers (April 1, 2011)
ISBN-10: 156145575X
ISBN-13: 978-1561455751
Related Resources: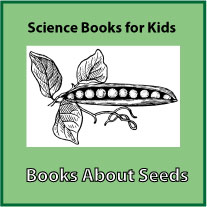 List of Children's books about seeds.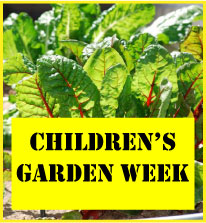 Children's Garden Week Activities at Growing With Science Blog
You might also be interested in our Gardening/Science Pinterest Board: